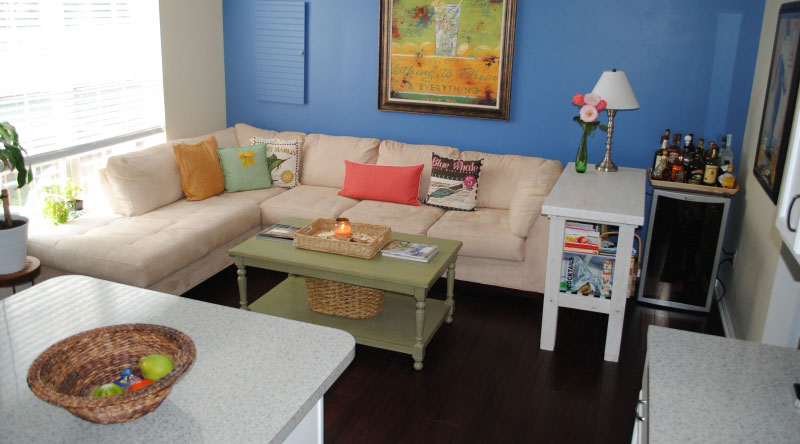 Can you stain your bamboo floors? The answer is yes, but how do you do it? It is important to ensure your floor is as clean as can be before starting. From there, the process is to sand, stain, and seal. This will remove the initial finish – allowing you to stain the wood itself. Once that is accounted for, you are ready to stain. Then, you add a new finish to make sure it stays colorful!
Our guide will help you comprehensively understand how to stain bamboo flooring correctly. Bamboo is an eco-friendly flooring option (yes, bamboo flooring is eco-friendly) that is extremely durable, water and moisture-resistant, and even resistant to certain insect invasions, as well as mold and mildew. For all of these reasons, this flooring choice has become very popular with homeowners over the past ten years.
In most cases, bamboo flooring will never have to be re-stained once it has been installed. Unlike traditional wood floors, strand woven bamboo flooring rarely has to be refinished because its density provides much more protection against denting and scratching. Traditional or "classic" bamboo floors can be sanded down and refinished easily, while strand bamboo flooring requires a bit more effort.
There may be times homeowners want to change the color of the stain for decorative reasons. Even though bamboo is grass and not hardwood, staining bamboo floors is very similar to staining hardwood floors, except that sanding bamboo requires a bit more experience with a sanding machine.
Strand woven bamboo flooring is tough to stain onsite, and we do not recommend it.
Basic Guide on How To Stain Bamboo Flooring For Both Horizontal & Vertical Bamboo Floors
1. Clear the Room
It goes without saying that you will need to clear out the room before you can begin work on your floors and remove furniture and rugs. If you have long drapes, you may also want to remove these and store them in another room until your floors are finished and completely dry.
2. Clean
Before you even begin sanding your floors, you'll want to give them a good sweeping or vacuuming and remove all dust and debris.
3. Sand
Before you can lay down a new layer of stain, you'll have to remove the original one first by sanding. You can use an electric sander for this job, but be aware that light and even pressure are required if you do. You do not need to go very deep at all to remove that first layer of stain. A good rule of thumb is if the sawdust you are creating is white, you are using the right amount of pressure. If the sawdust you see is darker in color, ease up on the sander, and use a gentler touch.
4. Clean Again
You'll now have to sweep the area thoroughly to remove all of the sawdust you've just created. Take your time and make sure you get it all up because if you miss any, it will create a rough and uneven spot on the floor once you lay the stain down.
5. Stain
It's now time to stain your floor. You'll want to use two coats of a permeating stain, and you can use a couple of different techniques to apply the color. You can either saturate a rag and wipe the stain onto the floor, or you can use a paintbrush to apply the color. Either way, you choose to go, apply the stain in thin, even coats and do your best not to miss any areas. Let the stain dry at least 2 hours of in-between applications.
 6. Seal
Seal your floor with the polyurethane finish. Once you've sealed it with two coats of the finish, your bamboo floor will be close to impermeable. As you did with the stain, apply thin, even coats using a paintbrush, and wait 2 hours in-between applications. Once you are done, your floor should shine and be scuff-resistant.
If you're looking for some inspiration before staining your bamboo floors, take a look at these great color ideas. Staining your floors is a simple project you and a friend or family member can do over a weekend, now that you know how to stain bamboo flooring. If you follow these steps, you'll be able to breathe new life into any room in your house.

---
Last Updated: 1/7/2022