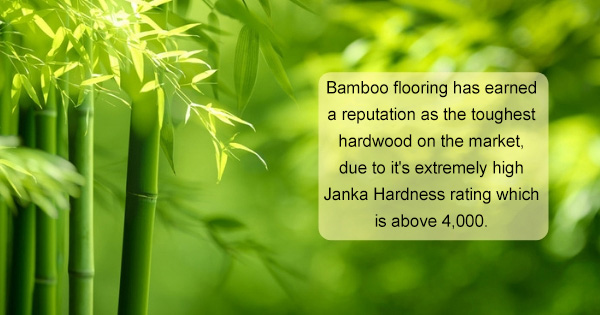 Homeowners, commercial business owners, and interior designers alike love installing bamboo flooring because of the various benefits of bamboo. Bamboo flooring is the toughest hardwood on the market, with a Janka range between 3,800 and 5,500; it's a very eco-friendly material; it's able to be refinished, is affordable, and is pet-friendly.
Additionally, bamboo flooring is quite versatile and can come in a variety of colors and styles, including:
Whites;

Chocolates;

Blondes;

Reds;

Browns;

Creams;

Greys;

Dark Browns;

Handscraped;

Wire Brushed;

Engineered;

Solid;

Snap together floating.
When it comes to knowing how to install bamboo flooring, there are some important things to keep in mind. Here are some frequently asked questions pertaining to bamboo flooring installation:
Q: How is bamboo flooring installed?
A: Bamboo flooring is installed exactly like traditional hardwoods which means when it comes to installing bamboo flooring you have a multitude of options including floating, glue down, and nail down installation.
Q: What is the most economical installation method?
A: The most economical installation method is the nail-down method, which is one of the fastest ways, as well. For nail down installations, it's best to use a 15 lb felt paper as underlayment but remember that felt paper does not serve as a moisture barrier. Additionally, make sure you are using 18 gauge L cleats for all nail down installations.  Floating installations are also economical, but usually, the 3 in 1 underlayment adds a bit of cost.
Q: Is a special nail gun required?
A: If you aren't using the right kind of nail gun, you could end up dimpling your floors. There isn't one particular type of nail gun that is required for installation, but since strand bamboo is so dense, it's recommended to use a high PSI, high-quality 18 gauge pneumatic nailer. The Primatech Q550 ALR is the most popular option due to the high quality of the gun, the adjustable depth mechanism, and the slide rollers. It's important to note that these nail guns require an air compressor.
Q: How much bamboo flooring should I order?
A: If you want to make sure you're getting enough material, it's best to identify how much bamboo flooring you'll need and then order 10% extra for cutting and waste. Though you can probably get away with an additional 7% or 8% if you are careful about making cuts or have a large square room.
Q: Am I able to install bamboo flooring diagonally?
A: Yes, you can install bamboo flooring diagonally across a room. Keep in mind, you will likely need to order an additional 15% of the material for cutting and waste instead of the standard 10% extra.
If you want to learn more about installing bamboo flooring and work with experienced bamboo flooring manufacturers, give Ambient Bamboo Flooring a call today!
Last update of the article: 11/24/2020