Click Lock Floating Bamboo Floors Provide For Quick & Simple Installation
Installing floating bamboo floors is easy, since they're not nailed to the subfloor. Instead, the installer first lays an underlayment consisting of foam, cork or rubber over the subfloor and installs the bamboo over this pad. The flooring thus is not nailed or glued to the underlayment but instead "floats" - making this method fast and easy, especially for do-it-yourselfers. It is always recommended to use Engineered bamboo flooring in floating installations, as solid flooring can be problematic unless you have very stable humidity.
Be sure to let your flooring acclimate in the room where it will be installed, and maintain stable humidity settings to protect your floor. Learning how to install floating bamboo flooring should be a breeze with the help of the resources on our site and the detailed instructions we provide upon purchase.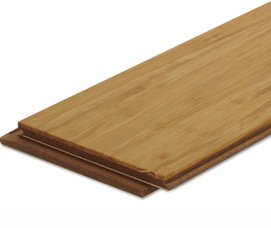 Not only is installing floating bamboo floors from Ambient® the smart and sustainable choice for your home, but it's also safe for children and pets because it meets the CARB Phase II indoor air standard and is free of dangerous chemicals. We provide a lifetime structural and finish warranty on all our products, we're a certified A+ business by the Better Business Bureau, and we achieved FSC Pure Certification by the Forest Stewardship Council. Make Ambient your choice today! If you do have any questions about how to install floating bamboo flooring, our experts are only a phone call away.