Our hand scraped bamboo flooring lends a touch of rustic to any space, and is perfect in both contemporary and vintage settings
Looking for an environmentally friendly wide plank bamboo flooring product that captures the look and feel of a traditional hardwood? At Ambient Bamboo Floors, we believe choosing sustainable flooring doesn't have to limit your decor options when remodeling. Full of character and charm, our hand scraped bamboo floors combine modern, "green" technology and sustainability with an old-world handcrafted feel. Thanks to this versatility, our products are a favorite of interior designers and architects, and receives great bamboo flooring reviews from homeowners like you as well. Finally, we like to think of it as art you can walk on.
What is handscraped bamboo flooring?
Also known as distressed, antiqued, or textured flooring, our hand scraped bamboo flooring starts out as flat unfinished planks and is turned by our factory artisans into a scraped but subtle hewn surface design that adds a rustic touch to any space, and is perfect in a variety of settings.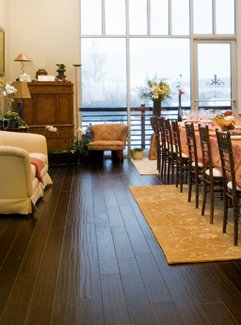 Finish and technical specs
Hand scraped bamboo flooring is an extremely durable product, perfect for busy families and high traffic areas of the home. Our products are pet-friendly and hard enough to resist denting, maintaining a beautiful finish with minimal upkeep. We offer distressed floors in our proprietary AccuSeal® Finish System, which has a lifetime warranty.
Like all our products, our hand scraped bamboo flooring exceeds the most strict off-gassing and VOC (volatile organic compound) emissions standards set out by the California Air Resources Board (phase one and two), the Occupational Safety and Health Administration (OSHA), the International Standards Association, and European indoor air quality standards (E0 and E1). We also offer ultra-low and zero VOC products such as bamboo flooring glue and 3 in 1 underlayments.
All our strand woven floors have a Janka hardness rating rating between 4,000-6,000 - that's three times stronger than oak. In fact, you'll be "hard pressed" to find another commercially available wood that outperforms our strand-woven wide plank bamboo flooring! Because of that, we're able to offer a lifetime guarantee on the structural integrity of our all our flooring solutions.
The stylish and sustainable choice
Making environmentally responsible choices in your home doesn't mean having to live in a mud hut! Our is harvested from well-managed forests certified by the Forestry Stewardship Council. We've also incorporated sustainable practices into our shipping and packaging. Get eco-friendly bamboo flooring with handscraped charm at Ambient Bamboo Floors - where elegant design and respect for the environment go hand in hand! Our hand scraped bamboo wood flooring is available in wide plank dimensions, and all are constructed from ultra-premium strength strand woven materials.