Thinking about new floors in 2021? Bamboo floors are a great choice. You have a wide variety of finishes and plank sizes from which to choose, and bamboo floors are durable, beautiful, and eco-friendly to boot. There are dozens of reasons to use bamboo flooring.
And if you are buying bamboo flooring in 2021, here are a dozen questions you should ask before you make a purchase.

Six Questions to Ask Yourself
Rudyard Kipling wrote about six honest serving men back in 1902. 119 years later his advice about asking questions is still relevant.
I Keep Six Honest Serving Men
I keep six honest serving men
(They taught me all I knew);
Their names are What and Why and When
And How and Where and Who.
I send them over land and sea,
I send them east and west;
But after they have worked for me,
I give them all a rest.
Put those serving men to work. Use them to ask yourself these questions about your decision to buy bamboo floors.
1. WHAT do I care about most when it comes to flooring?
When considering your flooring options, what are the characteristics that are most important to you? We cover the pros and cons of all popular flooring types in our 2021 Flooring Shoppers Guide. It's worth the time to read if you haven't settled on a flooring type yet.
Ask yourself, what do you care about in a flooring product? Are you looking for:
Durability
Longevity
Beauty
Strength
Easy to repair
Easy to install
Low maintenance/easy to clean
Eco-friendliness
Ability to be refinished
Comfort
Quiet
Good to install over radiant heat
Rank the qualities that are most important to you from high to low. Since you are already considering bamboo flooring, it's good to know bamboo ranks high for all of these qualities.
2. WHY do I want new floors?
This question goes to the motive for replacing the floor. Your motive is important in helping to set the budget and choosing the right kind of bamboo flooring for your situation. For example, if you are prepping your home for sale, you might be working with a smaller budget than updating the flooring in your forever home.
Or perhaps you are repurposing a room. If you are converting a bedroom into a home office and want the modern look of wide plank flooring, then you might narrow your search to engineered bamboo floors for the most color options. Answering the why question helps set a budget and determine the right type of bamboo flooring to meet your needs.
3. WHEN do I plan to complete my flooring project?

What are your plans for 2021?  Is this flooring project just a glimmer in your eye without a definite due date or is it something to be completed in the next 6 weeks?
Either way, ordering samples is a great way to help narrow down the plank width, finish color, and installation method.
If the project is imminent, get samples now and inquire about stock availability. Disregard any flooring that is on backorder or isn't available in a sufficient quantity to complete your project. After all, why set your heart on a flooring product that's not available?
When it comes to purchasing flooring, buying directly from the manufacturer may be the best way to access the widest array of flooring and the highest inventory levels.
Remember, all wood flooring needs time to acclimate. So, plan for the flooring to sit in the room in which it will be installed for a couple of days before installation can begin.
Patience grasshopper, allowing the flooring time to acclimate avoids many post-installation problems.
4. HOW will the flooring be installed?

There are two sets of decisions to be made here. First, decide if you will install the flooring yourself or if you will hire someone to lay the flooring.
If you plan to hire a contractor or handyman, get references and talk to people who have had similar flooring installed. Just because an installer is a whiz at laying ceramic tile doesn't mean they have the same skill with bamboo floors. Get the contractor's opinion on nail down versus glue down versus a floating installation. Not all flooring can be installed in all ways.
If you decide to tackle the job yourself, this will be a major factor in choosing the flooring. DIY-ers love the ease of installing click-lock flooring. Nail down flooring, on the other hand, isn't typically a novice's first choice. However, it's nowhere near impossible – especially when you've got the right tools for the job.
Once you know who will do the work and how the flooring will be installed, then you can factor in labor and supplies to the budget.
5. WHERE in my house will the floors be installed?
It pays to consider where the flooring will be installed. This has a direct impact on the flooring you choose.
Not all flooring is appropriate for the basement or installation over a crawlspace. If the flooring is going over radiant heat, this can narrow down your options as well.
Flooring for mudrooms, entryways, and high traffic areas needs to be particularly durable, as well as scratch and impact resistant. Luckily, strand woven bamboo flooring (whether it's solid or engineered) is particularly suited for high traffic areas, spill-prone spaces like kitchens, and can be installed in basements and over crawl spaces. Sometimes, the installation process may require a bit more prep, but we think it's totally worth it!
6.  WHO will be getting the most use out of my floors?

Who will walk on the floors?  Do you have a large family or are you an empty nester? Are there children and pets in the picture?
Kids and dogs can be tough on floors, so you'll want to consider this when choosing a kind that can stand up to your pet's nails or your child's playtime activities. Strand woven bamboo flooring is particularly sturdy, as well as scratch and stain-resistant.
Now that doesn't mean the flooring is impervious to stains from spills. You still need to clean them up promptly. And high heels and pet nails may make micro surface scratches in any hardwood with a urethane coating. However, these usually buff out naturally just by continued use of the floor.
Questions to Ask Your Flooring Company
Hardwood flooring is an investment. You want to love it. And you want to make sure you love the flooring company that manufactures it as well. It may sound crazy, but you need to interview the flooring company as carefully as you interview the flooring installer. Put those 6 honest serving men to work on the flooring company too.
7. WHO can vouch for the quality of your bamboo floors?



Ask for references and search for customer reviews. Don't settle for product reviews on the company's website. After all, would YOU post a bad review about your company?
Ask the company about their core values, how they handle problems, best ways to access customer service, and warranty claim procedures. A trustworthy company will gladly share this information.
Then do a little detective work with the help of Mr. Google and Ms. Bing. Check with the Better Business Bureau, Yelp, Google Reviews, ResellerRatings, and specialty sites like FloorCritics. These places not only provide unbiased reviews, but they can also give you insight into how the company reacts when there is a problem. Remember, it's easy to provide a great customer experience when everything goes right.  What sets a company apart is how they handle a problem if it does arise.
8. WHAT does it take to install your flooring in my home?
Different bamboo flooring companies offer different types of flooring. These bamboo flooring types require different installation methods. Different installation methods require different skill sets and installation materials. See where this is going?
When it comes to a DIY project, it may be easier for you to install bamboo flooring with a floating method as opposed to a nail-down or glue-down method. And the installation method determines what flooring you purchase.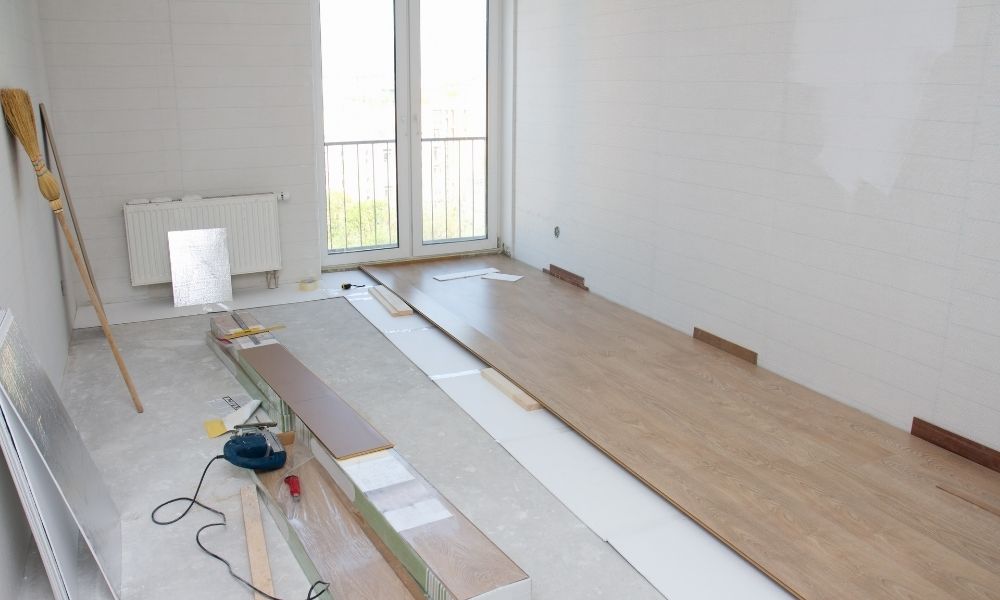 Because bamboo is exceptionally hard, you need a high-pressure nailer powered by a compressor if you use this installation method. The flooring company should be able and willing to set you up with the right tools and installation supplies for your particular flooring. They know the best adhesives, trowels, tools, etc. to use with their product.
The flooring company should also provide insight into the amount of time it will take to acclimate the flooring to your climate. This can be as little as 72 hours or up to 1 week. Once again, they know their product best and should be honest about the installation process.
After all, they look good when your floors look good.
9. WHERE in my home can I install your bamboo flooring?
Once you have a flooring product in mind, talk to the flooring company about where you plan on installing the flooring. They can confirm if your product choice is best for the area in which you want to install it.
Bamboo flooring is like all other hardwood flooring: Moisture does have an impact on it, and it's important to monitor the moisture above and below the flooring.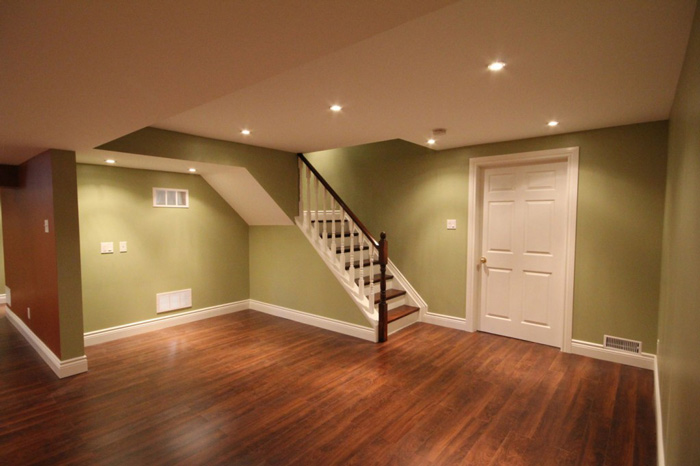 Did you know that concrete can emit moisture for up to 25 years after it is poured?! Many homeowners choose to install their flooring over concrete, and moisture must always be considered during subfloor prep.
Ask about the moisture-resistance of their various products. This is another great time to have a conversation about the product warranty. Ask how moisture impacts the warranty and what their warranty specifically says about moisture.
Talk to the bamboo flooring company about acclimating the product. Generally, you should acclimate the flooring in the room in which it will be installed. However, you don't want to acclimate the flooring directly over exposed concrete. The flooring company should be able to explain the nuances involved in acclimating their various products depending on where the product will be installed.
There's another Where question to ask…Where can I purchase your bamboo flooring? Buying flooring online doesn't need to be scary. Just ask if they fill orders from the same dye lot and if it's possible to order flooring by dye lot. That way you know the sample you see in your home is the product you get when you order.
10. WHEN will my flooring order arrive?
If your flooring is part of a larger remodel project or you're looking to complete your flooring installation by a certain date, it's surely important to know when your order will arrive.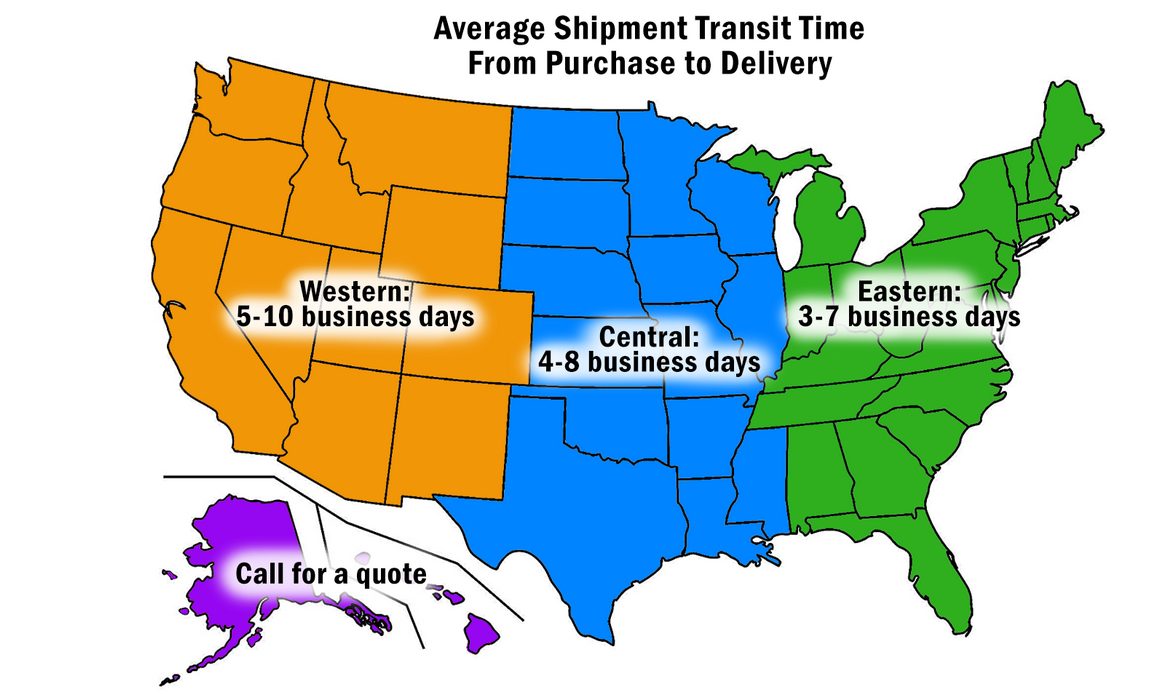 The flooring company should be able to provide realistic estimates of the time it takes to pull and pack your order, hand it off to a carrier, and for the carrier to deliver it to you.  If you are on a tight schedule and the product you want is out of stock, ask for an estimate of the restock date. A top-notch company will offer alternatives and will never sell you flooring from different dye lots just to fulfill your order. The last thing you want is to end up with a living room full of flooring that isn't all the same color.
For flooring that is in stock, the flooring company should be able to give you a general estimate of transit times. For example, Ambient™ offers customers these shipping estimates (pictured) given their location in the U.S. Pretty helpful, right?!
Ask the flooring company if there are currently any shipping issues to be aware of. They should know of delays in certain areas due to the high volume of deliveries, shortages of drivers, weather conditions, or other factors that may impact delivery time.
11. WHY should I choose your bamboo flooring?
Allow the company to make a case for their product. Listen carefully to what they say, and additionally what they don't say.
For example, a company that only talks about product cost without ever mentioning quality doesn't place much value on quality. And if you don't get a quality product, no matter what you spend, you've paid too much.
Ask about any safety testing their products have undergone, and make sure they explain the test results. Find out what certifications their products carry. For example, do they qualify for LEED credits? Do their floors carry a FloorScore certification? Do the products emit dangerous levels of formaldehyde?
Do they offer free samples, dye lot-specific ordering, or money-back guarantees? What type of product warranties do they offer? They should be able to point you to their online customer reviews, Better Business Bureau accreditation, and industry association memberships, as well.
12. HOW do I clean and maintain my new bamboo floors?

Those bamboo floors will look great when they are installed. But what about maintaining that great look?
Ask the flooring company about how to maintain the flooring you are buying. Not all floors have the same maintenance requirements.
Don't be afraid to inquire about what happens if the floors become damaged in the future. With click-lock floors, you can simply remove and replace damaged planks. But for other flooring types and installation methods, there are better practices out there that your flooring company should be able to inform you of.
Ask about refinishing the floors. Not all bamboo flooring can be refinished.
To get the longest life from your floors, it's important to get firsthand information from the flooring company about the dos and don'ts of maintaining your bamboo floors. See if they can recommend certain floor cleaning products and if there are certain solvents or chemicals you should avoid.
The flooring company should be your very best resource of information on the proper care of the flooring they sell. And they should be more than willing to share their expertise.
Floors That Make You Feel Good All Over
When you send those 6 Honest Serving Men out to gather information, then analyze the answers they bring you, you'll be in the perfect shape to make a well-informed purchase.
That feeling of getting great floors that match your needs and budget will make you break into your happy dance every time you walk into the room!