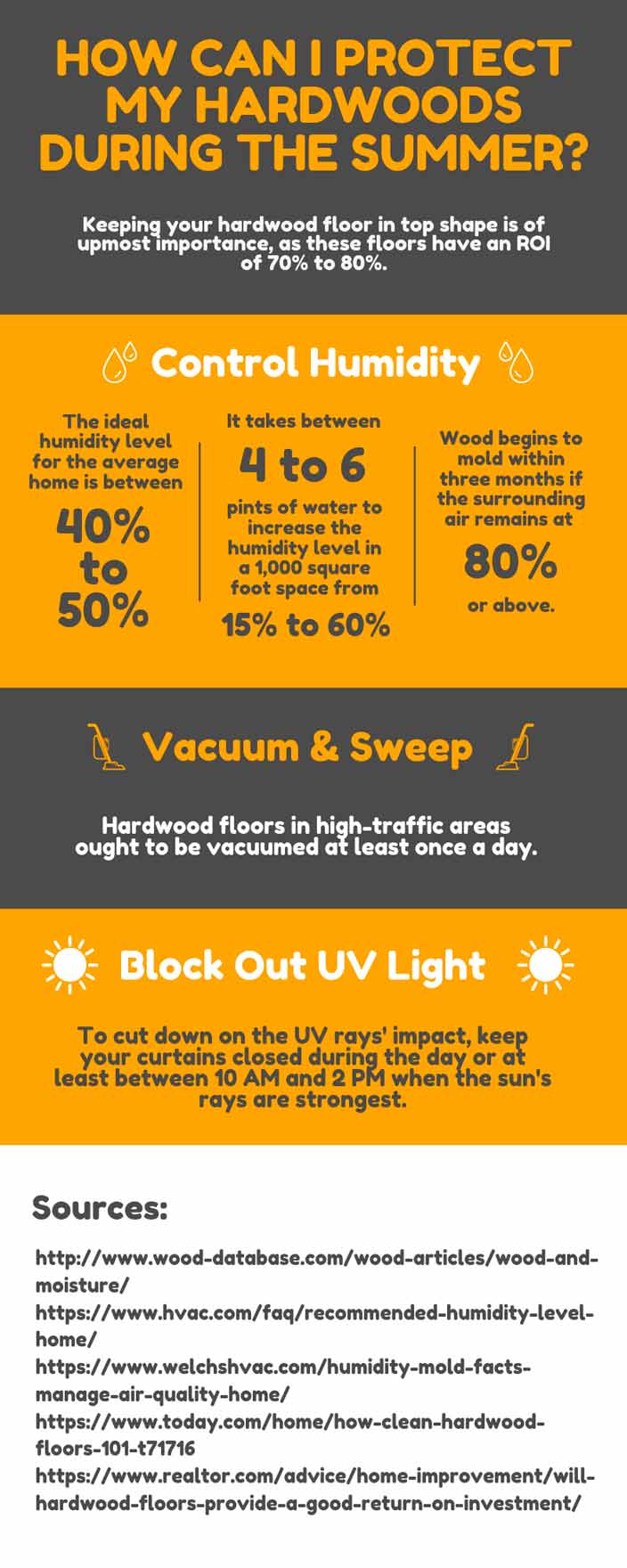 Summer brings the promise of cookouts and beach time. But for homeowners, summer isn't all sunshine and rainbows. This sunny season also comes with an all-too-common threat: humidity.
Hot weather, humidity, and the unique debris that comes with summer can all take a toll on your home and its hardwood flooring. So how can you keep your hardwoods safe this summer?
Use a Dehumidifier to Keep the Air Under Control
You'd be surprised by just how quickly humidity can impact your home. It only takes four to six pints of water for the air in a 1,000 square foot space to jump from 15% humidity to 60%.
To put this into perspective, the ideal humidity level for your house is between 40% to 50%. Your hardwoods can begin to develop mold within three months if the air has a humidity level of 80% or higher.
Wood is hygroscopic, which means it absorbs and releases moisture. During the summer when your home is humid, your hardwoods may swell a little.
A dehumidifier can help to keep the humidity in your home under control and at the ideal percentage. But if you begin to notice your floors cupping, it may be a good idea to call a professional.
Vacuum and Sweep Your Hardwoods Throughout the Week
Your hardwood floors have an average return on investment of 70% to 80%. That said, it's important to keep your hardwood flooring in good shape to make sure you make the most of that ROI.
When your family returns home from the beach, it's important that you keep sandals and sandy toys outside or by the door. Sand can damage your floors' finish when it's dragged across the floor.
To keep sand and other particles from damaging your floors, vacuum or sweep high-traffic at least once a day. If you decide to mop, use a specially formulated cleaner and mop about once a month. Don't use water to mop your floors because your hardwoods will absorb it, which can be damaging if your home is humid.
Use Shades to Block Out UV Light
Not only can sunlight quickly turn your home into an oven during the summer when your air conditioning isn't running but the UV rays can also damage your hardwood floors. UV rays can fade the color of your floors or discolor the wood.
To cut down on the UV rays' impact, keep your curtains closed during the day or at least between 10 AM and 2 PM when the sun's rays are strongest.

---
---
Categories: Floor Protection