The downtime after the holidays provides the perfect lull to tackle some home renovations. To maximize your home's comfort, there are certain updates you'll want to consider that'll last your home's lifetime. Updating your current flooring brings a fresh look to tired spaces and provides an opportunity to create spaces that can handle life's wear and tear. Keep reading to learn about flooring updates you can complete before the warmer weather sets in.
Determine The Wood Flooring Best For Your Needs
You'll consider several factors when picking the type of flooring you want. Start by determining your budget. Depending on how many rooms you are updating and the type of hardwoods you use, the cost for flooring and installation can be up to $3,600 per room and $36,000 per 2,000-square-foot house. If a project like this seems out of reach, consider a home equity loan for funding. These loans allow you to leverage your home's equity to add value through renovations and updates. It's a smart option to increase your home's value without breaking the bank as the interest rates are lower than other consumer loans.
After you've set the budget, you can move forward with picking your flooring. Today's open floor concepts gain warmth with the addition of hardwood and truly transform the feeling of any space. Even if you plan to sell in the next 5 years, new flooring is something that buyers don't want to buy since they've already spent money purchasing the home.
Finally, ask yourself about the foot traffic the floors receive. If you're a single person or a couple without children or pets, you may splurge for solid bamboo flooring. If you have a family with kids and pets, a more durable option like engineered bamboo flooring will stand up to wear and tear and is the better choice.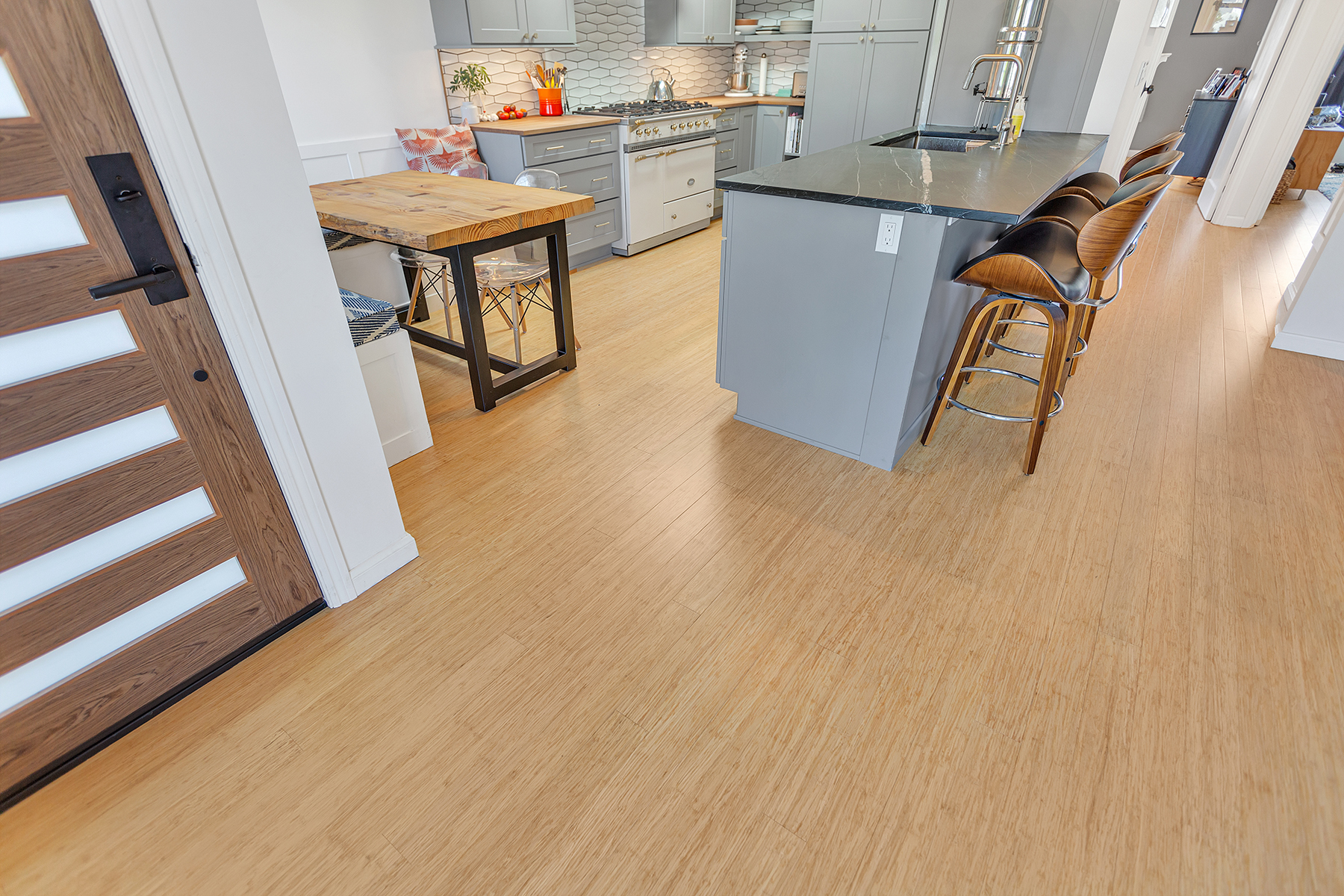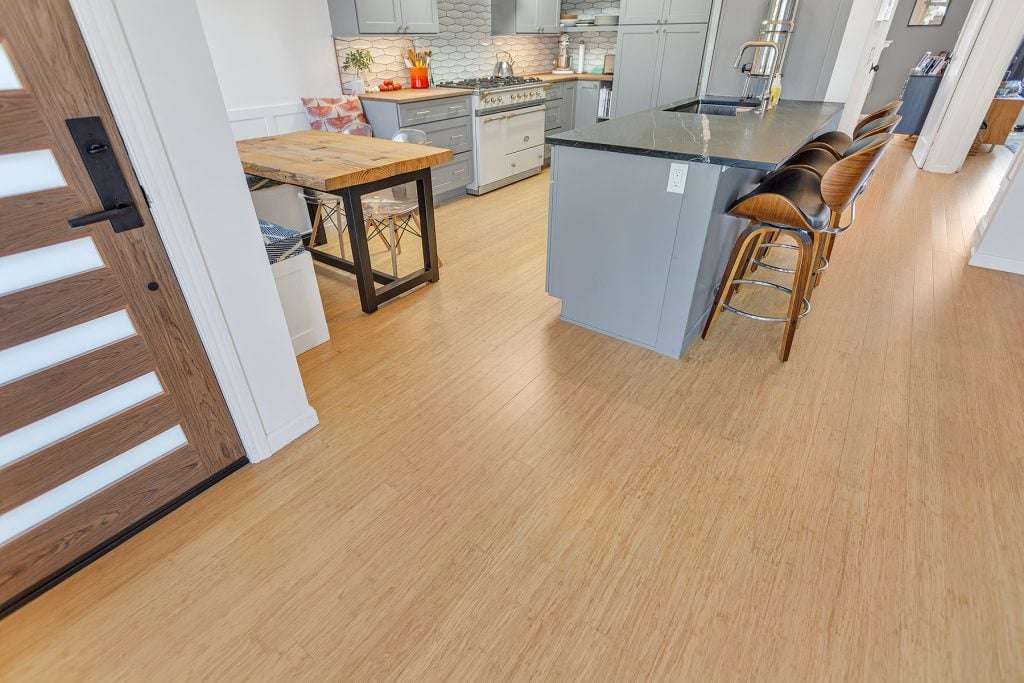 Create Consistency Throughout the Home
The best spaces flow together. Flowing spaces make an area feel larger, make it easier to mingle, and create a cohesive look. A continuous flow throughout your home brings peace and openness.  If each room has different flooring, such as tile, carpet, and hardwood, transitions break the flow between rooms. If every room continuously flows into one another with the same flooring, the look appears much more complete. Creating flow through the home is easier than you think.
Start by taking a look at your home's floor plan. Determine which rooms flow into each other, such as the kitchen, dining, and living room. Use one type of flooring in these rooms to create consistency. Next move on to adjoining rooms such as bathrooms, bedrooms, and hallways.
Bamboo flooring is a smart choice for many homes because it easily looks great in any room – check out this guide to bamboo floors for more info. It's durable, able to withstand foot traffic, and holds up to things dropped on it. Bamboo floors will last many years and require much less maintenance than hardwoods, tiles, and carpets. Don't feel confined to tile for bathrooms and kitchens. Bamboo options for bathroom and kitchen floors modernize the look of the rooms and bring consistency throughout the house.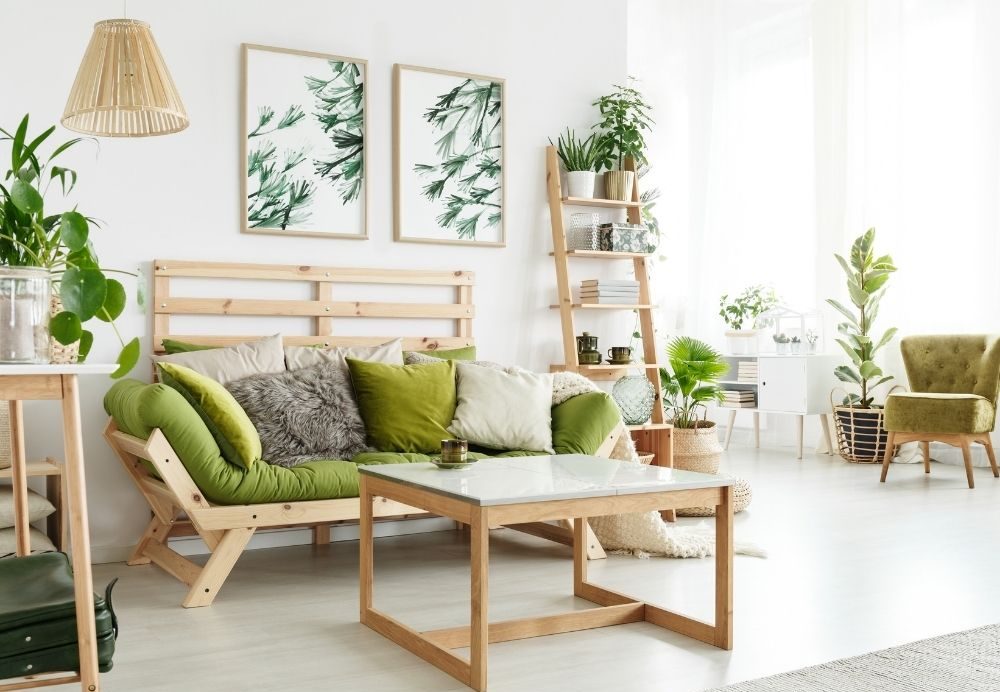 Add a Fun Pop of Color
Colored flooring options, other than the typical brown hardwood, are a surefire way to bring your unique style to any room. Some of our favorite color options include gray and light-colored flooring.
Gray wood flooring
Go for gray flooring and give your home a luxurious feel. It's a unique style that trends year after year in upscale and starter homes. When you host parties and events, guests will be wowed by your grey flooring. If you're in search of a flooring style with a lavish look that makes you feel like you're on a vacation in your own home, check out gray flooring.
Light-colored wood flooring
Light-colored flooring brightens up any space. If rooms lack natural lighting and windows, a light-colored floor helps make your space seem larger and brighter. Pair this look with light walls to make a small home seem bigger or opt for dark walls and features as a welcome contrast.

Keep Everyone Healthy
Before spring comes bringing allergens, mud, and dirt, get ahead of the game by removing any carpeting and replacing it with hard surface flooring. Carpets contribute to poor air in homes and serve as a reservoir for allergens, dust, mold, dander, germs, and more. Carpets easily trap stains and spills, so they require more effort to clean than hardwoods. If you have kids or pets, you'll definitely want to consider making this change. Pet hair gets trapped in carpets, making your home dustier and exacerbating allergies. Removing carpeting and it with hardwoods creates an environment where it is easier to breathe in your home, thanks to better air quality. Devote less time, energy, and stress to cleaning up spills and more time to relaxing.
In 2023, area rugs provide a popular alternative to carpets because they're easier to clean. easier to move, and are more easily replaced. If you indulge in frequent furniture rearranging, an area rug may be right for you. So say goodbye to carpets and hello to fresh, easy-to-clean floors that look fabulous.

Complement Your Current Decor
Wood flooring creates cleaner feeling spaces. To complete the feel, balance the wood with other materials. Some popular mediums we find pair well with wood floors include:
Concrete
Brick
Woven baskets
Leather
Fabric
Incorporate any of these textures and elevate your design with contrast and character. Popular looks such as exposed brick, woven wall accents, marble countertops, or side tables make each home unique.
Accents help the room flow better and provide the opportunity to add decorative flair to the space. Features like an accent wall, a colorful side chair, or a whimsical lamp can be a focal point while the wood floors bring the room together.
Take the plunge now to put money back into your home's value. You'll be bringing winter comfort for years to come by replacing cold tile with inviting hardwoods and cozy area carpets. Come holiday time next year, your home will be ready to host guests and wow them with your beautiful, modern, and functional interior design.