Because of the way it is manufactured, our engineered bamboo floors are an excellent choice for DIY installers, floating installations, and projects where dimensional stability is a must.
Having higher dimensional stability than solid wood flooring, our engineered bamboo flooring is an excellent choice for floating applications, as well as basements and below-grade environments. Ambient engineered flooring is made of a top wear layer of our beautiful strand woven bamboo flooring, bonded to a tough, dimensionally stable high-density fiberboard (HDF) core comprised of recycled wood fiber extracted from chips and pulped wood waste, on top of a recycled poplar plywood layer.
There are many benefits of bamboo flooring and engineered construction is one of the best options. This exceptional 3-ply core is more dimensionally stable than other engineered flooring cores, most of which are made from wood that expands and contracts more. Because of the way it is manufactured, our engineered flooring holds up very well in areas of higher humidity, with very little expansion or contraction.
Ambient engineered bamboo wood floors come only in our "click-lock" installation style - no glue, no nails, and perfect for do-it-yourselfers. (Make it a do-it-together project!) As a floating floor, it can be installed over concrete with no problem.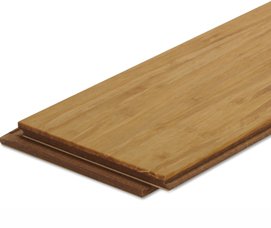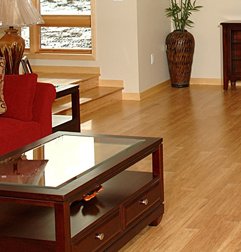 A Quality Product at an Unbeatable Price
Our engineered bamboo flooring not only offers unsurpassed strength and durability for all applications, it's also an economical choice for any home renovation product. Plus, strand-woven bamboo costs a fraction of the price of traditional hardwoods with similar hardness, making it perfect for budget applications. We also offer a price match guarantee in the unlikely event you find another product of the same high quality at a lower price, we'll match it!
ENGINEERED BAMBOO FLOOR WITH HDF CORE (click-lock)

ENGINEERED BAMBOO FLOOR WITH MULTI PLY CORE (tongue & groove)

Environmentally Friendly Engineered Bamboo Flooring
These days, we all want to be doing more for the environment. Combine that with the low cost of bamboo flooring and whamo, you can make a positive impact on the world without sacrificing style or quality by choosing Ambient Bamboo Flooring. Our bamboo is harvested from properly managed forests that reach maturity within 5-7 years. We are a member of the US Green Building Council, and many of our products qualify for LEED credits. We can also source FSC Pure products by request.