This article was originally published on January 17, 2019. It has been updated to provide current information.
It can be difficult to decide between bamboo and hardwood when choosing a new floor for your home. Both options look and feel great. In fact, at first glance, sometimes it's hard to tell the difference between them!
However, they are, in fact, different from each other in several ways. This article compares bamboo flooring vs engineered hardwood and solid hardwood flooring and dives right into those differences. From cost to eco-friendliness to durability, there's a lot to consider. Keep reading to learn more about these types of flooring so you can make an informed decision.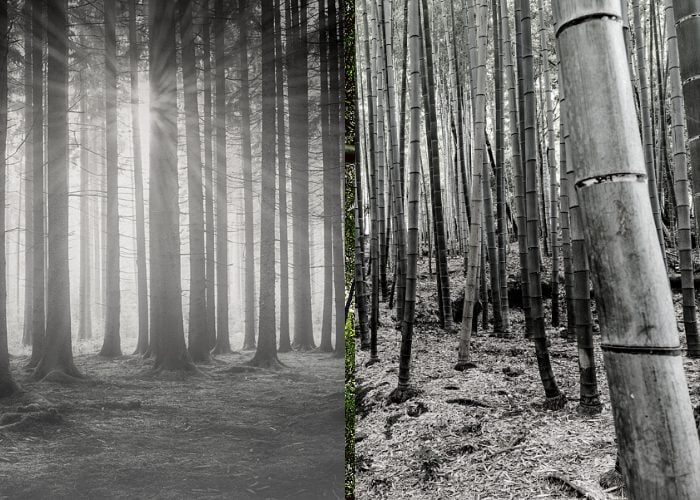 KEY DIFFERENCES: BAMBOO VS HARDWOOD FLOORING
Below we've scored both flooring materials on a scale of 1 to 10, so you can easily compare them. Should you choose bamboo flooring or hardwood? This comprehensive comparison will help you decide!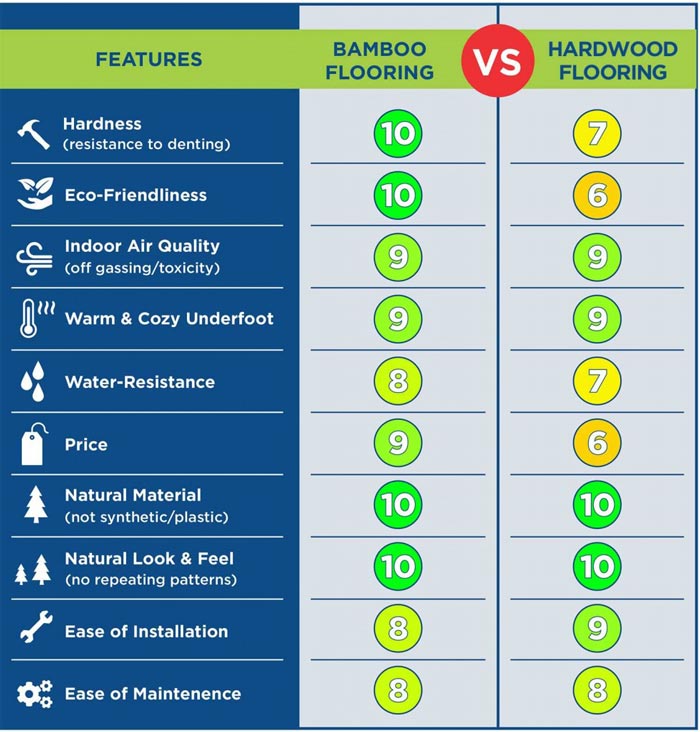 HARDNESS (Resistance to Denting)
There are several kinds of bamboo flooring. Some are harder than others. The Janka scale, an industry-wide method that assesses the hardness of bamboo and wood species, helps us compare them. The higher the Janka score, the harder the flooring, and the higher its resistance to denting.
Strand woven bamboo flooring, for instance, has a Janka score of up to 4000. Oak, the most popular type of solid wood flooring, on the other hand, only has a Janka hardness of around 1360.
The table below shows the Janka hardness for bamboo flooring and several popular types of solid hardwood flooring. It's easy to see that strand woven bamboo is the hardest of them all (alongside eucalyptus).
So is bamboo flooring more durable than hardwood? The answer is a resounding yes. We give bamboo flooring a 10 out of 10 for hardness. Solid wood flooring, meanwhile, only scores a 7 out of 10.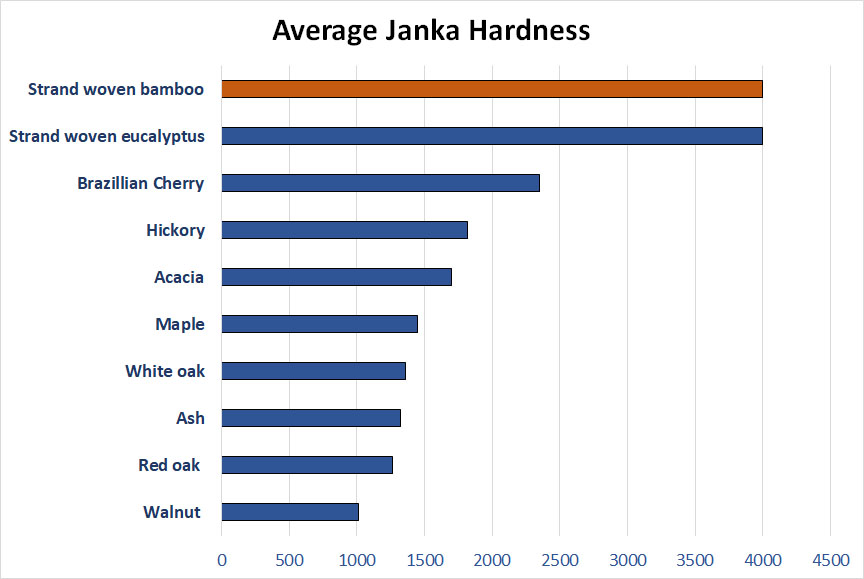 ECO-FRIENDLESS / DAMAGE TO THE ENVIRONMENT
Bamboo
Bamboo is one of the fastest-growing plants on the planet. In fact, according to The Guinness Book of Records, one species of bamboo holds the record for plant growth. It grows an incredible 35 inches a day!
Bamboo's green credentials are highly impressive. Let's list some of them below:
It is sustainable because it grows incredibly fast.
It is usually grown without chemical fertilizers (less soil and water pollution).
It is mostly free of pests and diseases.
It absorbs large amounts of greenhouse gases and improves the atmosphere by pumping out lots of oxygen.
It only requires modest amounts of water to grow.
Of course, creating floors from bamboo plants does use some resources. But the plant compensates for this. As a result, we score bamboo a 10 out of 10 for eco-friendliness. We would give it a 10+ if we could!
Hardwood
Hardwood flooring is obviously a natural material. Since it comes from trees, you might think it has similar eco-friendly credentials to bamboo. That isn't the case.
Most types of wood used for flooring come from managed forests. However, deforestation and illegal logging both remain issues. For more information on the environmental impact of this, see the video below.
Another problem is the slow growth rate of hardwood trees. An oak tree, for example, can take 20 to 30 years to mature!
Although there are even less eco-friendly flooring options out there, we still give hardwood only a 6 out of 10. Significantly less than bamboo for obvious reasons!
INDOOR AIR QUALITY, OFF-GASSING, & FORMALDEHYDE EMISSIONS
Many building materials emit VOCs (volatile organic chemicals). These can pollute your home with harmful toxins. Some, such as formaldehyde, can potentially cause cancer. And even small amounts of VOCs can affect people with asthma and other breathing issues.
Fortunately, VOCs are now strictly regulated, so the situation is much better than it used to be. However, it's important to ensure that any flooring you install in your home is VOC-certified.
Bamboo
Bamboo flooring products are one of the safest flooring choices you can pick for your home. It's not even possible to measure the level of VOCs in bamboo because it's so minimal.
The only possible concern, and it's a small one, is the adhesives used by flooring manufacturers. They can sometimes emit tiny amounts of VOCs. But the level is so low, it falls well below government regulations.
Thus, we award bamboo 9 out of 10 points for indoor air quality.
Hardwood
Hardwood flooring is also basically free of VOCs. Wood does naturally contain formaldehyde and other VOCs. However, the amounts are very small and highly regulated.
You can feel safe using hardwood flooring in your home. So, just like bamboo, we give it 9 out of 10 points.
COMFORT FOR WALKING / WARM UNDERFOOT
Do you ever walk barefoot in your home? If you don't, give it a try — your whole body will benefit, as you can see below:
It stimulates blood flow to the feet, ankles, and legs.
It provides valuable exercise for your toes.
The sensation of bare skin on bamboo relaxes the body and the mind.
Of course, you need the right floor to do this. Both bamboo and hardwood flooring are great options. Why? They are both naturally warm underfoot and comfortable to walk on (unlike cold tile, for example!)
We score them both a 9 out of 10 for comfort.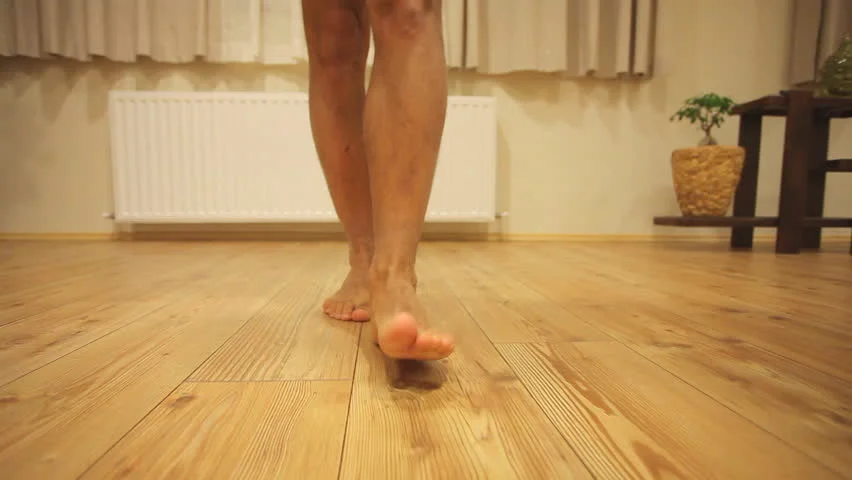 Just imagine how comfortable that floor feels on those feet! 
WATER RESISTANCE
Bamboo
Bamboo flooring is reasonably water-resistant. As long as you mop up spilled water within 20 hours, you should be good to go!
It isn't waterproof, however. If you let water sit on the floor for a really long time, it will likely cause damage.
We suggest wiping up spills as soon as they occur. Furthermore, avoid installing bamboo flooring in areas that are frequently wet. A kitchen is fine, but a shower room isn't a good idea. It's also advisable to remove wet shoes and boots before walking on a bamboo floor.
We rate the water resistance of bamboo flooring an 8 out of 10.
Hardwood
Hardwood flooring tends to be less water-resistant than bamboo. If you allow any water to soak into the wood, you will almost certainly damage it. And it will be almost impossible to fix without replacing that flooring section.
Wipe up spills quickly, and avoid walking on hardwood in wet shoes. Certainly, don't install it in areas subject to frequent wetness.
We rate the water resistance of hardwood flooring a 7 out of 10.
Hopefully your floor never looks like this or else you better wipe it up – and fast!
PRICE OF BAMBOO FLOORING VERSUS HARDWOOD FLOORING
Materials
People often choose bamboo instead of solid wood flooring because it costs less.
Why is it less expensive? Because it grows so fast and doesn't cost a lot to harvest. Plus, it doesn't have to travel far to get to the factory where it becomes beautiful bamboo flooring.
Hardwood costs considerably more per square foot than bamboo for several reasons:
Hardwood trees take a long time to mature – easily 20 years or more!
Most hardwood flooring is processed and manufactured in Asia. This means that producers must ship wood from trees grown in Europe, North America, and South America all the way to China and other Pacific-rim countries for processing. All that travel gets expensive!
Be prepared to pay up to four times more for a hardwood floor than you would for bamboo. Yes, you read that right!
Installation
Installers use the same methods to put down both types of flooring (nail down and glue down). Hence, installation costs the same for both materials.
Total cost of ownership
Over the lifetime of the floor, bamboo typically costs less than hardwood floors. Why? It is easier to maintain and more water resistant.
Finally, homeowners can sand down and refinish both bamboo and hardwood planks. Since bamboo is harder than hardwood, however, it won't scratch as easily or need refinishing as often.
We rate bamboo a 9 out of 10 and hardwood a 6 out of 10 for cost.
ORGANIC, NATURAL MATERIALS VS SYNTHETIC
This one's easy! Both bamboo and hardwood are natural materials. As a result, we give them both perfect scores in this category.
NATURAL VARIATION IN THE GRAIN – LOOK AND FEEL
Both bamboo and hardwood flooring exhibit beautiful, natural variations in the grain with a superb look and feel that oozes quality. Moreover, they are both available in a wide range of styles and are highly versatile. They equally suit traditional homes, ultra-modern decors, and anything in between.
We give them both 10 out of 10 for natural variation in the grain.
EASE OF INSTALLATION
Bamboo
Installing a bamboo floor isn't generally too hard for anyone reasonably skilled at DIY. But it's important to prepare the subfloor before you begin. You should also acclimate the flooring planks for at least 48 hours before starting the installation.
You can choose to install your bamboo floors in multiple ways. The easiest and fastest is the floating method, whereas the nail-down method is the most common and least expensive. The glue-down method is the most work but also the most stable.
Any carpenter or handyman can install the flooring if you feel unsure about doing it yourself. It's only slightly harder to install than hardwood because of its weight and hardness. But we think this is negligible.
For ease of installation, bamboo scores an 8 out of 10.
Hardwood
Any DIY enthusiast or flooring installer should be able to put down solid wood flooring. If you're doing it yourself, make sure to:
acclimate the planks for several days
ensure the subfloor is sound and dry (moisture content below 6%)
carefully follow the installation instructions
For ease of installation, solid hardwood gets a 9 out of 10.
EASE OF MAINTENANCE

Both hardwood and bamboo flooring are easy to maintain. Just make sure to regularly sweep and clean it with a soft brush or vacuum cleaner. Every week you should also use a specialist wood and bamboo floor cleaner.
We also recommend that you:
Remove your shoes before walking on the floor.
Wipe up spills quickly.
Use felt pads under heavy furniture.
Avoid using a wet mop or steam mop.
Never use any furniture polish.
For ease of maintenance, we rate both bamboo and hardwood an 8 out of 10.
Engineered Bamboo Flooring Versus Engineered Hardwood Flooring
Let's start by explaining what makes engineered wood and laminate flooring different. They tend to be easily confused because they can look similar to each other.
Laminate floors are simply plastic layers glued together. Engineered floors, meanwhile, include a top layer (either hardwood or bamboo) glued to an HDF or multi-plywood substrate.
Since the top layer of engineered hardwood comes from real wood, these floors look the same as solid wood floors.
Homeowners can refinish engineered hardwood floors that have a thick top layer. They can also install these floors by snapping the planks together without using glue or nails.
Engineered Hardwood Flooring Pros
Engineered hardwood floors tend to cost less than traditional hardwood.
Engineered hardwood floors are more stable than solid hardwood.
Homeowners can use the easier floating method to install engineered hardwood floors, even in basements.
Engineered hardwood floors tend to be less expensive to install than solid wood. Why? Because it's possible to DIY versus outlaying money for an installer.
Engineered hardwood floors are moisture resistant. They are less susceptible to swelling and warping than solid wood.
Engineered hardwood floors require less wood. As a result, they are usually better for the environment.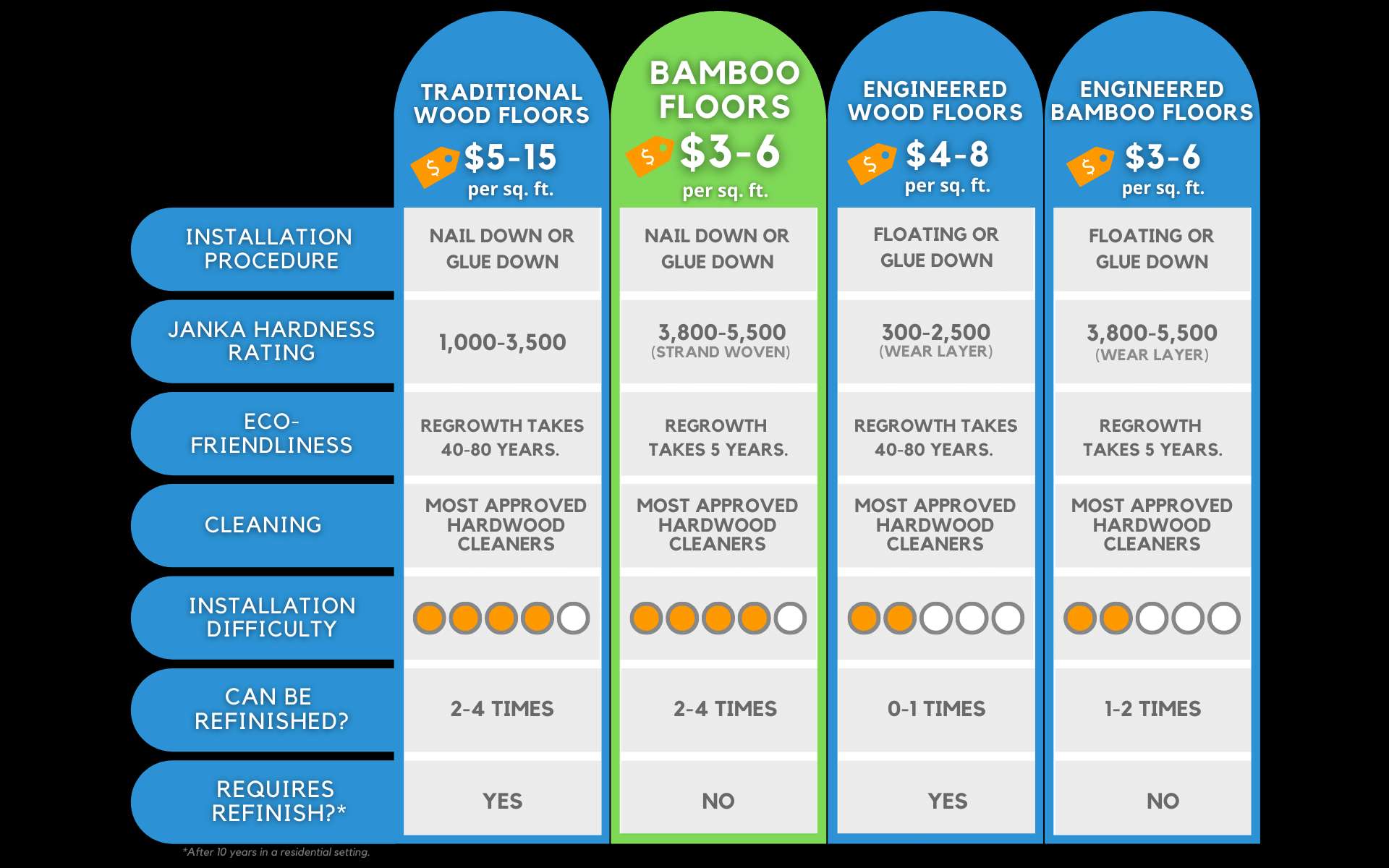 Engineered Hardwood Flooring Cons
It can be a challenge to find truly "solid" engineered hardwood. Planks by some producers have very thin veneers. This makes it impossible for homeowners to ever sand and refinish them. This also cuts down the life of the floor.
Some producers will use regular fiberboard instead of high-density. This can greatly compromise the floor's stability.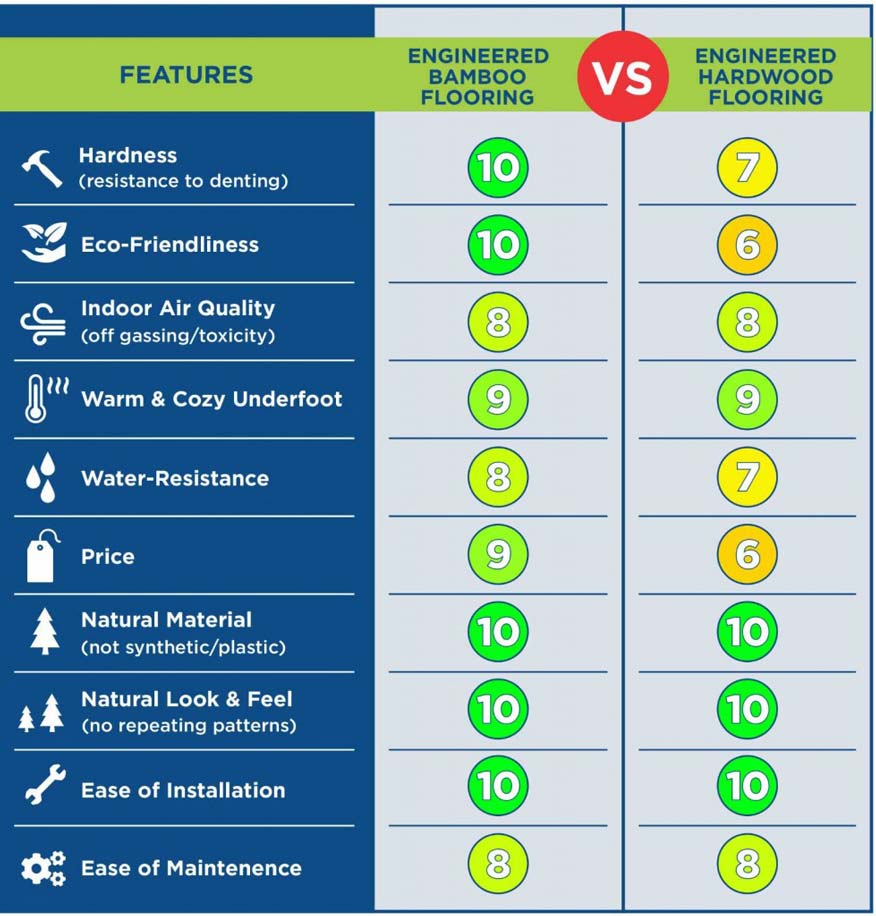 Pros of Engineered Bamboo Floors
Engineered bamboo flooring provides all the pros of engineered hardwood flooring and then some!

Engineered bamboo flooring is both eco-friendly and cost-effective. It costs much less than its hardwood counterpart.
Homeowners can sand and refinish their engineered bamboo flooring – twice!
Engineered bamboo flooring is easy to install because of its click-lock profile.
Engineered bamboo flooring from Ambient consists of a multi-layer core from highly durable eucalyptus.
Homeowners can install engineered bamboo flooring below grade (like the basement) since it's water resistant.
Cons of Engineered Bamboo Floors
Some inferior products only have an ultra-thin wear layer and cheap fiberboard layers underneath. It's important to do your due diligence before buying!