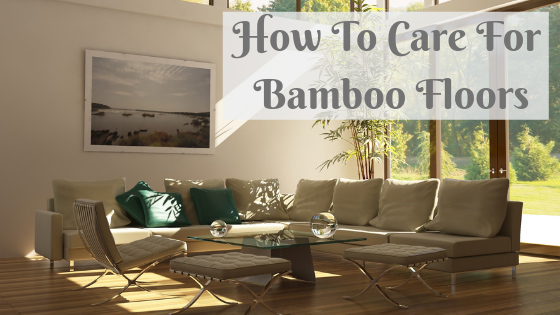 We're so glad you've chosen bamboo flooring! It's a durable, eco-friendly alternative to traditional wood, and it looks beautiful, too. While bamboo flooring is one of the toughest hombre around, it still requires some upkeep. We've created a continuation of our previous post about cleaning bamboo flooring that thoroughly outlines how to care for bamboo floors like a pro. We cover a wide variety of bamboo floor maintenance tips, so you can confidently preserve your floors' beauty.
Clean the bottom of your shoes
Have guests and family members clean their outdoor footwear. This will keep gravel, mud, and other contaminants won't make their way onto your floors. Place a doormat outside of every entrance to remind guests to clean off their shoes before they come in. Or even ask them to remove their shoes – bare feet and socks are your floors' best friends! Do you have pets running around your home? Even though they don't necessarily wear shoes, cat and dog paws should also be kept clean. To avoid scratches, slightly trim your pets' nails. It's important that you trim just a small amount or leave the task to your vet – trimming too close to the nail base can hurt your pet and cause serious bleeding.
Mind your furniture
Furniture feet can also damage any wood floor. Place rubber protective caps or felt tips on them so that you won't introduce any new marks or scratches. Regularly clean these furniture glides to remove any dirt or dust, and replace them as needed. Another important thing to note is that you'll need to move your furniture periodically if your floors are often in direct sunlight to ensure that your floors fade evenly. That being said, you shouldn't slide your furniture across hardwood floors. If you need to move a piece of furniture, lift it, transport it to its new spot, and gently set it back down.
Sweep with a soft-bristle broom
With any hardwood floor, you'll need to regularly sweep it to keep crumbs, dirt, dust, and other debris at bay. If you have light-colored flooring, messes are even more noticeable. Make sure you sweep at least once a day, especially in high-traffic areas.
Vacuum without a beater bar
If you don't have the time to go around your home with a broom and dustpan, you can do a quick sweep with your vacuum. Keep in mind that a beater bar has too much force and will scratch your bamboo floors, so use a vacuum specifically designed for hard floors, or be sure the vacuum you already own is on its hard surface setting. If your vacuum comes with a soft brush, you can go ahead and use that attachment.
Never use a wet mop or steam mop.
Even though bamboo flooring is more resistant to water damage than other wood floors, excessive moisture can still damage it over time. Standing water can create permanent damage by causing your floor to warp or getting trapped into the seams between the planks. Use a dry dust mop or microfiber flat mop daily. If you need a little wetness to scrub at a sticky spot gently, you can use a slightly damp mop from time to time. Just wring it out to make sure it's closer to near-dry than damp.
Clean up spills the moment they happen
Enough said – tackle spills right away. Liquid spills are bad, but oil spills, in particular, need your immediate attention because they can instantly stain your floor. To wipe up any spill, use a dry microfiber cloth, as it's soft and highly absorbent. If there are rooms in your home where water tends to pool, place small breathable rugs in these areas. You're doing your floors a favor by not letting moisture accumulate on them!
Use gentle cleansers and tools.
You'll need to use a hardwood-rated cleaner that doesn't contain harmful ingredients once a week. Essentially, look for something that's non-alkaline and non-abrasive – that means no ammonia-based cleaners, bleaches, detergents, or oil soaps. Bamboo flooring is sensitive to acidic and harsh cleaners, and if you use them, you will only make matters worse. We've found the most success with Bona products, which effectively clean and refresh hard surfaces. If you can, limit sun exposure, as UV rays will fade hardwoods and bamboo (and just about every other building material) over time. Hang blinds and curtains on windows in your home, and you'll implement a simple solution to this dilemma. They shield excess outdoor light, and you'll have décor that enhances your home's interior. You can also add UV protection films. Remember, never pour cleaner directly onto your bamboo floors. When it comes to tools, we suggest microfiber products. Please refrain from using steel wool, as its fibers can easily scratch your floors' surface.
Test solutions first
The right cleaner for bamboo flooring can be difficult to come by. Once you find a cleaner you think will revive your floors, make sure you always test it. You should keep a few extra planks to use as testers for new cleaning products or stain treatments. This also goes for DIY remedies; while some swear by dish soap, lemon juice, mayonnaise, vinegar, or vodka, these may not be the best solutions for your new floors. Check with your manufacturer for their recommended list of cleaning products.
Refinish with caution
Contrary to popular belief, you can refinish bamboo floors just like every other floor out there. Generally, however, people rarely need to refinish their bamboo floors. As long as the homeowner maintains a regular cleaning routine, they should avoid refinishing their bamboo flooring. If you do decide to refinish, you can have your local professionals re-sand and refinish your floors. If you feel confident in your handyman abilities and know (or can learn) your way around a sander, you can also follow our refinishing bamboo flooring guide and tackle it yourself. Carefully sand your floors and finish them with a skinny polyurethane coating. You should never finish with wax, as it may give your floor a greasy appearance. So be sure you know exactly what products you're using before you proceed.
Other bamboo floor maintenance tips
To properly maintain your bamboo floors, limit sun exposure, as UV rays from sunlight will fade hardwoods and bamboo flooring (and just about every other building material) over time. Hang blinds and curtains on windows in your home, and you'll implement a simple solution to this dilemma. They shield excess outdoor light, and you'll have décor that enhances your home's interior. You can also add UV protection films. When you properly take care of your floors, you can rest assured that they'll last for many years. If you have additional questions about how to care for bamboo floors, we recommend reading our maintenance and care guide for bamboo flooring.