Installing bamboo flooring adds so much personality to a home. They're beautiful, sustainable, warm underfoot, good for the environment, and easier to maintain than your everyday carpeting.
But learning to take care of bamboo and other types of hardwood floors can be confusing if you're new to them (Take a look at this guide to the types of bamboo floors). There are common misconceptions about how to clean hardwood floors and when it's best to refinish them.
To help take the guesswork out of caring for your bamboo flooring and other types of hardwood floors, we've compiled this ultimate guide for how to maintaining and cleaning bamboo floors.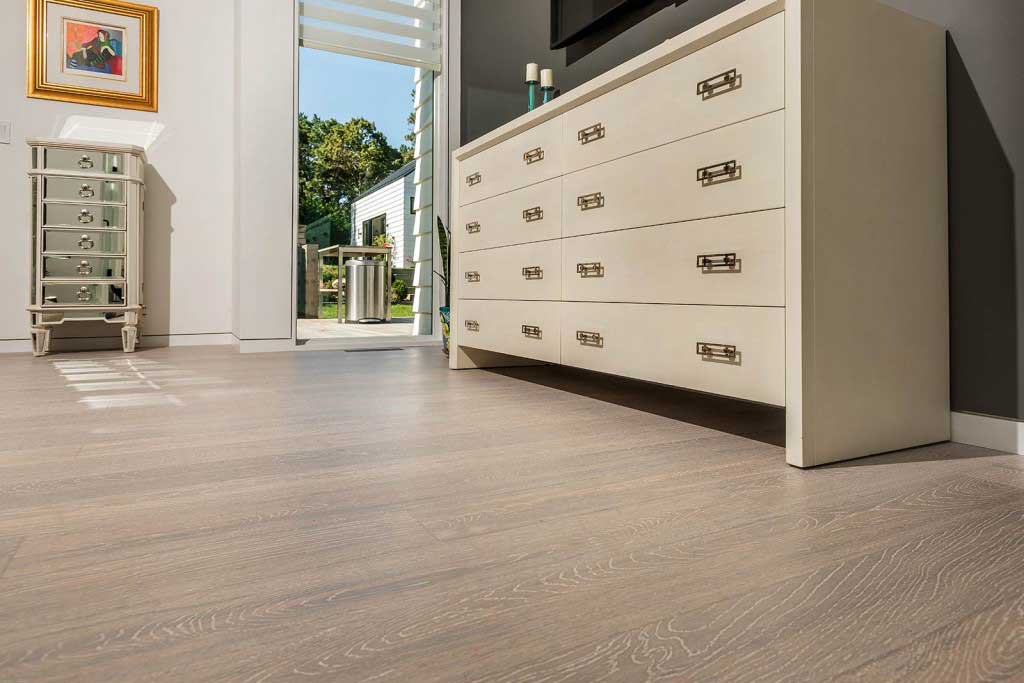 Cleaning Bamboo Floors Tip#1: Vacuum or dust mop daily
Hardwood and bamboo floors are great for allergy sufferers because they don't soak up dust, dirt, and debris. But that means it's up to you to get rid of that grime.
It's recommended to vacuum your floors every day or to dust mop if you don't have time to vacuum. However, you must turn off any rotating bristles on your vacuum while you're cleaning your hardwood or bamboo floors. These bristles are meant for carpeting to give them a better scrub-down, but when they're used on hardwoods, they can scratch your floor's surface.
Cleaning Bamboo Floors Tip#2: Never use vinegar when you clean your floors
In the 1990s, it was advised that homeowners with hardwood floors should use a damp mop with a combination of one-quart water and one-quart cup vinegar to clean their floors. This information has been passed around so often that many people don't know it was contradicted in the early 2000s.
Vinegar or ammonia isn't recommended to clean your bamboo or hardwood floors because the acid in the solution can dull the finish. This makes your floors look dull. And although hardwood finishes will gradually dull with age, vinegar can speed up the process.
Cleaning Bamboo Floors Tip#3: Don't wet mop or steam mop hardwood and bamboo floors
High humidity can cause your wood floor to swell, so it's no surprise that wet mopping can damage them. If you do feel the need to mop, wring out a microfiber mop until there's barely any moisture and then clean away.
Instead of wet mopping or steam mopping, it's recommended to follow a simple weekly cleaning routine (see above) to keep them in good shape. Wipe up any spills that happen right away to keep them from soaking up into the floor.
Don't refinish your floors until they really need it
You don't want to refinish your floors every time you think they could use a facelift. Engineered bamboo floors can be refinished up to two times and strand woven solid bamboo floors can be refinished up to four times.
That means if you refinish your floors before it's time to really refinish them, you're draining the life from your flooring. It's best to refinish your floors only when they need it. With most high-quality bamboo flooring brands means every 20-40 years depending on wear.
Avoid wearing high heels on your hardwoods
It can be fun to hear the sound of your own high heels on your hardwood or bamboo floors. But high heels concentrate most of your weight in just one square inch of space.
While most strand woven bamboo floors won't dent from high heels, this footwear can cause surface scratches. This is especially true if the protective cap falls off your high heels. Consider carrying your heels to the door before you need to leave and putting them on by the doormat just in case.
It's also a good idea to start taking off and putting on your shoes by the door. Making this a habit will help keep additional dirt and allergens from spreading across your home.
Interested in installing bamboo flooring?
Hardwood floors are the preferred flooring type for families with kids, pets, or allergies. But hardwood trees can take up to 40-80 years or more to reach maturity. That's not the case with bamboo.
Bamboo flooring is made from natural vegetation and the plant is a highly renewable resource. In just five to seven years, the bamboo plant can grow to maturity. That means installing bamboo flooring is not only ideal but also eco-friendly.
If you're interested in learning more about cleaning bamboo floors or installing them, Ambient Building Product can help.
We offer a variety of bamboo flooring types, including strand woven eucalyptus flooring and engineered bamboo. To learn more, contact Ambient Building Product by calling 866-710-7070 today.
To receive a free sample of Ambient's beautiful bamboo flooring, click on the box below.
Last update of the article: 11/20/2020.