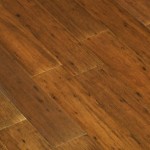 We're living in an age where sustainability is not just a concept but a real desire of everyday people to help protect the planet and all of its natural resources. One way homeowners are choosing to "go green" is by selecting eco-friendly building materials for their home.
In recent years, a couple of eco-friendly flooring options have come out on the market offering beauty, durability and affordability.  Eucalyptus flooring and bamboo are a greener choice for people looking to renovate on a budget and with a conscious.
But how are these two flooring materials different and how are they similar?
The Main Difference
The main difference between these two flooring options is that bamboo is a grass, while eucalyptus is a highly farmed hardwood, which makes it much easier to keep sustainably forested than most exotic species. Like bamboo and unlike hardwood trees, eucalyptus used in flooring can regenerate in as little as 3-4 years.  Most traditional hardwoods take anywhere from 20-100 years to grow large enough to be harvested for flooring.
Eucalyptus is harvested from well-managed forests and it tends to be slightly more expensive than bamboo.  Although eucalyptus is actually a hardwood, *initially* it is a soft wood yet once it goes through the strand woven flooring manufacturing process, the finished flooring products is many times harder than traditional wood flooring.
Bamboo goes through this same process: a compression technique where strips of material are dried and then woven together first to make the planks very strong. Eucalyptus is first cut it into thin strips, then woven and then compressed at extremely high temperatures to achieve the same fusion results: strength and durability.
They are also different aesthetically, with eucalyptus showing the circular knots of the tree, versus bamboo which shows the nodes of the culm.
Benefits of Eucalyptus Floors
Eucalyptus floors offer homeowners a unique and contemporary look with beautiful rustic features sourced from a fast-growing sustainable species.
These floors are also very durable and can stand up to dings and dents, making it a great choice for homes with kids and pets. And, like bamboo, certain eucalyptus flooring can actually be more than two times harder than red oak.
Eucalyptus solid boards can be re-sanded and refinished, which means your floors will last for many years to come. In fact, many manufacturers offer 25-year warranties for these floors.
Since the planks come in a range of widths, you have even more installation applications at your disposal.
Like bamboo, this flooring option is very affordable and costs usually half the price of traditional hardwood floors. Since installation can often be done by the homeowner, more money can be saved on professional installation charges.
Eucalyptus is another green material that holds up very well to high traffic, making it a great choice for installing in rooms like the kitchen and living areas, and for homeowners who live in humid areas of the country.
As you can see, the main difference between eucalyptus and bamboo is the source material. Bamboo is a grass whereas eucalyptus is an actual wood. Both offer a sustainable flooring option you can feel good about and one that won't break your bank. Oh, and both are sure to look gorgeous in your home.
---
---
Categories: Uncategorized