It's time to DISMISS THE MYTHS and clear the air about bamboo flooring.
As you do your research on bamboo floors, you may come across unfavorable reviews from contractors, installers, and other building professionals.  Bamboo flooring has been around since the 90s and the original bamboo floors were not like today's strand woven bamboo floors and there is quite a bit of misinformation on the Internet related to bamboo. The myths and misconceptions are why we created a complete bamboo flooring guide for beginners.  Fast forward to today and bamboo flooring is rapidly replacing traditional hardwood as a popular flooring option for homeowners wanting to invest in a beautiful and durable home improvement feature. But why is bamboo flooring such an attractive alternative to traditional hardwood flooring, and how do they stack up against each other?
Let's take a look.
Similarities of bamboo and hardwood flooring:
They both feel warm and cozy underfoot
Both are natural materials and have a natural look and feel
They have similar ease-of-installation and maintenance requirements
Both are very good for indoor air quality
Why bamboo floors are a better choice than hardwood:
Bamboo is harder (up to 3X harder) and more resistant to scratching and denting.
Using bamboo vs traditional wood like oak is more eco-friendly.
Floors made with bamboo cost considerably less.
Bamboo is slightly more water-resistant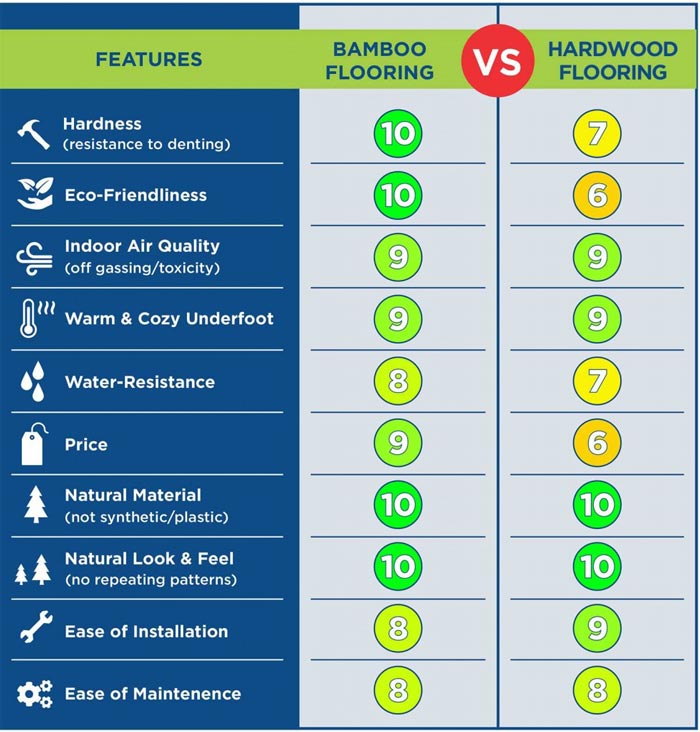 For a more in-depth breakdown, read our Bamboo Flooring VS. Hardwood Flooring | Side By Side Comparison.
The use of good-quality bamboo flooring is quickly growing in homes and businesses across the country. However, there are still reservations among contractors, architects, property developers, and renovators.  Their immediate impulse to shy away from bamboo is caused by myths and invalid assumptions surrounding this resilient and elegant flooring. One reason for this is because bamboo flooring is still a relatively new décor solution – it has only been mainstream since the 90s.
9 Myths and Misconceptions about Bamboo Floors
We have evaluated nine common misconceptions that the pros have gotten wrong concerning bamboo flooring, and we hope this will clear everything up.
●
Bamboo Flooring Misconception 1

: The belief that only a limited color range is available.

Bamboo flooring is available in many hues. Here at Ambient, for example, our color palette includes whites, blondes, creams, greys, browns, reds, dark browns, and chocolates. Note that each of these color groups is plural, which means each group contains multiple shades and colors.
●
Bamboo Flooring Misconception 2

: Assuming bamboo floors are suitable for residential applications only.

The truth is bamboo flooring is ideal for commercial spaces too. The warmth and charm it brings to offices, boardrooms, and lobbies, delight employees, visitors, and anyone else who spends time in these spaces. And since Ambient's bamboo flooring products are environmentally friendly, using them in a commercial space as opposed to using not-so-eco-friendly hardwood is a boon to commercial property owners committed to the goal of eco-sustainability. Ambient bamboo flooring also qualifies for LEED (Leadership in Energy and Environmental Design) credits from the U.S. Green Building Council.
●
Bamboo Flooring Misconception 3

: Thinking about the exquisite beauty and quality of bamboo floors exceed budget restraints.

Depending on where you buy it, bamboo flooring costs up to two-thirds less than traditional hardwood flooring. Here at Ambient, bamboo flooring sells for no more than $5 per square foot. Compare that to hardwood, which may cost up to $15 per square foot. Even Ambient's lowest-priced products beat the cost of hardwoods: bamboo flooring from us starts at $3 per square foot versus $5 per square foot for the lowest-priced hardwoods.
●
Bamboo Flooring Misconception 4

: Believing bamboo floors lack durability.

Actually, it's just the opposite. Bamboo floors are impenetrably durable and resilient. It can withstand as much as 300% more punishment than most hardwoods.

One of the main things contractors get wrong about bamboo flooring is assuming it is all the same. Like most building materials, there are high-quality products and there are low-quality products, and the same goes for bamboo flooring. Some companies sell bamboo flooring of inferior quality. Installation problems can arise when using inferior quality bamboo and also when using a click-lock, floating solid bamboo flooring in structures where humidity varies throughout the year.

Some installers are hesitant to use bamboo flooring because they have had bad experiences with it. What they don't realize is that those bad experiences were usually caused by installing a low-quality brand of bamboo flooring. Unfortunately, low quality is not just the purview of the big box stores, there are even high priced bamboo floors on the market that suffer from poor quality!  Low-quality bamboo can lead to several potential problems like shrinkage, cupping, and buckling. High-quality brands like Ambient have almost zero call-back ratios and fewer defects than even most hardwood flooring brands. Bamboo truly is an amazingly durable and beautiful product if you get the right brand and type.
●
Bamboo Flooring Misconception 5

: Pets and children will damage bamboo floors.

From a kid's point of view, a solid floor needs to do three things. First, allow a rubber ball to achieve a good height when bounced. Second, enable any wheeled toy to roll easily, smoothly, and possibly even super-fast. Third, minimize parental anger when foods and drinks are spilled or when muddy feet and shoes trod through. Bamboo flooring satisfies all three requirements!  Additionally, due to its extreme hardness, bamboo flooring won't dent and ding like most other floors, as strand woven bamboo is highly resistant to high heels, pet claws, and children playing rough.
●
Bamboo Flooring Misconception 6

: Concluding that the product is in short supply and that delivery will take forever.

Not at all. Granted, bamboo is sourced from outside the U.S., but it grows nearly all over the world and is one of the fastest-growing plants on the planet. In other words, it's very abundant. As for delivery, it's reliably speedy. Depending on where you are located in the U.S., if you order from Ambient, you can expect to receive your flooring in as little as 3-6 business days.
●
Bamboo Flooring Misconception 7

: Holding the view that bamboo floors invite pests.

Insects aren't particularly fond of bamboo since its fibers have the tensile consistency of steel. Suffice it to say, it's unlikely even the most voracious and vexing bugs will feel like the welcome mat has been rolled out for them when bamboo flooring goes in.
●
Bamboo Flooring Misconception 8

: Proclaiming bamboo flooring is a fad and thus a

décor

element to be avoided.

The idea here is that fads don't last, so a home or office adorned with faddish flooring materials will soon look outdated or tacky. The reality, however, is that bamboo flooring is here to stay, and the reason is that its eco-friendliness, elegance combined with affordability, and incredible performance will never go out of fashion.
●
Bamboo Flooring Misconception 9

: Believing that bamboo floors will do nothing to improve a property's resale value.

This ridiculous notion stems from the worry that engineered versions of bamboo flooring cannot yield the return-on-investment one would expect to receive from natural hardwood. However, experience teaches us this simply isn't so. Homes and offices featuring bamboo floors payback as well as or better than those with hardwood flooring because bamboo costs less, functions better, is often judged more attractive, and makes much more sense from a sustainable, eco-friendly perspective.

When bamboo flooring first started taking off, the technology and manufacturing processes were new and unsophisticated. But since then, the methods used to manufacture bamboo flooring planks have exploded with innovation leading to a variety of extremely high-quality products and resulting in countless satisfied customers. Eventually, the misconceptions surrounding bamboo flooring will vanish as contractors and designers gain awareness of the product, its merits, and its many benefits (which include beauty, performance, eco-friendliness, value, and end-user satisfaction, to mention only a few). When that day comes, we're confident bamboo flooring may ultimately emerge as the top choice among architects, developers, renovators, and remodelers.
Why some bamboo is inferior:
Some bamboo suppliers in China sell a lower quality bamboo product for a cheaper price than the high-quality bamboo that Ambient Bamboo Flooring uses, and several factors contribute to why the quality of some bamboo is subpar.
Early harvesting
Some harvesters will harvest bamboo before it has matured into a hard material, thus resulting in an inferior product. They do this so they can start growing a new batch of bamboo sooner and have a quicker cycle from first growth until final harvesting. This type of bamboo looks good, but it is soft and easy to scratch or dent.
Other reasons that contribute to the production of inferior bamboo floors include bad milling and manufacturing practices, not allowing the bamboo to dry properly, inadequate packaging methods, worn-out equipment, or flawed gluing methods. Any of these can lead to delamination, warping, buckling, twisting, or splitting of the flooring planks.
Poor refinishing
Another problem with low-quality bamboo happens as a result of improper refinishing. Some manufacturers finish their flooring planks with cheap and inexpensive polyurethanes that scratch easily. The newer and better finishing methods involve multiple coatings of aluminum oxide that is incredibly tough and scratch-resistant.
Get Beautiful, Affordable Bamboo Floors from Ambient™
Ambient Bamboo Flooring has been supplying the highest quality of bamboo flooring available since 2005. Our products go through rigorous tests that gauge quality, durability, safety, and longevity. We abide by the strictest testing standards in the industry. This is why Ambient bamboo products always pass with flying colors.
We are proud to back up all of our products with a lifetime structural and finish warranty. We have developed our own innovative and high-quality products that have earned us a pristine reputation.  Ambient provides the highest quality and service available in our industry. In addition to many other rigorous testing procedures, Ambient is proud to maintain Floorscore Certification. All of our products meet the CARB Phase 2 standard as well. Ambient carefully controls the supply chain with strict quality control processes. This allows us to supply only the highest quality products on the market.
Ready to learn more about why you – like a pro – should use bamboo floors in your projects? Give us a call at (866) 710-7070.

---
---
Categories: Flooring