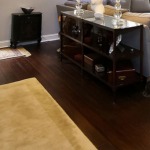 If you've been researching flooring for your home, you may have come across the term "Janka Hardness Test". It's an odd-sounding term, and most homeowners have no idea what it pertains to, although it's something you should definitely be aware of when shopping for new floors.
What Is It?
The Janka hardness test measures how dent-resistant a sample of wood is. This wood could be used in any building application, but the test is commonly used to determine if a material is suitable for flooring.
It should be noted that the hardness of wood or bamboo varies with the direction of the grain. Testing on the surface of a plank, perpendicular to the grain, is called "side hardness," and testing the cut surface of a stump is called "end hardness."
What the Results Mean
The Janka hardness test measures the resistance of a sample of wood or bamboo to denting and wear and tear (Take a look at bamboo flooring and the Janka hardness scale). After all, you want to know your floors are going to stand up to major abuse. The test measures the force that is required to embed an 11.28mm ( or .444 inches to be exact) steel ball into wood to half the ball's diameter. I know; it sounds very confusing and technical, but when the test is over, it will leave an indentation in the sample.
Here is where it gets even more confusing: depending on where the tests are performed, the results will be stated in various ways. In the United States, the results are listed in pounds-force (lbf); in Sweden, the results are listed in kilograms-force (kgf), and in Australia, they are often listed as newtons (N) or kilonewtons (kN).
What Does This All Mean to You?
So now that we've gotten the technicalities out of the way, what does all of this mean to you when you're shopping for floors? Well, if you have pets, kids, or you live an active lifestyle, you know you need tough floors. If you've decided on wood flooring, then going with strand woven bamboo or eucalyptus is a no brainer. They'll stand up to your kids, pets, and anything else you throw at them (Is bamboo flooring good for dogs?). And under residential traffic conditions, it's possible you may never even have to refinish them.
Traditional "classic" bamboo floors (commonly called "vertical" or "horizontal") typically have the hardness rating in the 1000-2000 range, which is the same rating of oak… not too shabby. But strand-woven bamboo has a rating upwards of 3,800, which is well above Brazilian cherry and teak. The main difference is that the bamboo floors will cost far less, and bamboo renews much quicker than hardwoods, which makes it the more eco-friendly option.
Let's look at some real-life examples: Douglas Fir has a Janka hardness rating of 660, Brazilian Cherry has a hardness rating of 2350, and Brazilian Walnut has an even higher rating of 3800. These woods are very hard and would make excellent flooring options. They are, however, incredibly expensive. Strand woven bamboo flooring has a Janka rating of 3,800 to 5,500, and bamboo flooring is more durable and tougher than hardwood flooring.
The More Affordable, Greener Choice for Durable Floors
In addition to being multiple times harder than traditional hardwoods, strand woven bamboo is also eco-friendly and rapidly renewable. Are you in the market for new flooring, need it to be hard, but not so hard it breaks your bank? Then you may want to check out our selection of strand woven bamboo flooring.
If you would like to receive a free sample to see just how incredibly hard and durable our bamboo flooring years, click on the box below. Or you can call one of our flooring experts at (866) 710-7070, today!