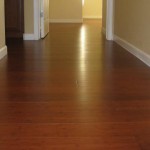 With the recent popularity of bamboo flooring, there has been a surge of new styles, colors, and finishes to choose from. Not only are bamboo floors the more environmentally-friendly choice and also usually the more affordable choice, but now, no matter what your home's décor, you'll be able to find bamboo flooring that fits your personal taste.
If you're considering installing bamboo floors in your home but you have questions or are looking for some design inspiration, a good place to start is right here: Bamboo Flooring 101: A Beginner's Guide to Bamboo Floors.
Below are some of our most popular bamboo flooring choices.
Strand Woven Natural
Our strand woven natural floor is perfect for just about any room in your house. They're so versatile because the natural color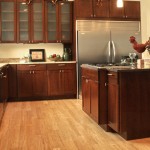 goes with any color palette and style of furnishings in your home. Very much resembling traditional hardwood floors, they offer the same warmth and elegance but in a greener, more affordable material.
Classic Carbonized Horizontal
The classic carbonized horizontal bamboo floors have the classic bamboo look. The way that the planks are laid and adhered to will accentuate those great markings you'll only find in bamboo floors. This choice looks great in those spaces that seek to draw some attention to themselves. Try these floors in a dining room, living room, or bedroom. A large, open room that isn't cluttered with a lot of furniture will help show them off.
Strand Woven Tiger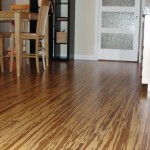 This is the kind of floor people immediately notice. No one can walk on it without seeing the amazing and unique beauty of these bamboo planks. They are called tiger woven for a reason. The tiger pattern is bold and makes a big statement. This bamboo flooring works well in all kinds of spaces, from homes to restaurants and showroom floors. If your decorating sense requires you to show off a bit, consider our strand woven tiger floors.
Oak Gunstock Strand Bamboo
There's something about those old, worn, wooden floors you find in houses built in the early part of the 20th century. The dark patina lends a certain warmth to a room and really anchors it nicely. Well, now you can have that same look and feel without waiting 100 years to get it. Our oak gunstock strand bamboo floors offer the same rich color that will complement traditional homes that seek to mimic a look of a bygone era.
Strand Woven Sangria
There are those floors that strike the perfect balance between elegant and contemporary, those that are able to be beautiful without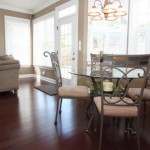 being too showy. Our strand woven sangria floors is the perfect complement to those rooms that seek a classic feel with a pop of something a little extra. The rich sangria color is radiant in all kinds of light and goes well with a variety of color palettes.
These are only some of the styles of bamboo flooring we offer, but again, take a look at our Bamboo Flooring Pictures & Photo Gallery for more design ideas. And, if you have any questions about pricing, check out our bamboo flooring page, and always feel free to give us a call (866-710-7070).