Owning a home has always been the American dream. There's just something very satisfying about owning your home sweet home. But there's also something very expensive about it when it comes time to remodeling.
Installing new floors can be one of the most expensive updates to your home and many people try and stretch their budget by installing their floors themselves. While this is a great way to save some money, there are certain installation guidelines every DIYer should follow to make sure their new bamboo floors are installed properly.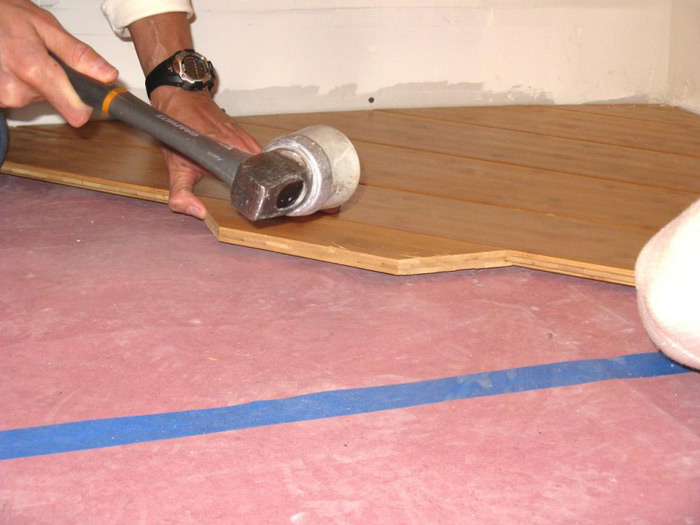 Purchased All the Materials You'll Need
The actual bamboo flooring is the obvious item to put on your shopping list, but your project will require other materials as well such as transition pieces between your new floor and other areas. You'll also need to hide the expansion gap between your floor and baseboards or walls, which quarter round can be great for. Here are some of the materials you might consider buying to ensure a smooth installation and a gorgeous final
Acclimate Acclimate Acclimate
We said it three times because it's that important. We've talked to so many people who ran into flooring trouble because they assumed they didn't have to follow this rule and they ended up with flooring that buckled. We can't stress enough how important it is to let your new flooring acclimate to the temperature and humidity in your home. To reduce the natural expansion and contraction of bamboo you'll want to lay your flooring out in the room it will be installed in first and let it acclimate for AT LEAST 48 hours if not 72.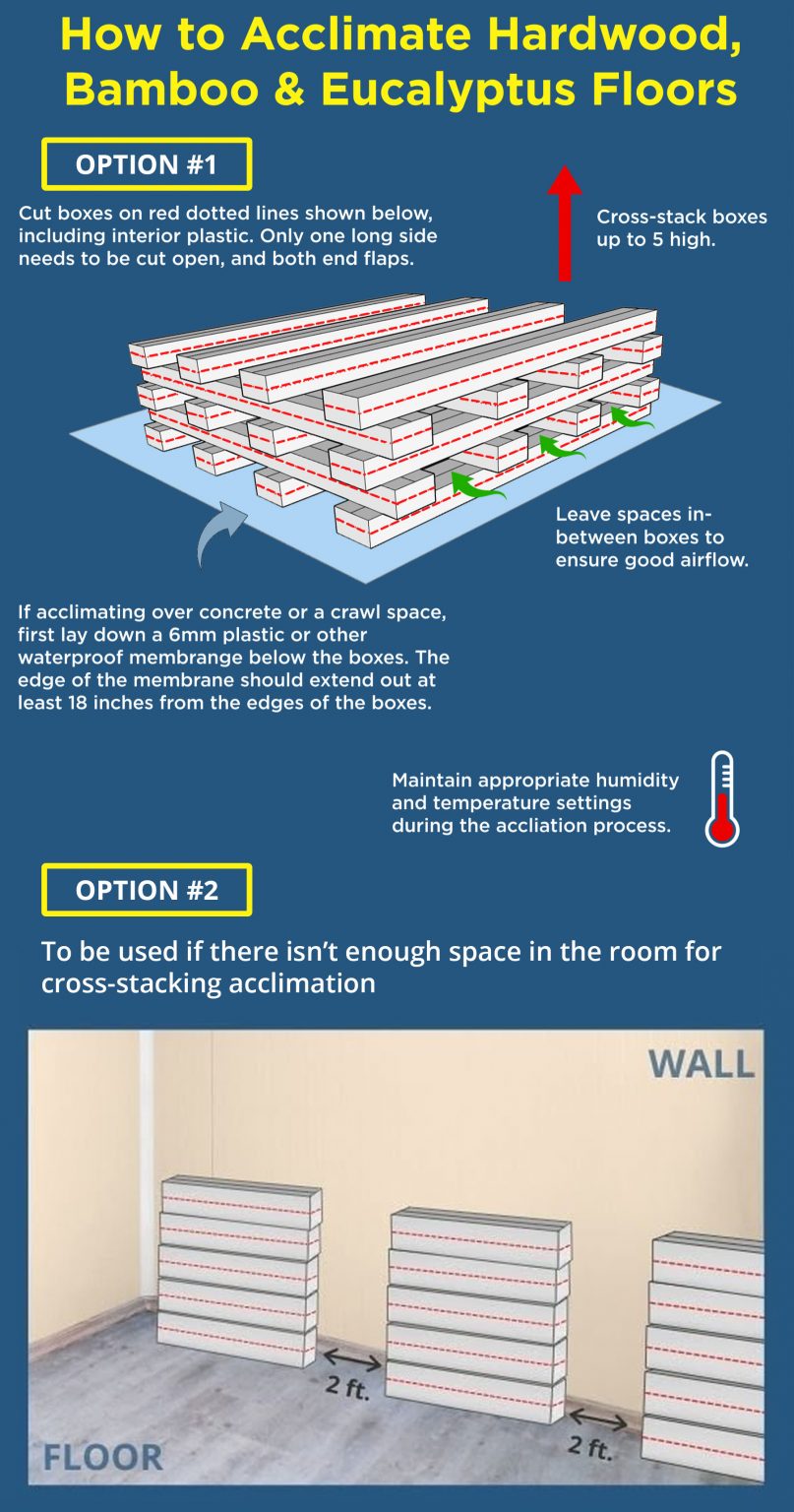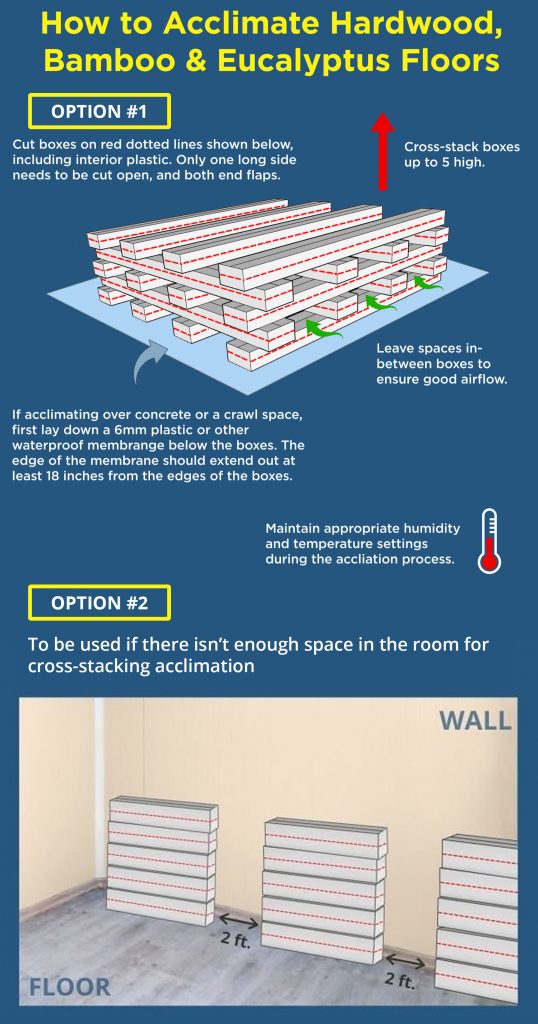 Keep a Steady Temperature for at Least 2 Weeks After Installation
As important as it is to allow your floors to acclimate before installation, it's equally important to make sure you keep the temperature in your home nice and steady for two weeks after your floors have been installed. This means if it's winter and you generally heat your home to 73 during the day and let it go down to 62 at night, you should keep the temperature at, say, 69 constantly for two weeks.
Prep
You'll next want to prep the installation area by removing any furniture, carpeting on the existing floors, and then removing the old floors themselves. You'll also want to fix any leaks that could damage your new floors and level the subfloor. You may find that you need to grind down any high spots and add self-leveling adhesive in the low spots. Again, we want to urge the importance here of making sure your subfloors are level. If you skip this step you are setting yourself up for problems in the future, and you may even void your product warranty.
Install
Be very mindful when installing your new bamboo floors to use between floors and other areas of your room. For instance, when your new floors meet another floor area that is at the same level you will want to use a "T-Molding." If your floor meets another surface at a different level, you will want to use a "reducer" transition. This will give you a nice smooth transition and reduce the risk of anyone tripping in your home.
If you have an area of the room where your new floor will meet stairs, you will want to use a "stair nose" transition, and where your flooring meets your wall or baseboard, you'll want to use a "shoe-molding."
Please Mind the Expansion Gap
And speaking of where your bamboo floor meets your walls, be sure you. Actually, you need this gap not only between your floors and walls but between your floors and any non-moving object such as a kitchen island. This gap will allow your floors to expand and contract under natural conditions like changes in temperature and humidity levels.
Mix Up Your Planks
When installing your new bamboo floors, be sure to open multiple boxes of planks and mix them up. The reason for this is, sometimes boxes contain slightly different shades. You don't want that section over by the window to be all lighter planks, and then your floor gets slightly darker and then lighter again. To create one uniform look, mix up your planks before installing.
Decide on the Direction of Your Planks 
Before you can begin laying your planks down you've got to determine the direction they should go. You can run your bamboo planks lengthwise or perpendicular, the choice is a matter of personal taste.
Consider where your windows are located and how the light is coming into your room. A beautiful design choice is to lay your planks down in the same direction as the light coming into your room. One note: running your floors the long way makes for an easier installation as you will have fewer seams and fewer boards to cut. Either way, you choose to install, your floors can't help but be beautiful.
You can check out our bamboo floor installation guide here.
Once your new floors are in, you'll want to make sure to use area rugs to protect them and give your floors a good sweeping once or twice a week to get up any dirt or grit that could scratch the finish. Keep your pet's nails trimmed and avoid walking in high heels across your floors. Also, although bamboo is great at standing up to moisture, being as it's grass and not hardwood, be sure to never allow any standing water on your floors.
Caring for your new will ensure they look as beautiful years from now as they did the day you installed them.