The sun has a way of changing things: just ask any raisin.  The rays from the sun change grapes into raisins and currants. And that's a good thing because raisins and currants are delicious! But those same sun rays can change the appearance of any hardwood floor – including bamboo flooring. To some that's a negative but most people understand that's just nature doing it's thing.
In this article we'll give you insight as to how the sun causes bamboo flooring discoloration and what you can do to prevent damage to your floors and other home furnishings.
The Affect of Sunlight on Wood & Bamboo
All wood is affected by UV light. Some wood gets lighter and appears bleached; other woods get darker. Brazilian cherry and tigerwood (not the golfer) get dark (suntanned in a bad way) fast. Oak, maple, and hickory can fade over time.
Bamboo can fade as well; unless it is natural strand woven bamboo flooring – which actually tends to darken slightly over time.  Carbonized strand bamboo flooring, conversely, tends to lighten over time.
Confused? Just remember sunlight affects bamboo hardwood and other hardwood flooring just like almost all other building materials. It doesn't matter whether it's bleached or darkened: it's still changed.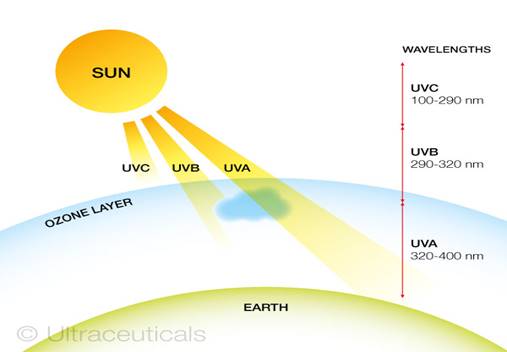 Sunlight is Really Radiation
The sun emits radiation. Photons stream from the Sun to our Earth in the form of ultraviolet light. These waves of energy are measured by the length of the distance between the wave peaks. There are three different lengths of ultraviolet light: UVA, UVB, and UVC.
UVA has the longest length waves, then comes UVB, and finally UVC. All UVC and most UVB waves are absorbed by the Earth's atmosphere. Thanks for the assist atmosphere!
But the UVA and some of those UVB waves get through the atmosphere. These are the troublemakers that affect the chemical structure of the wood and change the wood's color.
Lightening up Lignin and Creating Cellulose
If you were a chemist or remembered high school chemistry, you might understand this diagram: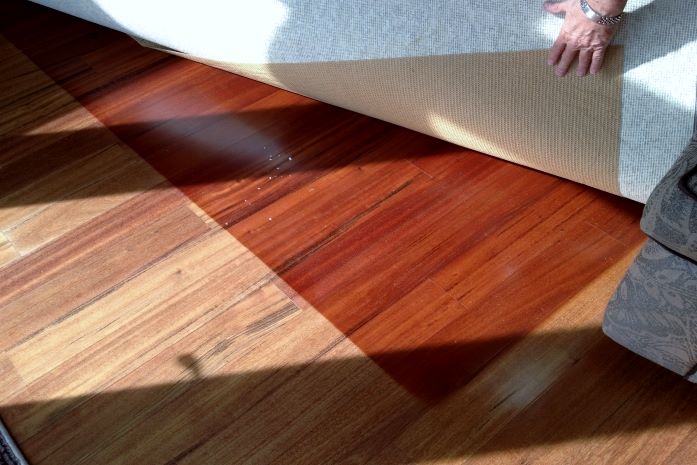 Don't worry if your chemistry is rusty. It's not that important. Just take away that all hardwoods like bamboo are made up of carbon, hydrogen, and oxygen that get together to create lignin and cellulose.
Lignin makes plants rigid and woody. Cellulose is what makes plants stiff and upright. Cellulose is also that stuff you eat in your cereal and call fiber.
Researchers have discovered that ultraviolet light causes lignin to turn more yellow, and, the more exposure the wood gets, the more the lignin is affected. At the same time, the UV radiation actually increases the amount of cellulose in the wood and creates free radicals. So, if you start with lots of lignin, the wood gets lighter. Otherwise, it gets darker.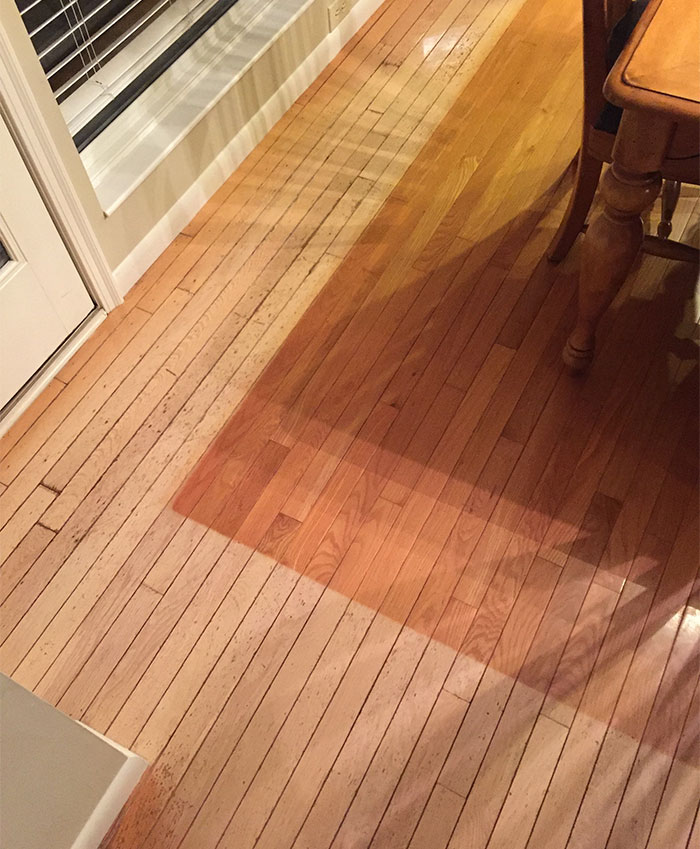 More Than a Color Change
UV light does more than just tan human skin. It damages the skin cell structure and causes cancer.
Well, when it comes to wood, UV light does more damage than changing the wood color. No, your wood floors can't get cancer, but they can still be damaged.
While radiation doesn't penetrate far into the wood, it does damage the surface. In addition, UV light from the sun warps hardwood.
But wait, there's more. See, wood absorbs light and the absorbed energy breaks the bonds in the molecules of the wood. That weakens wood.

When the Risk is Highest
The risk of sunlight damage and bamboo flooring discoloration is highest when the UVA and UVB waves are the strongest. In North America this is:
Between 10:00 a.m. and 4:00 p.m.
Spring and summer months (March to September)
Latitudes closer to the equator
Higher altitudes
Sunny days
But that doesn't mean the UV light coming through windows in a beach house on a cloudy day in Maine can't damage the floors. It can.
Windows that face south get more light exposure than windows that face north. Any window shaded by a porch or an awning decreases the UV exposure as the light is deflected. So, what can you do?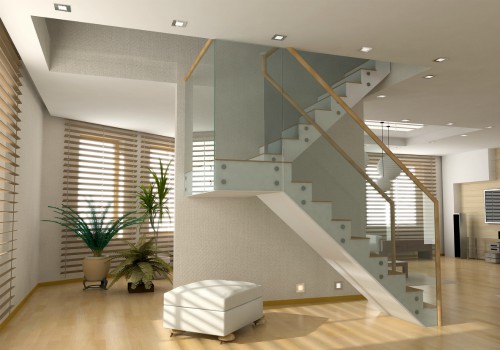 Purchase Bamboo Flooring with UV Protection
The best offense is a good defense. That works in more than sports.
Start by purchasing bamboo flooring with protection like the Accuseal® Ultra protective flooring finish. A multi-layered system like this will give you get water and scratch resistance protection as well as some UV light protection. It's like a layer of SPF 10 on the wood. But you can't stay in the sun all day with SPF 10 and not get burned!
Likewise, you can't expect the manufacturer's flooring finish to provide all the UV light protection you need – no matter how awesome it is. So, you've got to do a few other things.

Periodically Move Furniture
Once again, the best offense is a good defense.
Rearrange the furniture so that different portions of the floor are exposed to the UV light and different portions are protected by the shade of the furniture. Keep in mind that the light comes in different windows depending on the time of the day.
Furniture sliders make this job easier than you think. Simply keep the sliders under the feet of your heavier pieces of furniture at all times and when it's time to Feng Shui the furniture, they'll glide much more easily. Sliders make moving furniture so easy you may even do it more often.
More than your floors will thank you for this. Upholstered couches and chairs, lamps, and coffee tables will appreciate getting a break from their sunbathing routine. Rugs will also welcome a field trip to another part of the room or house. Speaking of rugs…..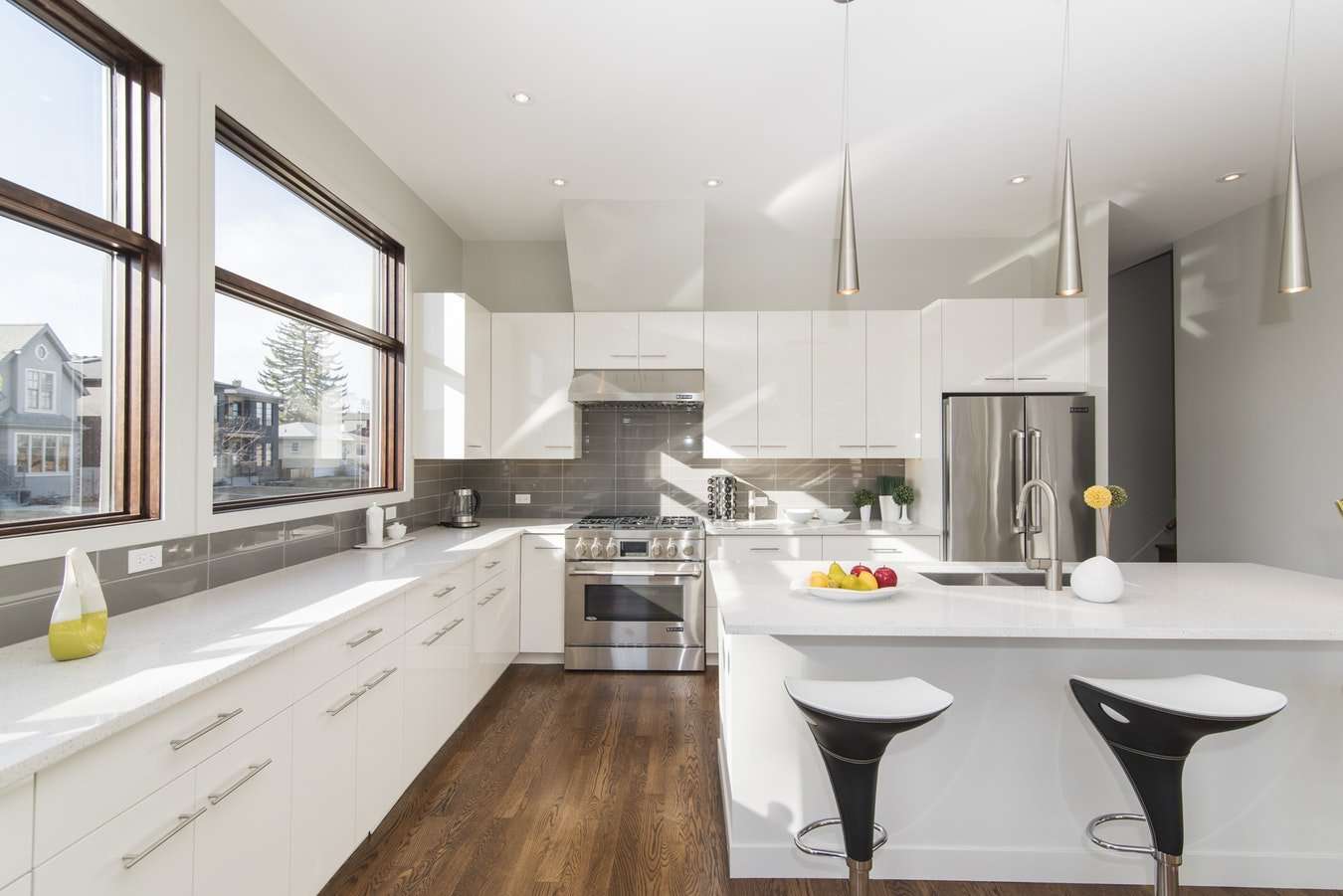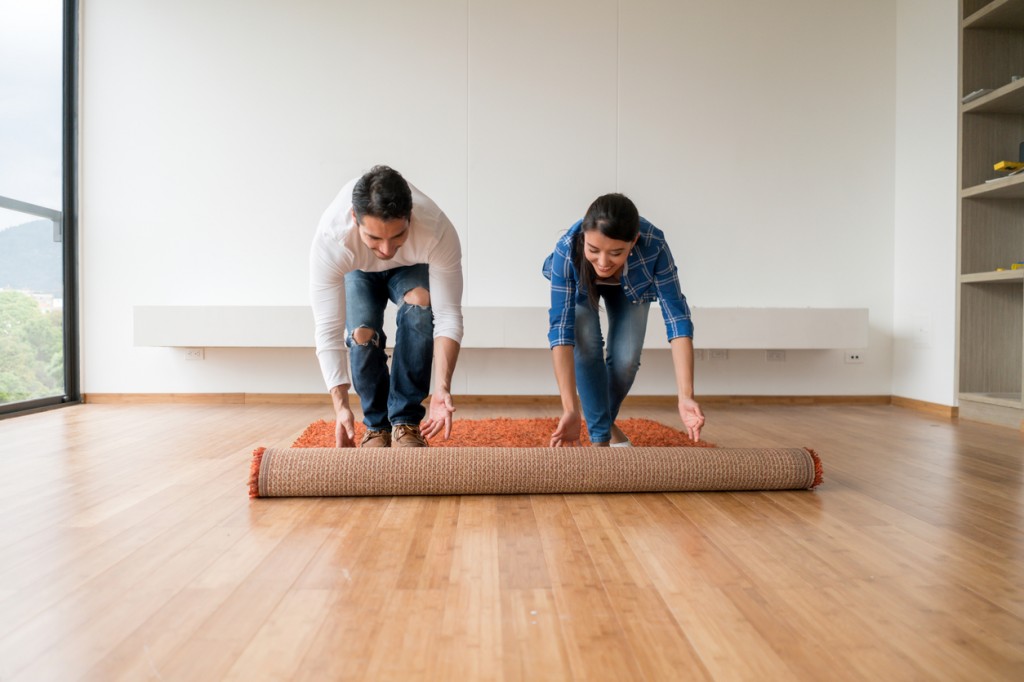 Select Rug Mats that Won't Mar the Floor
Coconut coir and jute are awesome for scraping that dirt and mud off the bottom of your shoes. They are perfect outside the door. But when it comes to inside the house, use rugs and mats with a natural rubber backing.
Sure, hardwoods are "hard" but that doesn't mean that the grinding action created when people walk on a rug won't scratch the finish.
Protect your floors from your rugs and runners with pads made from rubber. Better yet, get a rug or runner with a natural rubber backing.
Rubber grips better than PVC-based pads and backing so it puts the brakes on sliding. PVC can also stick to the wood and mar the surface where natural rubber does not. Marring the finish isn't exactly the performance you desire in a product put down for protection.
Cover Your Windows to Keep UV Out
The easiest solution is to just keep the harmful UV rays out to begin with. You can do that with:
Curtains and draperies
Blinds, shutters, and shades
Window film
Windows with low-e glass
Curtains and Draperies
Nothing makes a room look finished like a set of draperies or curtains. They are an essential in setting the style and feel of the space.  Whether you go with drapes or curtains, you'll get some level of UV protection. From blackouts to sheers, the amount of protection you get depends on the fabric and density.
Here a designer from Eclipse Curtains describes the differences in the technology used to block light and UV radiation.
Difference Between Curtains and Drapes
By the way, did you know there is a difference between curtains and drapes? Well there is. Drapes and draperies are panels of fabric with a lining. They are pleated at the top of the panel and hang to the desired length from a rod. Think of them as black-tie attire for your windows.
Curtains on the other hand are dressy casual to casual ready-to-wear panels of fabric that don't have a lining. Because they aren't lined, they are thinner and lighter than most drapes. They also hang from rods and can cover the entire window or just a portion.  You can even pair curtains with blinds for a double layer of UV protection.
Blinds, Shutters, and Shades
Good news! The same blinds, shutters, and shades you use for décor also block harmful UV radiation. Blinds have horizontal or vertical slats. Shades are made of fabric or fabric-like material. Blinds and shades install at the top or the inside of the window. Shutters are blinds that install on the window frame. When it comes to blinds, shutters, and shades you have almost as many options as drapes and curtains. This includes:
Vertical blinds
Plantation shutters
Horizontal blinds
Roman shades
Venetian blinds
You can even buy doors with the blinds or shades already installed between the panes of glass.
Window Film
Window film reduces UV light and insulates as well. There's DIY window film or you can hire a professional.
Window film is a thin coating that is applied to the windows. It stops the UV radiation without stopping the light. That makes it a great option if you want to keep using natural sunlight to create an eco-friendly indoor sanctuary without fading your floors or furniture.
Like other window coverings, this can also help keep your room cool in summer. So, not only are you saving your floors and furniture, you're using less energy and saving the planet too. Go you!
Windows with Low-e Glass
If it's time to replace the windows in your home, investigate windows with low-e glass.
Major window manufacturers create low-e glass by applying a glazing to the inner or outer panes of the glass.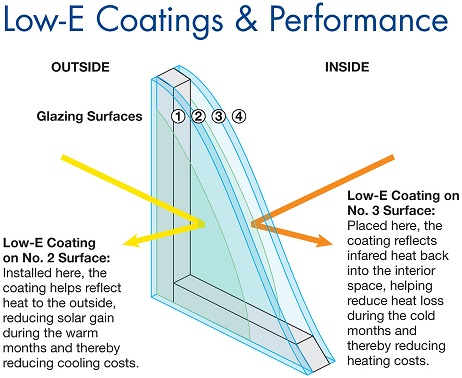 Window manufacturers measure the performance of their low-e windows with:
U-value: This measures the heat loss from a u-value of a window indicates heat loss. Look for a low number.
Solar Heat Gain Coefficient: This tells you how much solar heat is transmitted through the window. This is another number you want to be low.
Visible Light Transmittance: The measures the amount of sunlight coming through the window. You must balance this number against the other two numbers. What good is a window if it doesn't allow any light through?
Low-e windows will cost a bit more (10% -15%) upfront. But, over the life of the window it's going to save you much more. Savings come from:
Reduced energy costs for heating
Reduced energy costs for cooling
UV damage to upholstered furniture and other fabric-based décor
UV damage to bamboo flooring, hardwood flooring, or carpet.
So, keep this option in mind next time you shop for windows.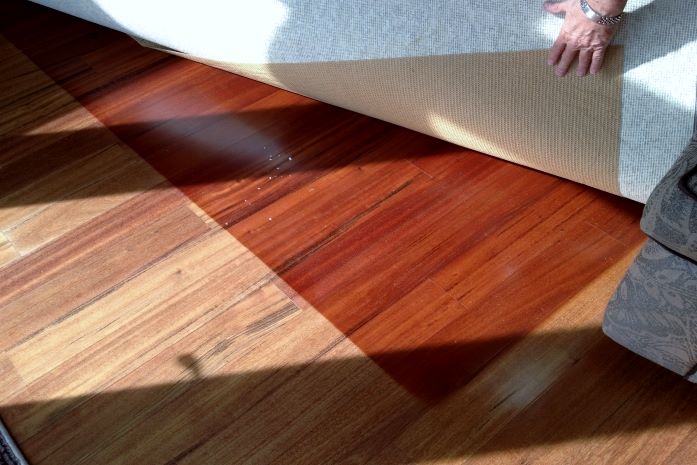 Bamboo Flooring Discoloration and Sunlight
Sunlight coming through doors and windows causes bamboo flooring discoloration.  Depending on the wood, UV light can make the wood lighter or darker. Sunlight also damages wood flooring over time.
This discoloration and damage aren't attractive and must be prevented. But you don't want to live in a dark house (unless of course you are a vampire)!
Thwart the damage by:
Purchasing flooring with UV protection
Periodically moving furniture
Using window coverings like blinds, shades, shutters, drapes, and curtains
Installing window film to reduce UV light
Use windows with low-e glass to replace existing windows.
In addition, keep in mind when the UV light is the strongest and use your window coverings closed during these periods.