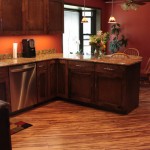 Sonny and Cher were both talented entertainers, and yet no one got them confused with each other. Pizza and Spaghetti are two popular Italian dishes, but you would never think one was the same as the other. And yet, people are constantly confusing bamboo flooring with laminate flooring. Both are practical, durable, and affordable flooring options for homeowners, yet they have obvious differences. To see a complete write-up about the differences and a table comparing feature by feature, we recommend checking out our more thorough post, Bamboo Flooring VS Laminate | Side by Side Comparison.
Properties
Often confused with hardwood, bamboo is actually a grass and not a tree. It is far more renewable than wood and can regenerate in a matter of 5-7 years, as opposed to 30, 50, or even 100 years in the case of hardwood trees. This makes bamboo a popular flooring choice for "green" consumers concerned with environmental issues (yes, bamboo flooring is eco-friendly).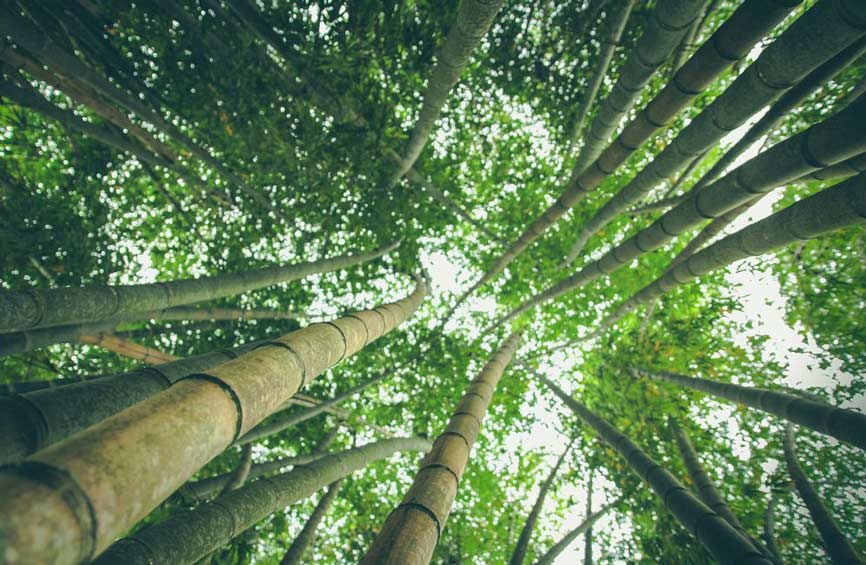 Bamboo floor planks are manufactured by breaking down the stalks, cutting them into strips, and fusing them using high heat compression machines, giving bamboo floors numerous looks. Strand woven bamboo floors have a Janka hardness rating (Read Bamboo flooring and the Janka hardness scale) that is much higher than traditional wood flooring, making them extremely hard and durable.
Laminate floors are manufactured by gluing material together, but the similarity stops there. Laminate is made up almost exclusively of plastics made by adhering several layers of fiberboard (a building material made of wood fibers which have been compressed into boards), melamine (a plastic used for laminated coatings – it is made by copolymerizing this compound with formaldehyde). High-quality photos of the type of wood the laminate is mimicking. The photos are laid on top of the fiberboard and glued into place with a protective plastic coat. The entire product is synthetic (made of plastic), so it doesn't have a natural warmth and feel of hardwood and bamboo flooring.
Costs of Bamboo and Laminate Flooring
Compared to hardwood floors, bamboo and laminate are more affordable than those on a tight budget. As with any building material, both options are sold within a range of prices, from very cheap to more expensive.
The real difference comes when looking at the cheaper version of both. You can buy cheap laminate floors for around $0.99 per square foot, and the least expensive bamboo you will find is about $1.99 a square foot (you'll want to avoid that product, though!). Here's the difference: the cheap laminate is manufactured so that you will have to replace the entire floor in as little as 10 years. Compare that to the cheap bamboo, which can still be sanded and refinished just like a hardwood floor. And for that extra dollar per square foot, you're looking at floors that will last a lifetime.
Patterns and Styles
Both laminate and bamboo come in a wide selection and variety of colors and patterns. Bamboo flooring, in particular, can take on the look of hardwood floors. This is determined by whether the bamboo stalks are lined up on their sides before gluing. If so, the planks take on a beautiful striped pattern. If the bamboo is laid flat, the result is the recognizable "knots" in the planks. Bamboo can also be boiled before the manufacturing process, which gives it a darker, caramelized color.
Both bamboo and laminate come with their own advantages and disadvantages. In general, laminate is easy to install and is one of the cheapest flooring options on the market. It can be quite hard on the feet, though, and, unlike bamboo, it will not last for many years as it can't be sanded and refinished. Laminate is also not a real hardwood product, being that it's made of plastic, so it is not as warm underfoot and doesn't look as natural as bamboo flooring.
Bamboo floors can have the same look as gorgeous hardwood floors and cost a fraction of the price. It's a greener building material and can be harder and more durable than the densest woods, so it stands up to years of wear and tear. Like hardwoods, though, bamboo must be maintained properly for the beauty to last for years. And hardness aside, it can still dent and scratch unless precautions are taken.
Get a free sample of our unbelievably durable and beautiful bamboo flooring sent to your home. Click on the box below. If you have any questions about bamboo flooring, please give us a call today at 866-710-7070 and speak with one of our flooring professionals.