Laminate flooring is cheap to buy, readily available, and is sometimes considered an alternative to hardwood. At first glance, laminate floors look very similar to natural wood, but the differences aren't too difficult to spot if you look a little more carefully. That nice-looking wood-like appearance doesn't use any wood at all; it's a photographic image of wood printed onto paper and protected by a razor-thin transparent plastic layer. To save you some head-scratching about whether laminate flooring is right for you, we have produced a detailed side-by-side comparison of the most critical aspects of laminate and bamboo flooring.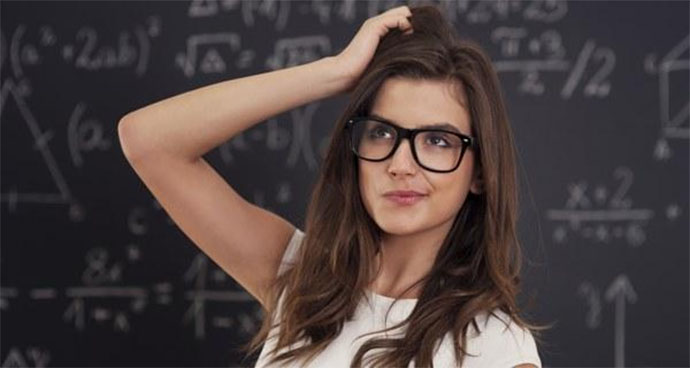 Our expert panel has scored each major point out of 10, with 10 being the most desirable. So, look at the aspects that you most care about and add up the scores.
KEY DIFFERENCES BETWEEN BAMBOO FLOORING AND SOLID LAMINATE FLOORING – A GUIDE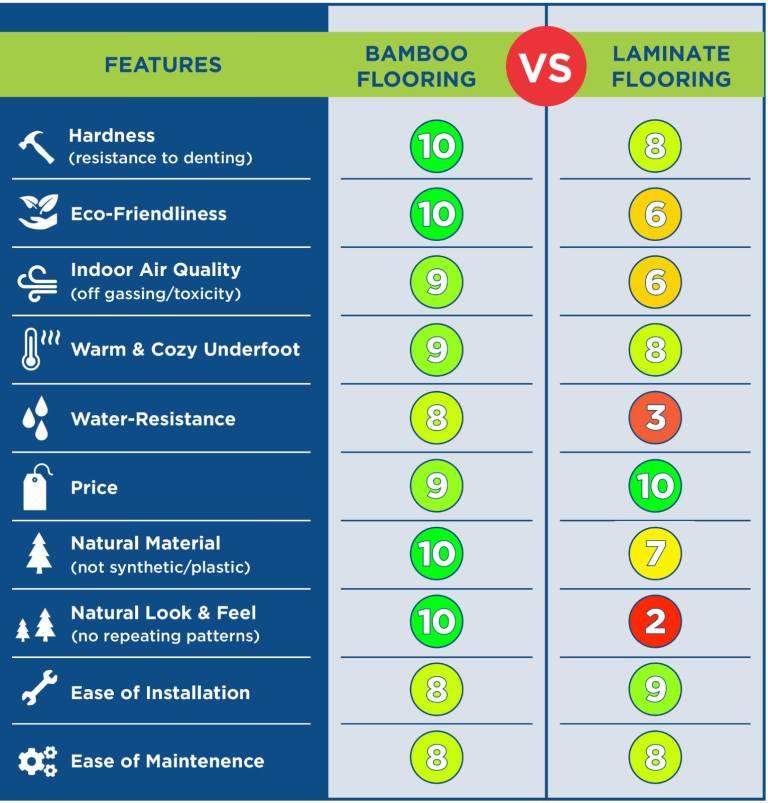 HARDNESS (Resistance to Denting)
Bamboo Flooring
Bamboo flooring, especially strand woven bamboo flooring, is extremely resistant to denting. That's hardly surprising since it's at least three times harder and more resilient than real oak flooring. You can comfortably rest even heavy furniture on bamboo flooring without worrying about denting the floorboards. Many customer reviews on the web even show that you can confidently strut across this floor in high-heeled shoes and that it's the only hardwood that cannot be permanently grooved by pet claws, it seems to be extremely resistant to wear and tear from heavy traffic. Here, we talk about the Janka hardness of bamboo and recommend reading it for more information on why strand woven bamboo is so hard. We score it 10 out of 10.
Laminate Flooring
Laminate flooring is tough and withstands heavy traffic as well as heavy loads. The durability of laminate floors is assessed by their AC (Abrasion Criteria) rating. While this isn't the same as hardness, they are closely related. Laminate flooring is available with AC ratings of 1 to 5:
AC1 – poor resistance; only use in rooms that have occasional use, such as guest bedrooms
AC2 – can withstand light to moderate footfall
AC3 – fine for moderate footfall, for instance, living rooms
AC4 – heavy domestic footfall and light commercial use
AC5 – The safest choice for all domestic and commercial settings
Thus, it is important to check out the AC rating before installing laminate flooring, or you may well end up disappointed with its wear characteristics. We give it 8 out of 10 for hardness.
ECO-FRIENDLESS / DAMAGE TO THE ENVIRONMENT
Bamboo Flooring
Nowadays, most people are, to some extent, concerned about the environment. There is now more than enough evidence that damaging the environment can have catastrophic consequences to our planet's climate. Storms, hurricanes, flooding, heatwaves, devastating forest fires, and record life-threatening cold snaps are all the direct results of the environmental choices we make.
There is, however, no doubt that one of the most beneficial choices we can make is to use bamboo flooring. Bamboo, a grass, grows prolifically, reaching maturity for harvest in just five years. After harvesting, the plant naturally regenerates to come along five years later and pre-harvest it. There are many advantages to choosing bamboo flooring. We don't need to use environmentally damaging pesticides, it doesn't erode the soil, and it doesn't even use much water. Its environmental credentials are impeccable. For eco-friendliness, we give it 10 out of 10.
Laminate Flooring
Unfortunately, we can't say the same about laminate flooring. It is not nearly as eco-friendly as bamboo, though it does have some positive environmental aspects. The bulk of laminate flooring is made from wood fibers derived mainly from recycled wood fiber and chips, which means that no new trees are used in the process. We can also recycle laminate floors. However, there are some aspects of laminate flooring that are not environmentally friendly. For instance, melamine resin is used in its manufacturing, and melamine resin is made from formaldehyde, a toxic, carcinogenic chemical. For eco-friendliness, laminate flooring scores 6 out of 10.
There is nothing quite like the sound of a bamboo forest; check out the video below.
INDOOR AIR QUALITY, OFF-GASSING, & FORMALDEHYDE EMISSIONS
We recommend you read what the US Protection Agency says about indoor air quality. Be warned, though; you might be a little shocked about what they have to say. Fortunately, they provide some excellent guidance on what we can do to improve air quality in our homes. The main culprit is VOC or Volatile Organic Compounds. Produced by off-gassing from a wide range of home products, we must do our best to minimize them.
Bamboo Flooring
Bamboo flooring is one of the best choices we can make for reducing VOCs in our homes. It is an entirely natural product that produces virtually no contaminants. Bamboo floors aren't 100% VOC free; they produce a tiny amount from the adhesives used in their manufacture, but it is far better than many alternative products and passes all of the most strict indoor air standards. For indoor air quality, it gets 9 out of 10.
Laminate Flooring
Laminate flooring has acquired a bad reputation for VOC emissions due to materials such as formaldehyde used in its manufacturing. Some laminate floors still do emit quantities of VOCs. However, if you shop around, you will find laminate flooring that boasts meager quantities of VOC emissions. We advise that you look at the CARB 2 compliance, which sets the limits for formaldehyde emissions. CARB stands for California Air Resources Board, and while this doesn't apply across the US, progressively more states are adopting it, and it does make good sense.
If you intend to use laminate flooring, we advise you to look at its CARB2 compliance rating. Overall, we give laminate flooring 6 out of 10 for indoor air quality.
For more information on formaldehyde, check out the video below.
COMFORT FOR WALKING / WARM UNDERFOOT
Bamboo Flooring
Getting out of bed on a cold and frosty morning isn't always a lot of fun, especially when the first thing your feet encounter is a cold floor. While rugs and carpets are the warmest options, bamboo flooring is also a close second and very much better than tile, polished concrete, or all those other toe-freezing alternatives. Bamboo flooring is naturally insulating, so it will never feel freezing. Walking barefoot on bamboo also feels really cool (not cold cool, just cool as in good), and you can always use a bedside rug for a little extra warmth. For comfort for walking, we give bamboo flooring 9 out of 10.
Laminate Flooring
Regarding comfort for walking, there is technically little to choose between bamboo flooring and laminate. Scientifically, we can't justify it, but it seems to feel nicer walking on bamboo than it feels walking on wood. We give it 8½ out of 10.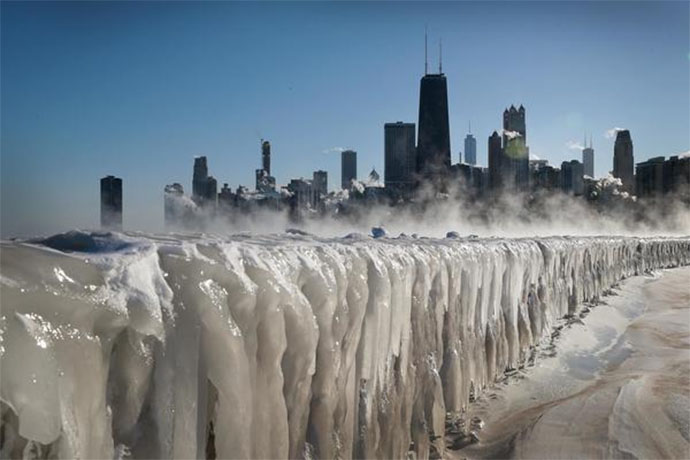 WATER RESISTANCE
Bamboo Flooring
While most bamboo floors aren't 100% waterproof, rigid core bamboo flooring (with spc core) comes very close, and strand bamboo floors are also very water-resistant.  Bamboo flooring can tolerate water spills for up to 30 hours without suffering ill-effects. It is considerably less susceptible to water damage than traditional woods which is why many homeowners choose to use bamboo flooring throughout their homes including in their kitchens, but it is not advisable to install them in places subject to frequent wetness, such as full baths with bathtubs where the bath water may leak over the side and get under the planks. As long as you take reasonable care, you won't encounter any problems. We rate bamboo flooring's water resistance as 8 out of 10.
Laminate Flooring
Laminate flooring is made out of fiberboard, paper, and a protective coating. While the protective coating itself is water-resistant, the bulk of the flooring isn't. If you spill water onto a laminate floor, it will penetrate the gaps between the planks and cause the fiberboard to swell. Fiberboard acts like a sponge, soaking up the water and expanding in size. This causes severe damage, and the only cure is to replace the damaged floor. However, it is possible to find laminate flooring with claims of being waterproof. This product uses a waterproof coating to protect the grooves and underlying fiberboard. Still, even though it is more water-resistant than standard laminate, we suggest you read some reviews before committing to buy. For water resistance, laminate flooring scores 3 out of 10.
PRICING & AVAILABILITY
Bamboo Flooring
Since bamboo grows so fast and is readily available, it costs much less than traditional wood floors in the same dimensions (wide planks and long lengths). Comparing bamboo flooring to hardwood, you get a significant price advantage while enjoying all the hardwood benefits and more. For pricing, we give it 9 out of 10.
Laminate Flooring
Laminate flooring is the budget option. Costing even less than bamboo, it's a great solution for people on a tight budget. As one of the most affordable of all flooring options, laminate deserves your consideration. For pricing, we give it 10 out of 10.
ORGANIC, NATURAL MATERIALS VS SYNTHETIC
Bamboo Flooring
Bamboo flooring is an organic natural material; growing and using it improves the natural environment. Although some synthetic adhesive is used in its manufacturing, it is almost completely natural. In this category, we give it 10 out of 10.
Laminate Flooring
Laminate flooring does use natural materials. As we have said above, it can be up to 75% natural. But the remainder is a combination of various synthetic components such as formaldehyde derived coatings and various resins and fillers. It scores 7 out of 10 for organic natural vs. synthetic.
NATURAL VARIATION IN THE GRAIN – LOOK AND FEEL
Bamboo Flooring
Bamboo flooring has a natural variation in the grain. Every bamboo flooring plank is uniquely different from every other and strand bamboo flooring has a unique marbled grain that sets it apart from other hardwoods. This is one of the main reasons a bamboo floor looks so great. Some bamboo flooring options look just like hardwood, while others have a different appearance; there are many to choose from. But all look entirely natural, stylish, and sumptuous. For natural variation in the grain, bamboo flooring scores 10 out of 10.
Laminate Flooring
There are some great looking laminate floors. Manufacturers have developed various methods to emulate the look of hardwood, such as embossing it with a textured finish to make it appear even more like the hardwood it imitates. But ultimately, it is an imitation. Look at a laminate floor closely, and you will see repeated patterns on the planks. While it depends on the manufacturer, expect to see woodgrain patterns repeated every 8 to 20 planks. While that might not be a problem for you, once you notice it, it does tend to compromise the illusion that the flooring is natural. For natural variation in the grain, laminate gets 2 out of 10.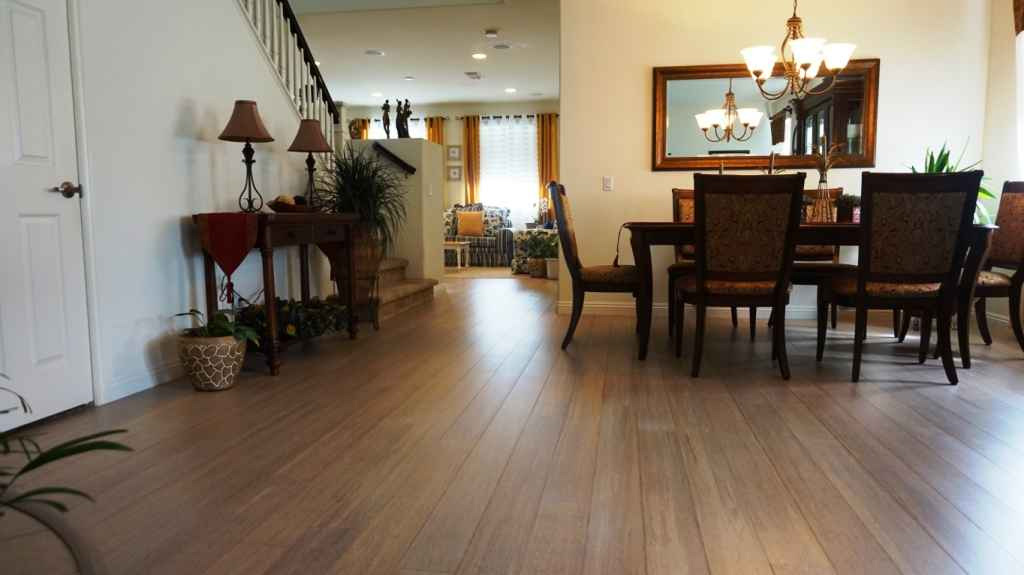 EASE OF INSTALLATION
Bamboo Flooring
Bamboo flooring is highly versatile. You can glue it down, nail it down, or float it over the subfloor. You will find all the information you need for installing a bamboo floor in our blog. If you are reasonably skilled at DIY, you might choose to lay it yourself. Otherwise, it would help if you used a qualified floor installer. If you choose to do it yourself, be sure to follow the manufacturers' guidelines and don't try to take any shortcuts on steps such as subfloor preparation and acclimating the bamboo planks before laying them. For ease of installation, bamboo flooring scores 8 out of 10.
Laminate Flooring
Laminate flooring is easy to install, but it can only be floated on the subfloor; there are no options for nailing or gluing it down, and you must use an underlay. Again, the talk should be in the capability of a reasonably skilled DIY enthusiast, or else you should use a qualified fitter. For ease of installation, it scores 9 out of 10, just a little easier than bamboo.
EASE OF MAINTENANCE
Looking after your bamboo floor or laminate floor is simple and uses basic common sense. There is little difference between laminate and bamboo for ease of maintenance. Sweep them regularly, use a proprietary cleaner once a week, and mop up any spills as soon as they occur (though there is more leeway with bamboo). The big no-no is steam mopping; neither bamboo nor laminate flooring will take kindly to a steam mop. Here is more on maintaining a bamboo floor, but you can also apply the principles to laminate floors.
THE FINAL ANALYSIS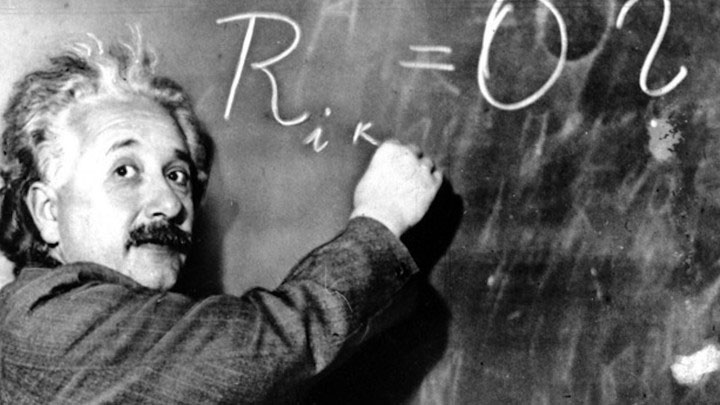 Hopefully, you won't have to scratch your head any longer. It seems that although laminate flooring wins on price and is a little easier to install, it doesn't quite live up to real bamboo flooring. Laminate flooring can look natural until you look hard, but bamboo is entirely natural, and the difference is telling.
Bamboo: 91 points
Solid Laminate: 67 ½ points

Last Updated: 11/8/2021