Bamboo floors have been gaining in popularity over the past several years, and it's not just because they're a beautiful alternative to classic hardwoods like oak or maple. They're also about 2 to 3 times harder than other wood floors, much more eco-friendly, cost less, and the best brands have superb indoor air quality features. These days they're also available in a wide variety of surface styles and colors, including hand-scraped, wire-brushed, distressed, and hewn. Once you learn these 15 astounding truths about bamboo flooring, we'll bet you'll be considering installing them in your home too!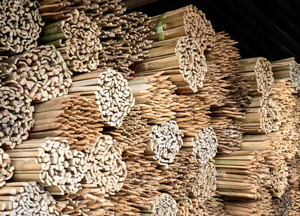 1. Strand Woven Bamboo Flooring is 2-3X Harder Than Oak Flooring
Check out the Janka Hardness Test – the hardwood flooring industry uses to gauge/report various hardwood flooring varieties' hardness. Notice what's at the very top of the scale — the hardest, most durable material of all? Yep. It's bamboo, or more specifically, strand-woven bamboo. (It shares top billing with strand woven eucalyptus, another rock-hard flooring choice!)
2. Bamboo Has a Greater Tensile Strength Than Steel
Tensile strength refers to how difficult it is to pull a material apart. That fact alone is amazing, but it also resists being smashed better than concrete!
3. Bamboo Is The Fastest Growing Plant On Earth
Bamboo is grass — not a tree. As you know, trees take a long time to go from sapling to full-grown (many decades, in fact). Not so with bamboo. It's the fastest-growing plant on Earth. (You didn't know?) Cut down a bamboo plant, and within 5-7 years, it'll be back to the height it was when you cut it down.
That makes bamboo a superior choice for people who are worried about deforestation at a time when the planet really needs the help of trees to absorb carbon dioxide and other harmful gases and add more life-giving oxygen. Some bamboo grows an amazing inch-and-a-half per hour and is considered one — if not THE — most sustainable plant on Earth!
4. A Bamboo Floor Can Be Light, Dark, or Anything in Between
Sure, a natural bamboo floor is gorgeous, but if you're looking for more of a dark, rich vibe, you should know that bamboo can be dark, too, or stained just like any other hardwood floor. You can get wire-brushed or hand-scraped bamboo flooring, just like the trendiest hardwood floors!
There's also a bamboo manufacturing process that turns natural (light) bamboo into a rich brown color. When natural bamboo is kiln-baked, the sugars inside "carbonize" or "caramelize," giving this floor deep, rich color. The best part? The color runs throughout the plank, so when refinished, it retains its beautiful brown hue! And speaking of carbonized bamboo, did you know that a carbonized bamboo filament is what finally led Thomas Edison to be able to introduce the first electric light bulb to the world? It's true!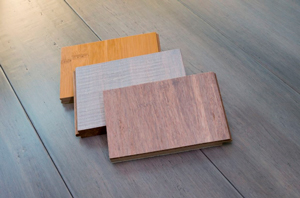 5. Bamboo Floors are Versatile and Can Go Where Other Floors Can't
Bamboo Flooring can even be laid below grade (in a finished basement, for example) and on top of concrete as well as on more traditional sub-floors like plywood.
6. Strand Woven Bamboo Floors are the Only Hardwoods Resistant to Pet Nails
Due to their incredible hardness and superior strength, they're less likely to dent and less susceptible to the abuse meted out by the heaviest of dogs!
7. Bamboo Floors can be Installed in Most Climates
Bamboo floors can be installed in the — heck, maybe even in outer space if we end up colonizing some Earth-like planet sometime down the road!  Just make sure to follow the manufacturer's maintenance guide and remember that the National Wood Flooring Association recommends maintaining interior humidity levels between 35%-55%.
8. Bamboo Floors Are Super-Affordable
Priced from just $4 to $7 per square foot, a bamboo floor is not just a wise and lovely choice for your home; it's kind to your wallet as well! Compare that with the average per square foot cost of a typical hardwood floor, which according to HomeAdvisor, runs $5 to $15 per square foot! Bonus: most bamboo floors come in long lengths and WIDE PLANKS.
9. Bamboo Floors are Incredibly Easy to Care For
Regular dry-mopping, sweeping or vacuuming (with a hardwood floor attachment), and occasional cleaning with a product that's made for hardwood floors are all it takes to keep your bamboo floor looking nice for many years.
10. Bamboo Floors Can be Refinished
Just as you can prolong the life of your hardwood flooring several times, you can also refinish your bamboo floor multiple times to extend its life and keep it looking great, year after year. One catch that is slightly different from hardwood is that while bamboo floors can be refinished and clear-coated, they cannot be stained a different color during the refinishing process.
Here's another tidbit to consider. Because they're so hard, they resist denting and scratching better than most hardwood floors, meaning that if they ever do need refinishing, it won't be nearly as often as typical hardwood flooring would!
11. Bamboo Floors Come in Tongue-in-Groove or Click-Lock Versions
Once again, hardwood floors don't have a monopoly on variety. You can choose classic tongue-in-groove bamboo flooring that's nailed or glued down, or install a "floating" click lock snap together bamboo flooring. In fact, if you're the handy type, you'll find installing a bamboo floor a fairly straightforward task.
12. Bamboo Has Its Own Unique, Marbled Grain Pattern
Many hardwood floors, like oak, for example, are beloved for their beautiful grain patterns. Not to be outdone, bamboo has its own version of a really unique grain from the strand in the woven manufacturing process. It has its own sublime, earthy beauty that we think exceeds some of the prettiest hardwood grains in the beauty category.
Apparently, the engineers at Tesla agree, since they quality-check all of their Model S cars on elevated bamboo flooring. Why bamboo flooring? The material was chosen "because it looks cool."
13. The Hardest Bamboo Floors are the Strand-Woven Variety
What does "strand-woven" actually mean? We thought you'd never ask! A strand is the woven bamboo floor made using long strips of bamboo, pulled apart into strands, woven together, and then compressed under extreme pressure and heat. The result (as mentioned in fact #1 above) is a floor that's significantly harder than any hardwood floor you can think of.
14. Bamboo is the Perfect High-Traffic Flooring Choice
Because it's so hard, durable, and easy-care, bamboo flooring is the ideal choice for high-traffic areas like kitchens, hallways, foyers, and any other frequently traveled area in your home. You can't say that about your typical hardwood floor.
15. Not all Bamboo Floors are Created Equal
Some brands have distinct advantages over other brands. Quality is one, and the price is another. Good bamboo flooring is:
harvested from well-managed forests, Lacey Act Certified, and Floorscore certified
kind to your indoor air quality (urea-formaldehyde-free (NAUF), low-VOC, and have emissions ratings that are well within the CARB Phase II indoor air standard, which is the strictest in the world)
backed up by an industry-leading lifetime structural and finish warranty
harvested at 5-7 years from the middle of the culms, using only Moso species bamboo
very carefully moisture balanced to avoid expansion and contraction issues that plague low-quality brands
Established in 2005, Ambient is really different than your average flooring store – our floors are designed, manufactured, and sold directly by us — without a middleman. This translates into the lowest price around for a super high-quality floor! We are rated A+ by the BBB and have a 5-star rating on Yelp, so you can be confident that you're buying from a reputable company with the credentials to back up that claim when you buy from Ambient. Bamboo flooring is what we do –, and we think we do it better than anyone else out there! Check out our website to learn more about the wonders of bamboo flooring and how it can benefit your home, your wallet, and your entire family!