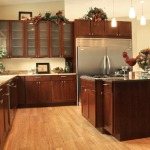 Let's face it, floors don't just impact your home – they impact your life. Consider all the time you and your floors will spend together and how you'll spend it: maybe practicing Pilates in the living room in front of the TV, hosting a dinner party in the dining room, or creating science projects with your kids in the kitchen. However you interact with your floors, you'll need a surface underfoot that's comfortable and durable.
Your floors are not only the biggest surface in any room, but they are also one of the biggest investments you'll make in your home. So you'll want to select floors that not only match your style and budget but will also last for many years and be healthy for your family.
In this article, we'll take a look at some of the most popular flooring materials with a focus on durability, maintenance, environmental impact, and cost, and see how they stack up against bamboo flooring. If you want to learn more about bamboo flooring, read Bamboo Flooring 101: The Complete Guide.
Hardwood
Hardwood floors are one of the most popular flooring choices on the market, and many house hunters specifically look for these floors when touring available homes. Yes, traditional hardwood is beautiful but it can be pricey and a challenge to install.
Maintenance: Have you ever toured an old home and discovered that the floor you're walking on was installed 100 years ago? Yep, hardwood floors can last a very long time if cared for properly. They really just need regular sweeping or vacuuming and occasional cleaning with a wood floor cleaner.
Durability: Do you know why school gymnasiums have wood floors installed? Or why the stage at most theaters around the world are made from hardwood? Because hardwood can take a beating. If they can stand up to years and years of basketball games and tap dance lessons, it's a safe bet they'll stand up to whatever your family will throw at them.
Environmental impact:  Though some manufacturers use planks from trees that have been grown without harmful pesticides, trees still need to be harvested or cut to make the floors that end up in your home. And, considering the fact it can take a tree 30+ years to regenerate, you can see why this flooring choice is not the most environmentally friendly out of the group.
Cost: Hardwood floors are some of the most expensive on the market with the price generally ranging from $5 to $15 per square foot for material. And you can expect to add $2 to $8 per square foot for installation. Hardwood floors are not easy to install for DIYers like some other flooring choices.
Laminate
Laminate "wood" is made by adhering four layers of materials together to create durable, beautiful floors. If you're looking for a wood floor but your budget is looking for something it can afford, consider a laminate floor with a wood look. Laminate floors can also look just like stone and ceramic tile.
Maintenance: Like hardwood, laminate should be swept or vacuumed often, and spills should be wiped up immediately.
Durability: Laminate is quite durable because it is constructed from four layers with a melamine resin on the top and bottom layers, and many manufacturers offer warranties of 15 – 30 years.
Environmental Impacts: Although many manufacturers boast that laminate is "green" because some may be built from re-used wood products like sawdust and wood chips, what they don't tell you is that many laminate floors also contain formaldehyde, a known toxin. Always look for a FloorScore seal on laminate flooring.
Cost: Laminate flooring is very budget-friendly with a floor cost of $1 to $6 per sq. ft.
Read 'bamboo flooring vs laminate' for a thorough side-by-side comparison between bamboo and laminate.
Linoleum
Linoleum floors have been around since the mid 19th century, became very popular during the 1950s, and are now seeing somewhat of a resurgence because of cash-strapped homeowners. The floors come in a wide range of colors and designs and are made from a variety of materials such as cork, dust, and linseed oil.
Maintenance: Linoleum is a great flooring choice for kitchens and dining rooms where spills are common because wet or dry spills can be easily mopped up without damaging the flooring. Linoleum only requires a dry or damp mop daily to remove dirt and debris. A weekly wet wash using water and a mild detergent or a bit of vinegar will make the floor sparkle once again.
Durability: Linoleum floors are more hard-wearing and longer-lasting because the colors and design patterns are embedded into its structure during its construction – so the floors wear evenly over the years.
Environmental Impact: All-natural linoleum is manufactured in Europe and contains a mixture of linseed oil (from flax plants), pine rosin, wood flour, cork flour, limestone, and pigments. Make sure to look for "natural" linoleum because often just linoleum refers to vinyl which is not a very green product. Some homeowners have concerns about aldehydes emitting fumes (some rather pungent) from linoleum's constituent linseed oil.
Cost: Linoleum floors run around $2 to $3 per square foot for materials, and another $5 to $7 for installation.
Wall-to-Wall Carpet
Many homeowners love the feel of plush carpeting under their feet and the warmth it lends to any room. The carpet acts as a natural insulator and prevents warm and cool air from escaping. It is also a great sound absorber. And, if you have small children, carpeting can be great because it inhibits slips and cushions falls.
Maintenance: It goes without saying that the carpet requires frequent vacuuming to remove dust particles and loose fibers. Also, to avoid fading by the sun, it's a good idea to rearrange furniture every so often to allow the sun to hit all areas of the carpet. Rotating furniture also helps change traffic patterns, which will also allow the carpet to wear evenly.
Durability: Carpet durability depends on three things: Fiber (nylon 6.6 is a man-made fiber that is wear-resistant), twist (The tighter the twist, the more the carpet will resist changes in appearance and texture), and density (in general, the denser the carpet – the better the quality).
Environmental Impact: Synthetic carpeting is known for its petroleum-based fibers and the VOCs they emit in the home. These VOCs are often released into your home's environment years after installation. Natural carpets and rugs are typically made from wool, cotton, or even grasses with minimal processing and treatment so they are a healthier option for your home and family, but you'll have to pay more for this greener option.
Cost: Prices for a square yard of carpet can range from $5 to over $100 – and that's not including the cost of installation ($3 to $6 a square yard) and padding ($2 to $6 a square yard).
Bamboo
Many people think bamboo is a hardwood because it looks like traditional wood flooring, but the truth is, bamboo is grass. It's actually the world's largest grass and grows quickly in a wide variety of soils. Bamboo flooring is made by slicing the stalk into strips, boiling them in water, laminating them into boards, and kiln-drying the resulting material.
Maintenance: Bamboo is a very easy material to maintain. Regular dust mopping or sweeping with a soft bristle broom or vacuum will keep your bamboo floor clean from dust, dirt, and other debris that could scratch the surface. Like with other wood, spills should be wiped up immediately, and you should always follow the manufacturer's directions to select the right cleaner.
Durability: Because it's grass, people assume bamboo isn't durable. This couldn't be farther from the truth. Strand woven bamboo has a Janka rating of 4,000 and up. This is substantially harder than Brazilian Cherry and Teak – some of the hardest woods around.
Environmental Impact: Unless you've been living under a rock, you've no doubt heard bamboo has become a popular choice for those homeowners who insist on green materials. Bamboo's ability to grow and spread quickly — in some cases three to four feet per day — without the need for fertilizers, pesticides, or much water are just a few reasons why it's environmentally friendly.
Bamboo groves also release 35% more oxygen into the air than a similar-sized stand of trees, and bamboo matures (and can be replanted) within seven years (compared to 30-50 years for a stand of trees), helping to improve soil conditions and prevent erosion along the way. It can also yield 20 times more timber than trees in the same area.
Cost: $2.80 – $5.00 per square foot.
If you've read this far, then you know bamboo simply has more to offer homeowners who are looking for a floor with the same warmth and beauty as hardwood, is durable, easy to care for, very affordable, and made from green materials that allow for healthy families and a healthy planet.
If you'd like to learn what makes bamboo such a good flooring choice, take a look at the 5 reasons to choose bamboo flooring. You can also click on the link below to get free samples sent to your home! Or if you have any questions, please contact one of our knowledgeable professionals at (866) 710-7070!