Last Updated: 11/19/2021
Looking to upgrade your existing floors or pick out the best modern flooring for a new construction home? Strand woven bamboo flooring is an affordable and eco-friendly floor that replaces traditional hardwood products. It is comprised of shredded strips of Moso bamboo that are woven into sheets and compressed into a solid block. Manufacturing is efficient and low-waste – culminating in a strong, safe, and sustainable product.  Whether you're newly exploring this unique type of flooring or you're already somewhat familiar with this product, you're sure to have questions you need answered before making an investment.
We've gathered the most-asked questions about bamboo floors and answered them here to ease the decision-making process for your next flooring project!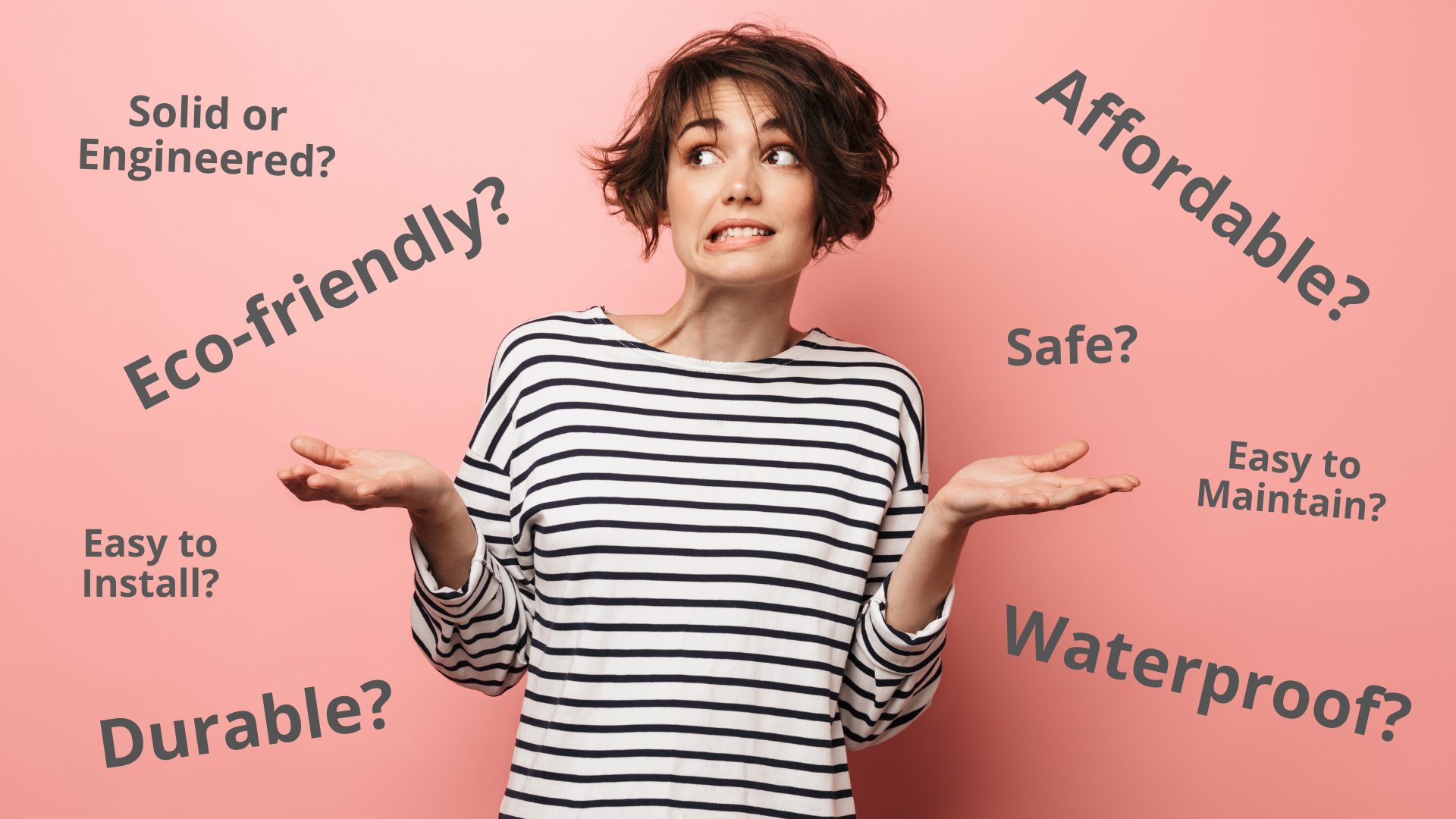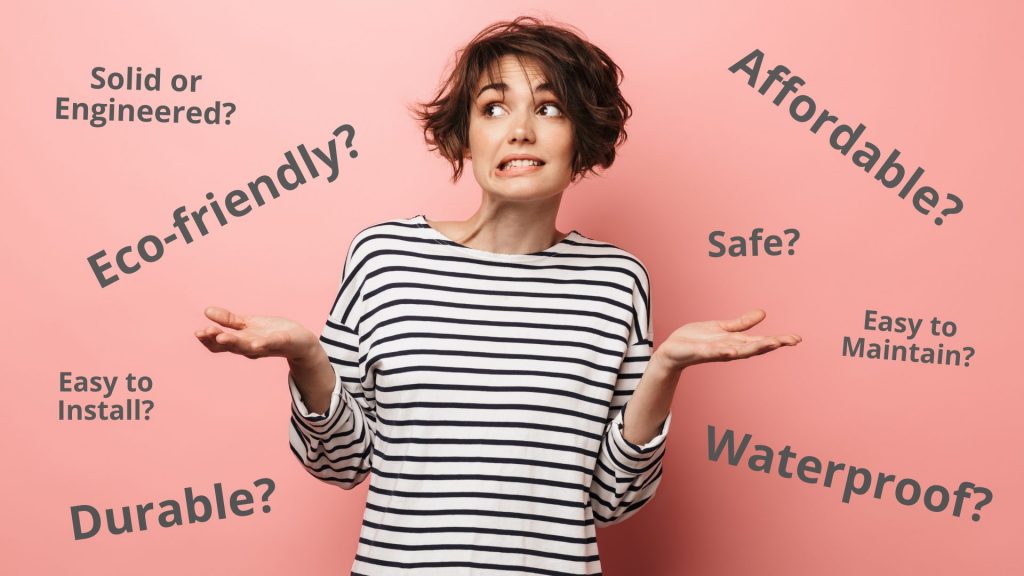 Question #1: Are there different kinds of strand woven bamboo flooring?
Yes! There are actually a handful different types of bamboo floors, each with its own characteristics and optimal uses. Here are the most common types of bamboo floors you'll find today:
Solid Strand Bamboo Floors:


Strand bamboo is about 2-3 times harder than traditional wood floors like oak. The floors are made from strips of bamboo that are woven together and compressed under heavy pressure. Solid strand bamboo floors consist of solid bamboo all the way through and are milled with a tongue-and-groove mechanism that allows them to be glued down or nailed down to existing subfloors. These floors can be typically be refinished 2-4 times throughout their lifetime, but their hardness and durability make the necessity of refinishing pretty rare.
Engineered Strand Bamboo Floors:


This type of bamboo floor is comprised of a thick, strand woven bamboo wear layer on top, an HDF core (made from recycled pulp or even eucalyptus), and a poplar base. Don't let the non-solid bamboo core fool you, though; the wear layer of strand bamboo on the surface still makes these floors extremely strong and tough. Engineered bamboo floors also have a higher dimensional stability than solid strand bamboo floors, and can be installed using the click-lock floating method which is why DIY-ers love it!
Rigid Core Bamboo Floors:

These floors have a similar wear layer of strand woven bamboo on the surface, but offer even more dimensional stability with their rigid stone polymer composite (SPC) core. The core is also what helps make this type of bamboo flooring great for installation in kitchens, bathrooms, and other areas where moisture is more prevalent.
Additionally, some rigid core bamboo floors come equipped with an acoustical pad underneath that serves as a vapor barrier, so the floors can be easily floated directly over concrete with no additional underlayment needed.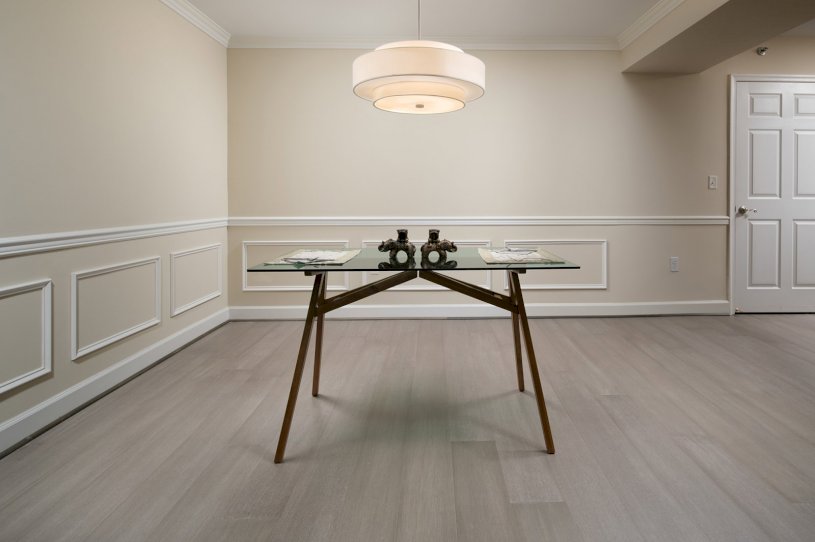 Question #2: Where does bamboo flooring come from?
When you think of the bamboo plant, you probably think of bamboo forests in Southeast Asia. Wild pandas may also come to mind.
Most of the world's rapidly-regenerating bamboo grows in China where the soil conditions and climate are ideal for the plant.
Moso bamboo, which is the species of bamboo that is used to manufacture flooring, is not (despite popular belief) a species of bamboo that pandas enjoy, nor do they rely on this bamboo to feed themselves.
Moso is primarily used for flooring and is typically harvested, milled, and manufactured close by to the forest where it actually grows!
Question #3: Are bamboo floors better than traditional hardwood?
Although "better" is often subjective, bamboo floors have plenty of advantages over traditional hardwood flooring. Here's a quick look at what the two popular types of flooring have in common and how they differ:
The Similarities
Both hardwood and bamboo flooring: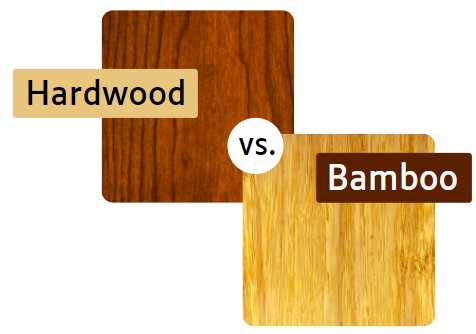 Are made from natural materials.
Are able to be refinished – multiple times for solid floors.
Offer a similar feeling as far as comfort and temperature underfoot.
Are easy to maintain.
Have low negative effects on indoor air quality, as toxicity and off-gassing levels are very low to zero.
Are installed in the same way, via the nail-down, glue-down, or floating methods.
The Differences
Hardwood comes from trees, while bamboo is actually considered a grass.
Bamboo floors are frequently found to be more affordable than hardwoods.
Hardwood trees can take 20-60 years to reach full maturity, while bamboo grows in about 3-5 years and is harvested as frequently making it a much 'greener' building material.
Common wood floors made from oak, maple, or hickory have Janka Hardness Ratings from ~1,200-1,800, while strand woven bamboo flooring has a hardness rating of over 4,500.
Wood is typically harvested in the U.S. and sent overseas for milling, then sent back to the U.S. to be sold as flooring, while bamboo is grown, harvested, and manufactured into flooring all in a specific location overseas and only travels via ocean transit once (from the factory to the flooring store). This is yet another reason that bamboo floors are easily the more eco-friendly option!
Question #4: Does strand woven bamboo flooring expand and contract like hardwood?
Bamboo flooring, like hardwood, is made from a hygroscopic material which means it tends to absorb moisture from the air in its environment. This diagram clears up the confusion about how and why expansion and contraction occurs (Hint: It's all about humidity!):

Because of expansion and contraction, it's important to take care before, during, and after your flooring installation. Be sure to acclimate your floors properly, install with expansion gaps as needed, and keep the humidity levels in your home stable. Opt for bamboo floors with higher dimensional stability (like engineered versions) if you live in a geographical area that experiences drastic changes in humidity throughout the year.
Question #5: Does bamboo flooring scratch or dent easily?
Aside from diamonds, there's practically not a single material in existence that is 100% scratch-proof. Bamboo floors are susceptible to light scratches when heavy furniture is dragged across the surface or when or sharp objects come in contact with the floor. These scratches aren't as visible on lighter-colored floors as they are on dark hardwoods. Micro-surface scratches can be fixed easily, either naturally by continued foot traffic or with a flooring product like The Amazing Tibet Almond Stick:
Now when it comes to dents, strand woven bamboo really shows its strength and durability. Due to the flooring material's hardness and density, it takes excessive force to permanently dent or damage this kind of bamboo. Don't believe us? Grab a free sample and go at it with a hammer. Testing the strength and durability of a floor in this way makes it easy to see why so many pet owners choose strand woven bamboo flooring – they can stand up to it all!
Question #6: Is bamboo flooring waterproof?
Remember that bamboo is a hygroscopic material? When floors consist of natural, moisture-seeking materials, they are a pretty impossible product to make waterproof. Although bamboo floors like those manufactured by Ambient™ are highly water-resistant and have spill protection for upwards of 24 hours, they aren't truly 100% waterproof as long as they consist of a natural and hygroscopic material.
Solid strand woven bamboo flooring is the susceptible to moisture. That's why it's not aadvisble to install them below grade (e.g. in basements). The rigid core version is the least susceptible to moisture. Its limestone-based core is less hygroscopic, making it perfect flooring for basements, full bathrooms, and kitchens.
Most bamboo flooring is great for use just about anywhere in the house, including moisture-prone areas like kitchens and bathrooms. You'll just need to make sure you:
a) Choose thee right type of bamboo flooring.
b) Test your subfloor for moisture (if necessary) and properly acclimate new floors before installation.
c) Ensure you have an adequate vapor barrier between your flooring and any moisture-emitting subfloor.
d) Clean spills up quickly.
e) Maintain a balanced indoor humidity level throughout the year.
Question #7: How do you maintain strand woven bamboo flooring?
Maintaining your bamboo floor is simple: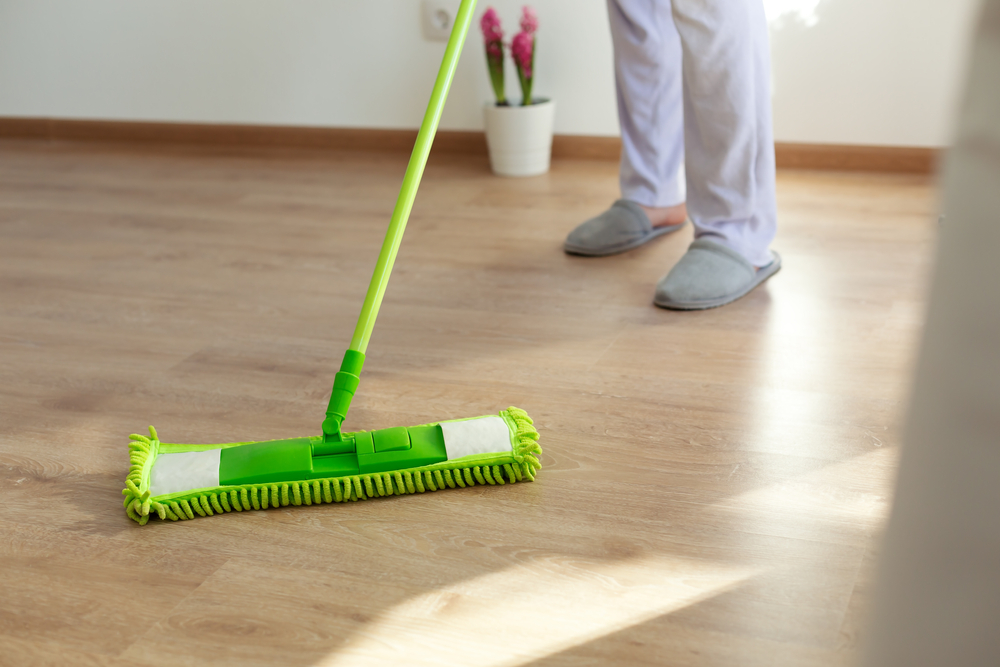 Keep your interior humidity settings constant (between 40-60%).
Use a dust mop or a vacuum with soft, non-rotating bristles. Clean daily or weekly, depending on how much foot traffic your floors get.
For extra dirty floors or spot-treating, use a reliable bamboo/hard surface floor cleaner like Bam-Brite or Bona Hardwood Floor Cleaner.
Do not wet mop or steam mop your strand woven bamboo flooring. If you've been reading all of these FAQs, it's probably pretty obvious why this one is a no-no!
Test new cleaning products on a sacrificial plank to make sure it's safe for your flooring's finish.
Use natural rubber or felt pads under rugs, and chair mats under rolling office chairs.
Avoid using mineral spirits and harsh chemicals like acetone or paint thinner on your bamboo floors.

Did we forget to answer one of your burning questions about strand woven bamboo flooring?
Check out the full list of bamboo flooring F.A.Q.s. You can also give our product specialists a call today at 866-710-7070
or chat with a live agent and find out everything there is to know about these amazing floors!