Bamboo is one of the best options if you're looking for durable, sustainable, and affordable flooring, and there is just something very special about this beautiful material.
Bamboo – the magnificent plant that it is – has been used for centuries as scaffolding to make some pretty impressive buildings. Because of its lightweight and high strength, it has a history of being used to make suspension bridges used for hundreds of years! From weapons to food, to writing implements – it has been utilized for many years in eastern cultures. In western households, it has been mostly limited to decoration and more recently, flooring.
There are many different benefits that bamboo brings to the table and we'll cover several in this article. If you're looking for a floor that is easy to install, easier to maintain, safe for pets and kids, and won't break the bank? Read on!
Fun Fact: The first sign of bamboo used as a building material was around 3,000 years ago in ancient China!
Bamboo is very environmentally friendly
As compared to polymer, ceramic, and wood-based flooring, bamboo is very environmentally friendly. While most of these products are natural, aside from polymer-based flooring, none of them can be produced as sustainably as bamboo.  Since it grows at such an astounding rate (some species grow 1.6 inches per hour!), its biomass regeneration rate is superb. It's also not wood; it's grass from the Poaceae family. But as raw material, it is used to produce some of the strongest and longest lasting floors on the market!
Its insane growth rate makes it very available and renewable, cutting down on costs, production time, and subsequent refining. While it would take a typical hardwood tree decades to mature enough to be useful for flooring, a bamboo plant can achieve it in a fraction of the time – with similar durability, arguably better aesthetics, and competitive material properties.
Since environmental awareness is on the rise, the dynamic bamboo plant is the flooring material of the future!
Fun Fact: While hardwood takes decades to reach maturity and become available for flooring, it takes bamboo a mere 4-7 years.
Bamboo flooring is gorgeous
Not many materials can match the aesthetic properties of bamboo. Have you ever actually seen strand woven bamboo flooring? It's absolutely gorgeous! If you don't know much about it, we recommend you check out our Bamboo Flooring Beginner's Guide and you'll be amazed.  The aesthetic features of bamboo flooring don't end with its standard look, as it is one of the most flexible flooring options out there. The sheer range of shapes, sizes, and colors make it ideal for any space. The surface can be brushed, distressed, hand-scraped, and altered in many different ways to give your home a unique look. In its natural form, the beauty stands out from typical hardwood floors in many ways. The grain pattern is marbled, more organic, and clean while adding a distinctive character from tired grain patterns that dominate most traditional hardwood installations.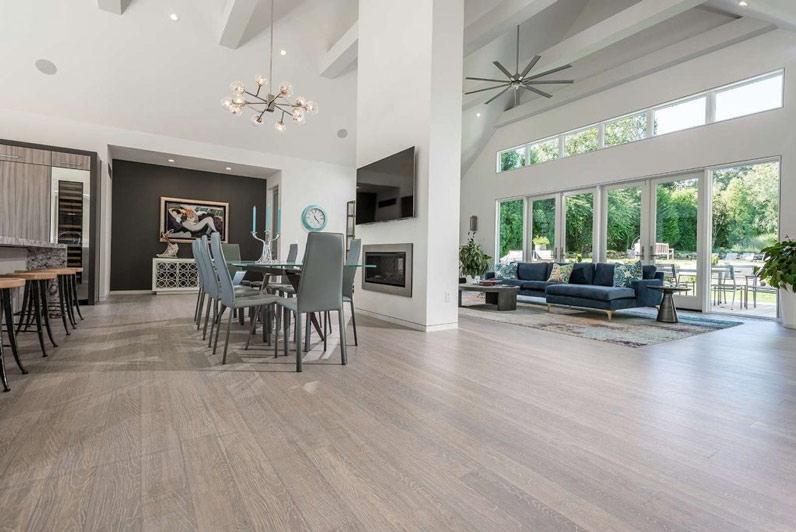 Hewn Fog Strand Bamboo Floor by Ambient
Recently, extra-wide plank bamboo floors have come to market as consumers are moving away from the narrow strip wood flooring of the past. Other products, like bamboo flooring with a stone polymer core (SPC) for added stability, have also exploded onto the scene in the past few years.
Because bamboo flooring comes in so many colors and styles, you're guaranteed to find one that will be a great fit with your home and furnishings. If you're looking for a gorgeous, sturdy wood floor – or a slick, exotic look to your room, bamboo is the ideal candidate for you.
Fun Fact: Bamboo has been used for everything from writing, building, and furniture making – and has an impressive amount of history behind it as a building material. Since it's very pliable and sturdy, it's ideal for a multitude of different purposes.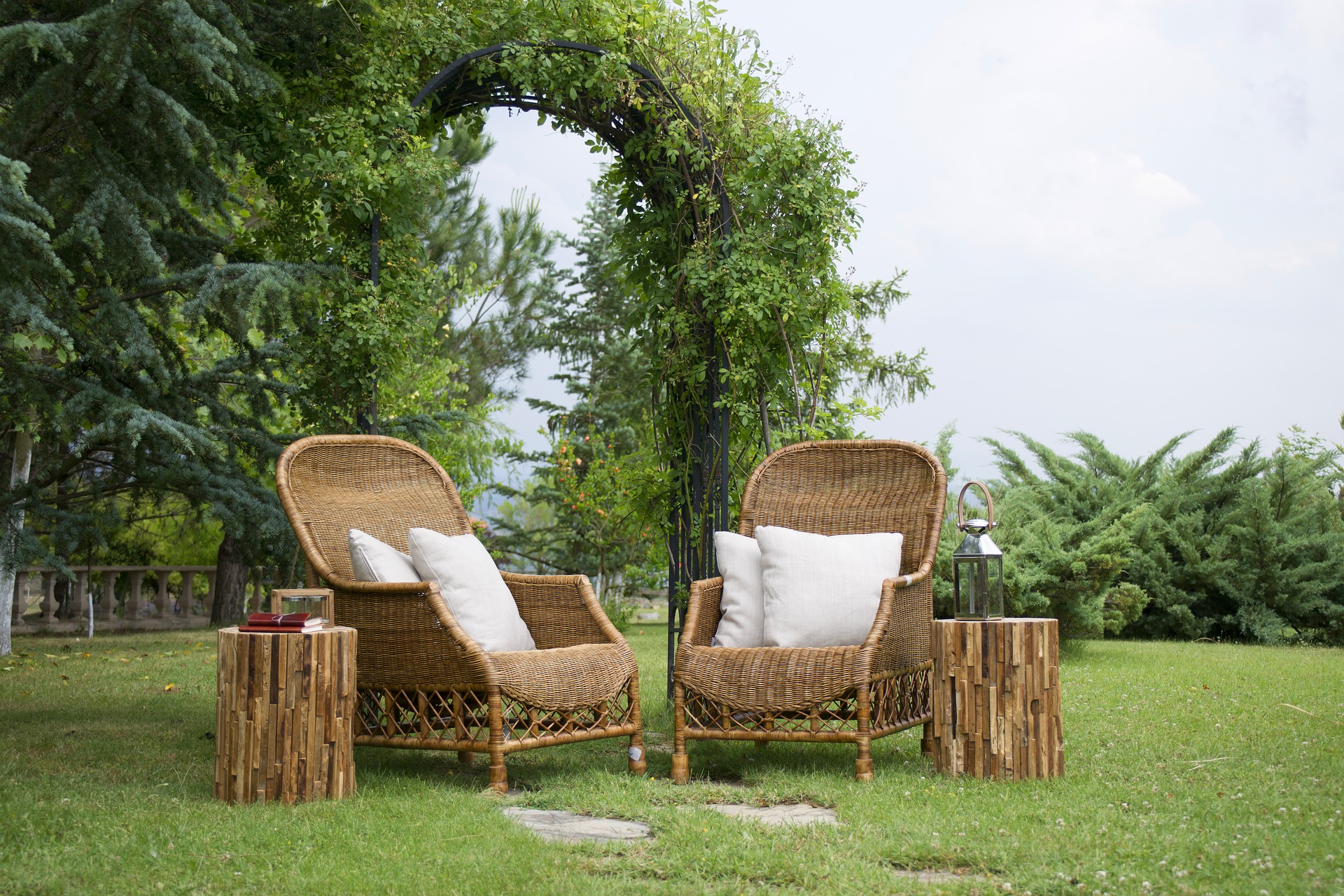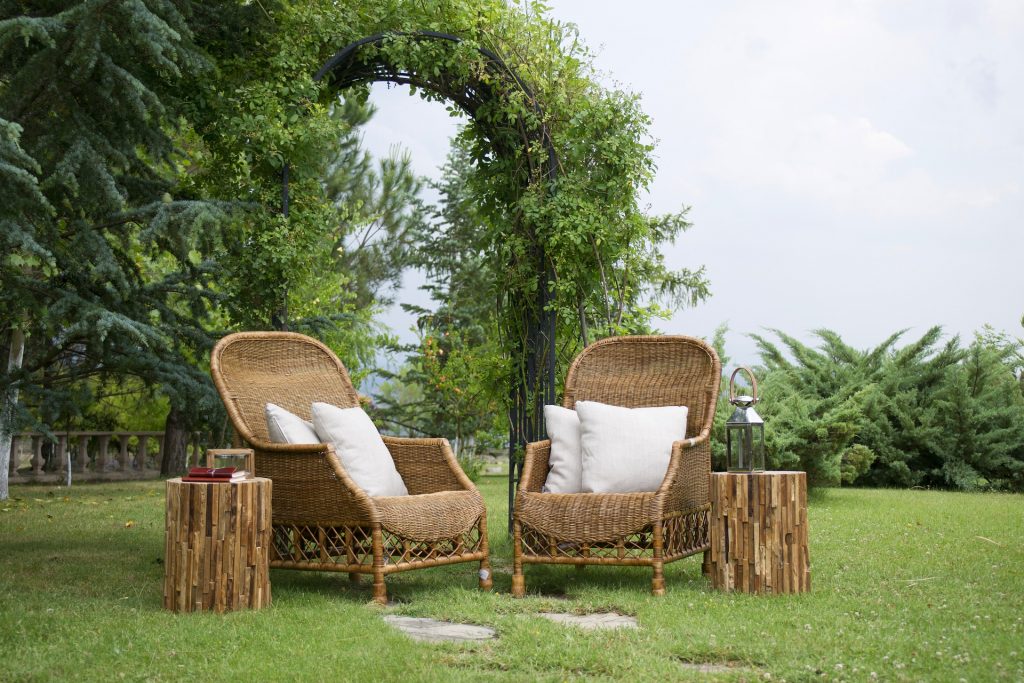 Bamboo is an ideal noise insulator
Another necessary thing about flooring is its excellent noise-insulating properties. Just like walls, floors need to insulate noise if you're looking to lead a comfortable life. There is nothing as frustrating as trying to sleep and hearing someone downstairs making a ruckus in the kitchen.
That is where another large appeal of strand woven bamboo floors come in.  They're not only gorgeous, affordable, and thermally insulating – they're an ideal noise isolation material due to the high density of the floor planks. Also, since bamboo stands the test of time avoiding warping and cracking, it makes for a perfect, soft, silent floor. It is nearly as hard as ceramic tile, but unlike tile, it won't chip or crack if something heavy gets dropped on it. Also, where the tile is chilly underfoot, bamboo is warm and pleasant to walk on.
Bamboo isn't only ideal for floors – it can be used on walls, ceilings, and staircases as well!
Fun Fact: bamboo plants themselves make high hedge screens. The most popular privacy hedge bamboo is Seabreeze, as it has numerous lateral branches.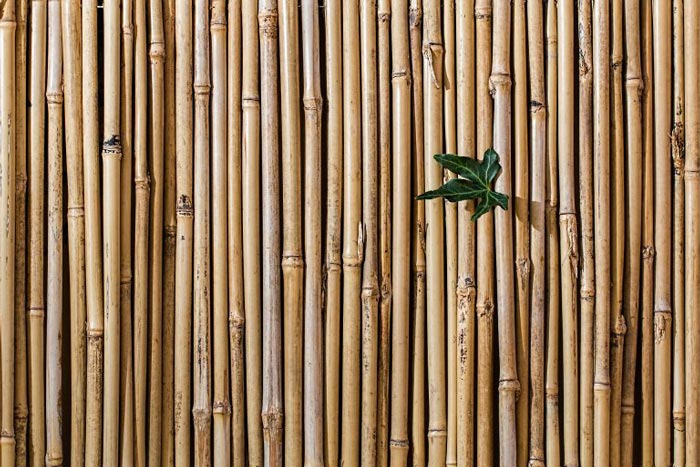 Is bamboo floor installation easy?
Installing a brand new floor can be a pretty challenging task, but it doesn't have to be. Bamboo comes in tongue and groove, which can be nailed in or glued down just like every other hardwood. It also comes in a click-lock design which lets you float the floor over just about any sub-floor. Since it already comes prefinished, once it's installed, you're done! No need for messy sanding that gets dust everywhere, or slow drying stains and finishes that smell bad and disrupt your life.
If you're installing your bamboo floors yourself, it's a good idea to purchase about 7%-10% more than you need, so you can account for any waste or improper cuts you might produce. Plus, it doesn't hurt to have a little leftover just in case you need to repair the road.
Where can bamboo flooring be used?
Bamboo floors can be installed in any room upstairs, downstairs, in basements, kitchens – you name it!
It's also an ideal option if you're looking for stylish flooring for your kitchen. It's also very resistant to denting due to its dense material properties, so don't stress about dropping the occasional pot or pan, and it's impervious to water droplets!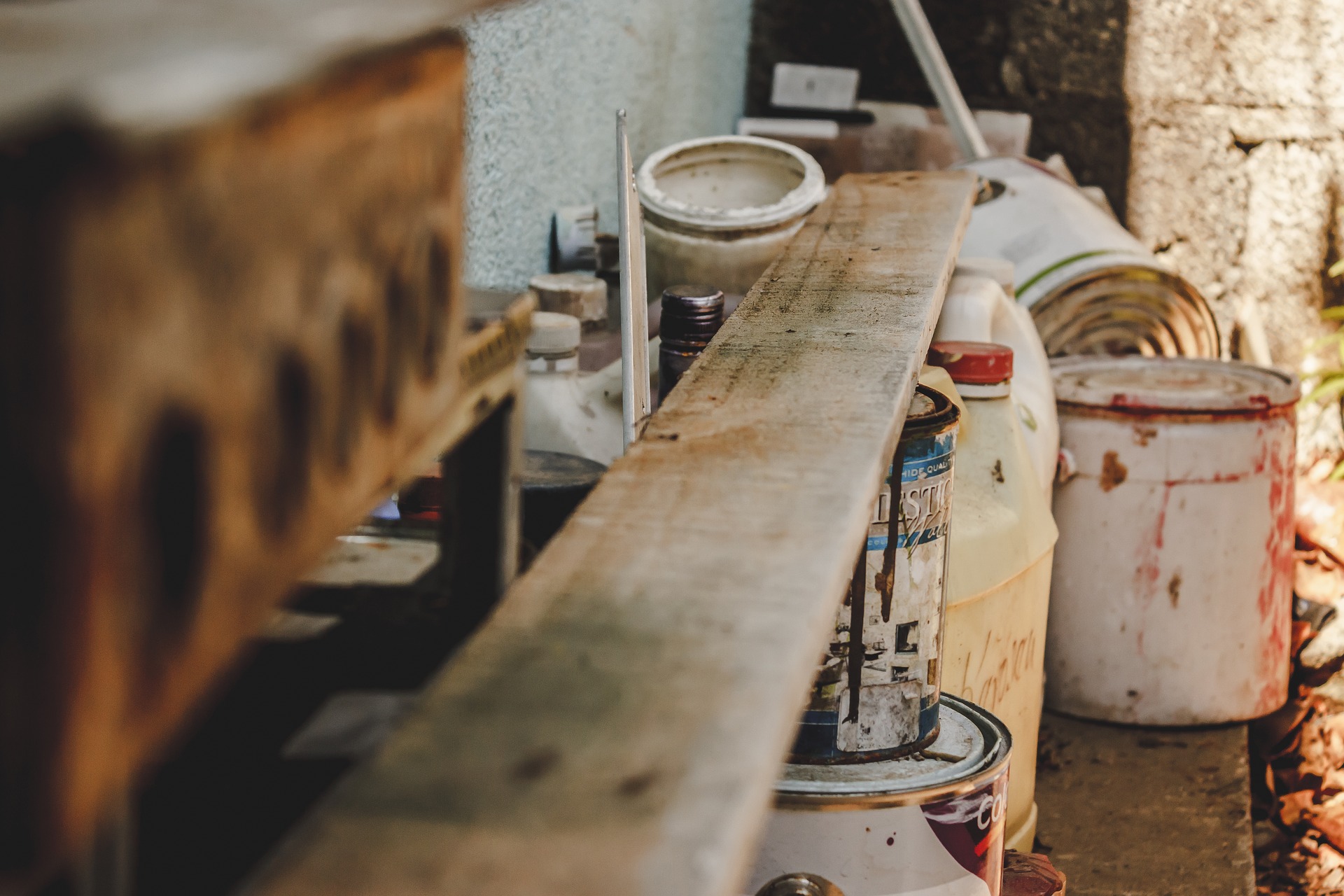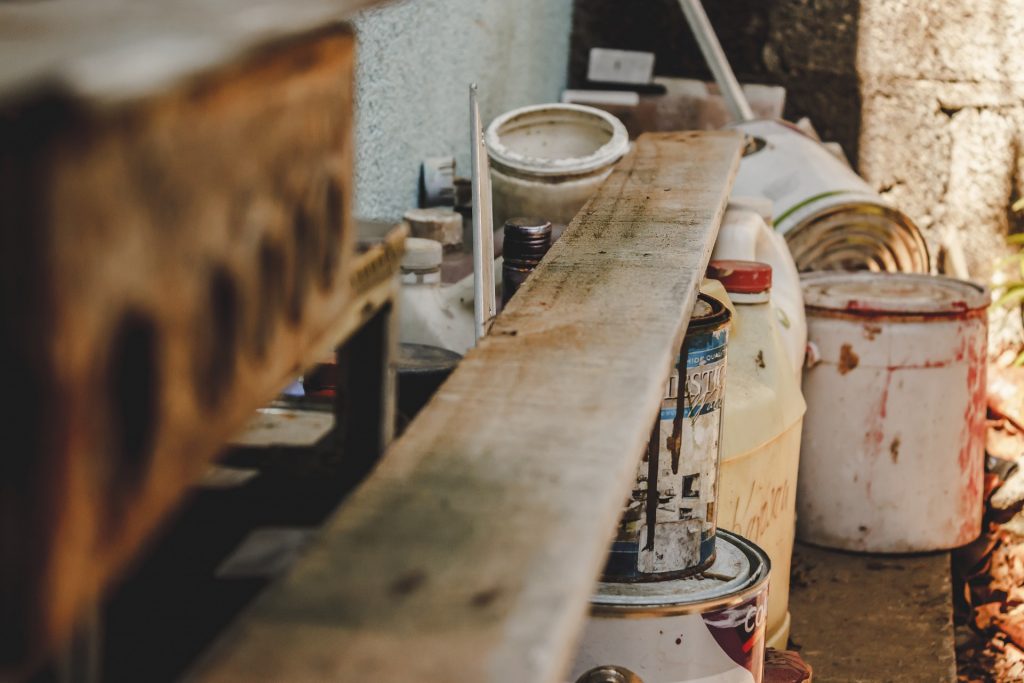 How long does bamboo flooring last?
Well, that is going to depend a lot on where you purchase it and how much you spend. Just like other flooring options, bamboo flooring can vary wildly in quality. The best manufacturers will offer a lifetime guarantee and have great reviews. If properly maintained, bamboo flooring should outlast you! Traditional hardwood floors need to be sanded and refinished every so often. Refinishing rejuvenates the floors and grinds away any dents or scrapes. This costs thousands of dollars and is a huge inconvenience.
Bamboo is easy to maintain
Floors should provide a myriad of benefits, and one of the most important ones is cleaning. You never want a flooring option that stains easily and is an absolute nightmare to clean. Clean wood floors tend to misbehave when they're introduced to too much water. And let's face it, mistakes and spills are bound to happen at one point.
Sometimes less is more! When cleaning your bamboo floors, leave the old bucket and mop in the closet. Instead, get yourself a lightweight microfiber mop with some gentle cleaning solution. Only a light mist of cleaning solution is needed. A quick zip around with the mop should have your floors looking good as new.
Another essential problem with the flooring is scratching. Even the toughest floors can be scratched, but they buff out over time just by walking on most prefinished bamboo floors. Bamboo flooring can endure anything you throw at it, making it ideal for high traffic areas such as living rooms. It's very sturdy, durable, and dent-resistant, meaning that it's going to retain most of its natural beauty even when used and abused. It's the juggernaut of flooring options!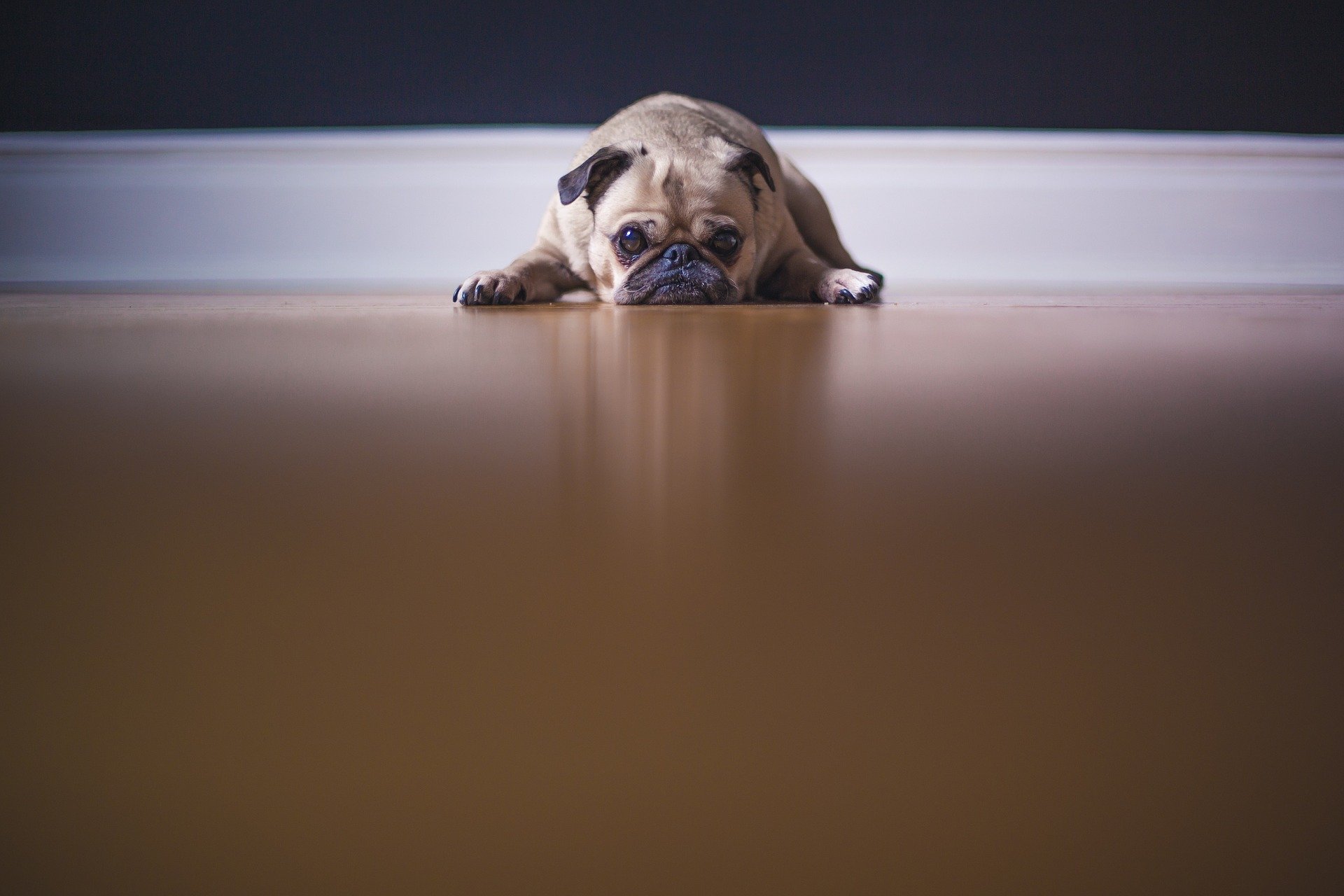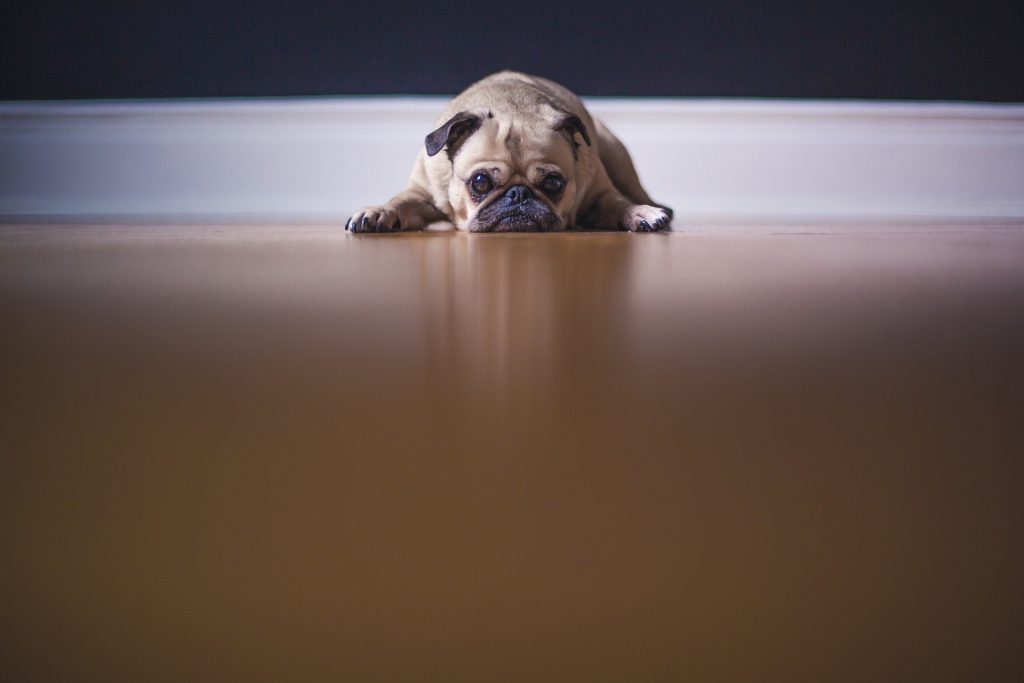 Is bamboo flooring suitable for pets?
Bamboo flooring is one of the most popular options for pet owners. It's especially suitable for homeowners who are looking for a sturdy, pet-claw-resistant floor option. Bamboo is much more forgiving than other hardwoods. Fido can slop and drip water all over the floors and it will evaporate before it has a chance to do damage. Even dogs with large paws and sharp nails are no match for ultra-durable strand bamboo floors.
Bamboo is one of the most affordable options
So we've heard all about how great bamboo flooring is – it must cost a fortune, right? Wrong! You would think so but part of what makes bamboo floors so great is how affordable it is. Bamboo is a rapidly renewable plant. It can be grown, harvested, and milled into flooring much quicker than other hardwoods. This keeps the costs reasonable even if you are looking at the highest quality options.
Take a look at some common flooring options on the market and the typical prices you would find for each:
Hardwood – $6 to $22 per square foot
Laminate – $1 to $5 per square foot
Linoleum – $4 to $5 per square foot
Cork – $3 to $8 per square foot
Ceramic Tile – $5 to $10 per square foot
While keeping all these prices in mind, what do you think is the cost of bamboo flooring? It is a measly $3.50 to $5.00 per square foot, making it one of the cheapest options on the list while being harder, more eco-friendly, and easier to clean than most floors around. Talk about a bargain!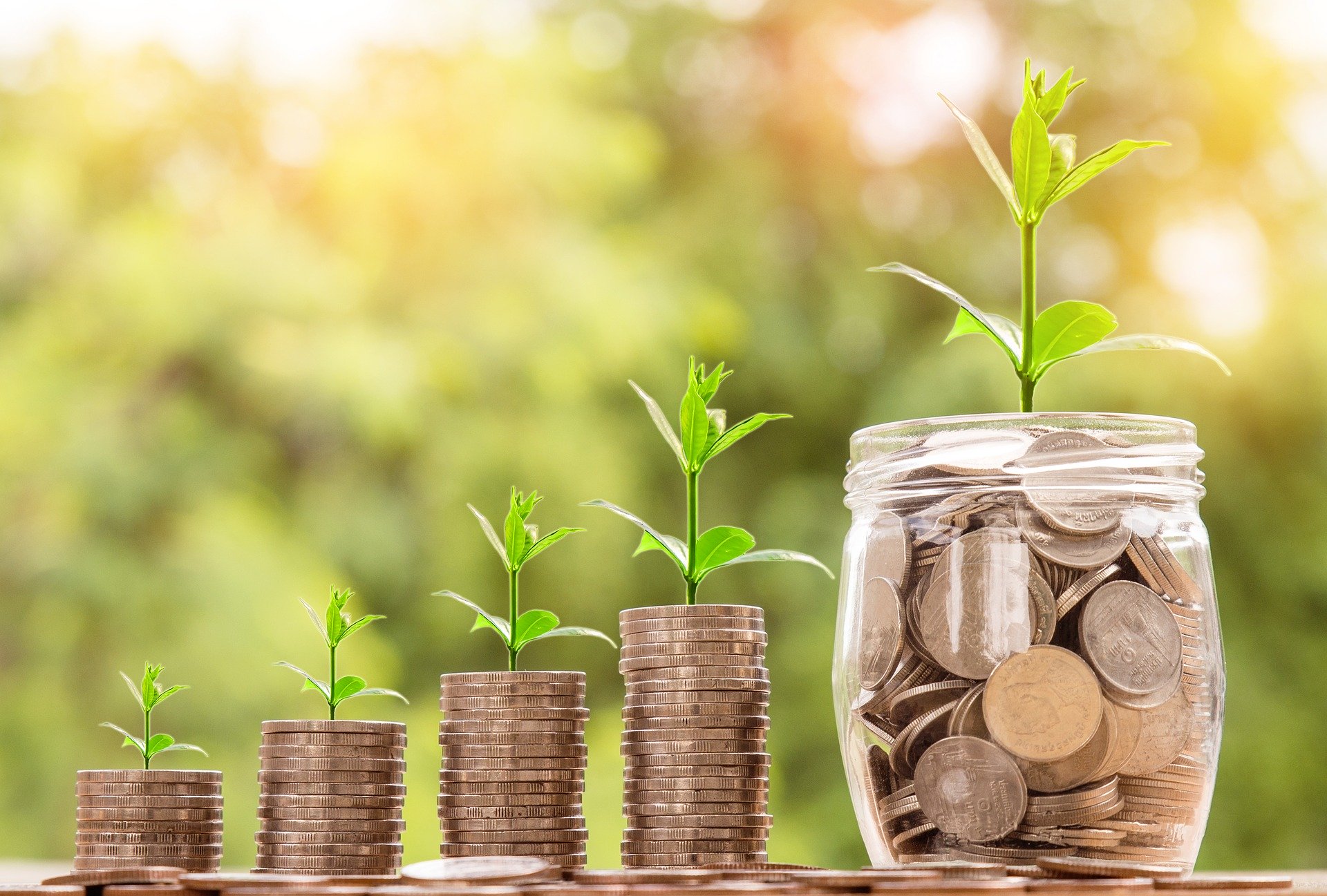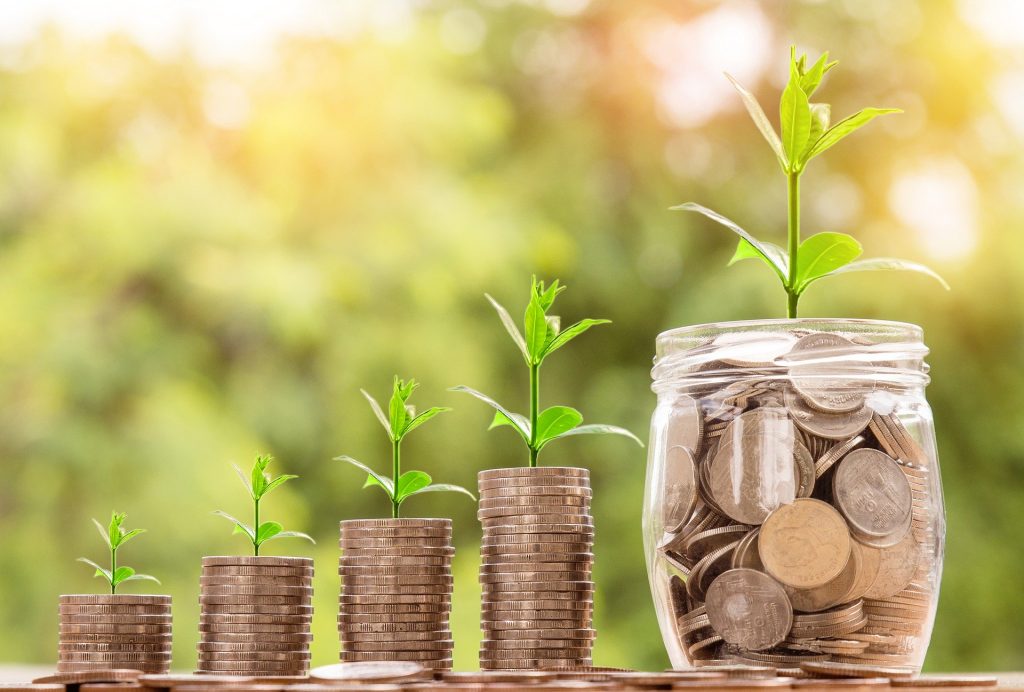 In Conclusion
We've learned that bamboo has some amazing properties and has been utilized for hundreds if not thousands of years. It's easier and more convenient to install compared to similar flooring options. It's also a piece of cake to clean and maintain. If you're tired of the same old boring styles and colors of traditional hardwood floors, check out bamboo! You will be glad you did – and your wallet will thank you!